Informed business energy choices can make both environmental and economic sense, meaning you could go green and boost your company's bottom line. Find out more...
Key points
Regularly review price plans from all UK business energy suppliers and switch if you can get a better deal
Consider smaller suppliers as well as the big six
Look into green business energy choices to cut usage
Business energy costs can have a significant impact on a firm's bottom line.
All-too-many companies have never addressed the problem, but there are a variety of measures - both simple and long term - that could lead to big savings.
Easy energy bill savings options
Shop around
The first stage is also the easiest, taking the age-old advice to shop around for the right deal at the right price.
But huge numbers of firms have not done this since as far back as when the business energy market was privatised in the 1990s, meaning that many of them are paying vastly more than they need to for their gas and electricity.
This could be because their contract has ended and they've been put onto one of the most expensive tariffs, or because they've never sorted out a cheaper contract at all.
The Competition and Markets Authority (CMA) says that a lack of competition in the market in 2009-13 meant that SME customers of the big six suppliers were paying 14% above competitive levels for their energy, costing them a combined total of £0.5bn a year more than was necessary.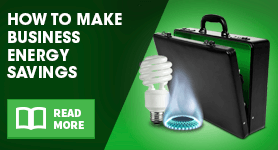 Compare business energy options
The simplest and, perhaps, most effective first step is to regularly review price plans and tariffs from all UK business energy suppliers using a service such as Gocompare.com.
An adviser from our business energy partners Make It Cheaper will help you through the process and give you no-obligation quotes by phone and email, leaving you free to either proceed with a switch through us, or to go away and make your own arrangements.
"It's the customers who end up doing nothing that we're probably most upset about because doing nothing means you'll get done," said Jonathan Elliott of Make it Cheaper.
Note that, unlike with domestic energy, the process of comparing business gas and electricity online is very difficult. Suppliers don't uniformly publish their standard variable rate tariffs, businesses have to go through credit checking and they have to decide what contract length they need.
As a result, Make It Cheaper has found that its customers tend to prefer speaking to someone who can help them find the right deal.
Who can say whether suppliers, agencies and customers will give preference to companies that can demonstrate sustainable business practices?
Consider small business energy suppliers
The big six energy suppliers - EDF Energy, E.On, SSE, Centrica, Scottish Power and RWE Npower - control the vast majority of the market and you should compare the range of tariffs offered by each of them, but remember that they're not the only suppliers.
Small energy suppliers have made a huge impact on the domestic energy market and - similarly in the business world - it's possible that they could offer more attractive deals and better levels of service.
Note that the CMA highlighted poor customer service from the big six in a February 2015 report, pointing out that the number of complaints recorded against them rose five-fold in the period 2007-13. These were mainly problems concerning billing, customer service and payments.
Dual or single fuel?
Traditional guidance when energy shopping used to be that dual-fuel deals - whereby one supplier provides both your gas and electricity - would be cheaper than arranging separate contracts with different suppliers.
The rising number of energy of providers, many of them with niche specialities, has somewhat muddied the water in this regard and it's possible that you may find savings by sourcing gas and electricity separately.
There's little doubt that a dual-fuel option is likely to be more convenient, though, meaning less paperwork and just one supplier to deal with.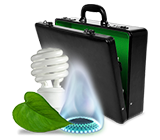 Green business energy choices: Using less power
'Greening' your business doesn't necessarily mean blitzing the budget.
Even the most expensive environmental investments could have a long-term pay-off, if it's only in the form of improved credentials and reputation.
Who can say whether suppliers, agencies and customers will give preference to companies that can demonstrate sustainable business practices?
Leaving aside the incalculable, here's how going green could prove rather lucrative...
Basics of cutting business energy use
Being careful with heating and lighting is advice relentlessly touted to homeowners, but combating these energy drains can yield big savings in the workplace, too.
It's estimated that heating costs could rise by 8% for every 1C of overheating,† something which can be caused by improperly maintained equipment and needlessly heated spaces - boardrooms and meeting areas which are infrequently used, for example.
Lighting, meanwhile, has been estimated to cost around £3 for every square metre a year in a typical office,† but investing in energy-saving lighting could bring that down to just £1 for every square metre.
Did you know...?
In 2013, recycled office paper was commanding a price of around £110 a tonne
Business water use
While we tend to think of energy savings in terms of heat and electricity, water is just as important an energy concern in the workplace.
Low-flow tap fittings could reduce water use by 70%,† shaving a not-insignificant amount off a water bill.
A Waste and Resources Action Programme (Wrap) study † suggested that an average company employing 100 male staff each working 260 days a year could save around £3,800 a year in water and waste water treatment costs by installing passive infrared flushing sensors in urinals at a cost of approximately £350.
Power yourself
If you have the resources to do so, generating your own power could be one of the most lucrative ways to green your business.
According to Infinite Renewables,† in good wind conditions a 500 kw wind turbine could provide up to 2,000 mw of energy a year.
According to the company's estimates, this could provide a medium-sized industrial plant with up to 55% of its power needs - and this would mean a 55% reduction on energy bills.
Consider also the Renewable Heat Incentive, where businesses can be paid up to 8.9p kWh for generating heat and hot water through solar panels, heat pumps and biomass - and that's in addition to fuel savings.
Clean up your fleet
Huge savings can be made by using cleaner, more eco-friendly vehicles within a business fleet - up to £1,000 a vehicle, according to the Energy Saving Trust.†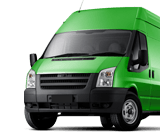 This can be achieved through a combination of direct fuel savings (typically 10-15%) from using more fuel-efficient vehicles, and smarter driving.
Simply sending drivers on a Safe and Fuel Efficient Driving (SAFED) course could save around £500 per driver per year, according to a 2009 report.†
With fuel prices having risen considerably since then, savings could potentially be even more significant.
Turn trash into treasure
With landfill tax charges seeming set to increase for the foreseeable future, it makes sense to generate as little waste as possible and to make sure you're making the most of what waste is generated.
Did you know...?
Employees that telecommute just one day a week have been known to report higher levels of productivity and happiness
This can involve measures as simple as installing separate bins for different materials and then sending those materials off for recycling instead of landfill.
In 2013, recycled office paper was commanding a price of around £110 a tonne.† Is this a potential revenue stream you're simply throwing in the bin?
Consider commuting
Giving employees the option of telecommuting remains a source of apprehension for many businesses, but there are a number of arguments in favour of doing so.
Firstly, an employee working from home for just one day a week would reduce their commuting carbon footprint by 20% (based on one day out of a five-day week), while reducing the business' energy usage from lighting, computers and other appliances.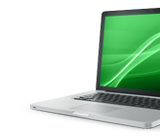 Secondly, employees that telecommute just one day a week have been known to report higher levels of productivity and happiness.†
Thirdly, telecommuting can help reduce the spread of colds and flu, saving money on sickness benefits in the long term.
Fortify your office space
Cavity wall insulation isn't just for the domestic market - offices are just as susceptible to heat loss as homes, with up to 30% of a building's heat lost through walls, according to the Carbon Trust.†
The same study suggests that an office building with 200 square metres of cavity walls would cost around £900 to insulate, which would yield savings of around £150 a year.
Taking steps to simply draught-proof an office is a straightforward way to achieve savings - employees are more comfortable, heating systems don't have to work so hard, and the outlay is likely to be minimal.
Optimise voltage
Most white goods and IT hardware run at 220 volts while power supplied to a building is usually 240 volts. Optimising voltage is one way that commercial properties can reduce their energy bills and extend the life of their appliances.
Seek out the help of an organisation such as the Carbon Trust or Energy Saving Trust
According to the Carbon Trust,† the technology to do this could cost upwards of £1,000, but could then offer savings of around 10% on energy costs.
Be rewarded for asking for help
Seek out the help of an organisation such as the Carbon Trust or Energy Saving Trust, which will also be able to advise you on the incentives available to businesses looking to go green.
The Carbon Trust offers interest-free loans † for businesses in Northern Ireland and Wales, while Wrap is able to offer funding † to small and medium enterprises (SMEs) looking to improve their resource efficiency.
Enhanced Capital Allowances (ECAs) † offer a financial benefit for investing in energy-saving machinery and equipment, while reductions in the climate change levy † are available to companies using less impactful sources of energy.
Even businesses simply using vehicles with alternative fuels can benefit from a discount on London's Congestion Charge.†
By Rachel England