Flood Re may help property owners in flood-risk areas access affordable home insurance, but it excludes businesses. Find out why.
Key points
Flood Re aims to provide homeowners with a risk of flooding with affordable home insurance
It's not available for businesses, which will have to find cover elsewhere
Private landlords and tenants are also excluded from Flood Re, as their insurance is seen as commercial and not residential
Flood Re is a not-for-profit insurance industry scheme to provide affordable insurance cover for around 350,000 UK homes that are at risk of flooding.
Flood Re works by spreading the cost and risk of flooding across the entire home insurance industry.
While Flood Re came into effect for residential homeowners in April 2016, the scheme doesn't include business insurance for work premises that are at risk of flooding.
This has been criticised by some as an oversight, as many small businesses are badly affected by flooding.
Thousands of pounds worth of damage can be made to premises, including stock, fixtures and fittings and equipment.
Why doesn't Flood Re cover businesses?
Businesses can access other flooding cover, but according to a July 2015 report † by the Federation of Small Businesses (FSB) around 75,000 smaller businesses at risk of flooding have struggled to get insurance. Another 50,000 have been refused flood cover, according to the FSB.
According to Flood Re, the fund was designed to protect residential homeowners who are at risk of flooding and struggle to find affordable flood protection.
There are hundreds of thousands of homes affected by flooding according to Sarah Cordey from the Association of British Insurers (ABI), while far fewer businesses are affected.
Cordey said: "Home and business insurance are very different things, and home insurance is a simpler product. It is not possible or appropriate to extend Flood Re to cover businesses.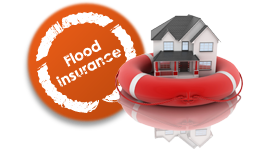 "Where there are small businesses which face difficulty getting property insurance because of flood risk, the nature of this problem is on a much smaller scale nationally and is of a different nature to those faced by domestic properties.
"If it is decided a specific solution needs to be found to help flood risk businesses access insurance there are a number of different options which could be explored, such as ways to reduce the flood risk to those properties in the first place, whether there is a market for more specialised products, or whether direct government support could be funded via business rates, corporation tax or a new measure."
Private rented homes
Private rented homes are considered businesses under Flood Re, as their buildings insurance is considered commercial.
This leaves many landlords unable to access more affordable landlord insurance. They can still get cover for flooding, but may end up paying more for it.
Richard Jones from the Residential Landlords Association said: "As floods happen more and more often the situation is worsening.
"We are firmly convinced that that once we move into the new era of Flood Re more and more private landlords and those in other excluded groups will find it impossible, very difficult or costly to obtain the necessary flood coverage."
Alternatives to Flood Re
According to Cordey there should be a simpler, comparable solution to Flood Re for businesses, and there are ways businesses can protect themselves against the risk of flooding.
Business insurance
You should review your cover each year to check your insurance is comprehensive enough to protect you if the worst were to happen and that you're not underinsured.
Buildings insurance pays for damage caused by flooding, and you should insure your business premises for the full cost of rebuilding. This will have to include the cost of professional clearing if it were to flood.
You will also need to ensure you have sufficient business contents insurance, to cover damage to stock.
Stock should be insured for its price, and not for profit. You'll be able to choose be tween new-for-old cover or indemnity insurance.
Some business insurance policies automatically increase cover when you're likely to have more stock - for example over Christmas - but check the terms and conditions to ensure this is the case.
Business interruption service will provide you with cover when you can't do business because of damage to property. This pays an amount to cover the loss of profit and pays any increased costs of running the business.
This may not come as standard when you buy business premises or contents insurance, so it's important to check the terms and conditions first.
According to a December 2015 report † by auditor KPMG to assess the cost of floods in late 2015, businesses may be under-insured in the event of flooding.
These businesses may only have cover for a 12-month business interruption period, but businesses impacted by flooding are likely to take longer to return to pre-loss profitability, says the report.
Business coverage such as loss of attraction and market value are not typically insured says the report, and represents significant costs to businesses post-flooding.
Flood defences
Keeping your business premises and stock as protected against flooding as possible is essential, and if you know you're at risk of flooding then there are steps you can take to protect yourself.
You can also take measures to limit flood risk and damage, such as raising electrical sockets, fuse boxes and wiring to five feet above floor level.
In September, 2016, the Department for Environment, Farming and Rural Affairs published a Flood Resilience Action Plan,† in which a task group investigated the advantages for small businesses of increasing flood resilience.
Flood resilience involves making changes to the fabric of the building such as flood gates, air brick covers and non-return sewer valves.
As part of the task group, the British Insurance Brokers' Association (BIBA) surveyed its members on the impact of flood resilience measures on the excesses, availability and price of business insurance.
At BIBA we strongly encourage small businesses to consider resilient measures both before and after a flood
The report's task group also called on the government to roll out a wider system of grants to small businesses to help pay for flood resilience measures.
Research by BIBA showed that 67% of brokers reported it would be either a little easier or much easier to place the insurance risk if their clients could utilise this grant.
According to BIBA's executive director, Graeme Trudgill: "The research from the experience of practicing brokers in the report shows an increasing number of insurers participating in resilient repairs if a property is flooded, with over 70% actively doing this already.
"At BIBA we strongly encourage small businesses to consider resilient measures both before and after a flood.
"Our own research earlier this year revealed that that this is by far the most useful investment a small business at risk of flood can make that is recognised by an insurer when seeking property insurance."
Local authority help
Businesses that have been flooded or are at risk of flooding may be eligible for help from their local authority.
Local authorities may be able to provide support to pay for work to improve a property's flood defences, and they may be able to cover costs of repairs post-flooding.
Post-flooding help may also include relief from paying business rates for a period of time and help with planning and executing a recovery.
By Emily Bater
[SeanSocialShare]