Find out more about goods in transit insurance, and the levels of cover your business could need for your stock.
What's included or excluded?
Cover may be comprehensive or it may cover specific events, such as crashing, fire, jettison or flood
Goods in transit cover will usually include insurance for goods while they're being loaded and unloaded
Cover may end when the transit is interrupted
It may exclude livestock, such as horses
Goods in transit insurance does what it says on the tin, protecting any goods your business delivers or transports from place to place.
Goods in transit insurance is useful not only if your business delivers goods, but also if you need to move items from one job to another. 
Do you need goods in transit insurance?
Goods in transit insurance can be bought as part of a specialist business insurance policy, or it could come under public liability insurance.
Standard vehicle insurance - such as van insurance or car insurance - usually won't cover you for the items you're carrying, unless they're personal belongings.
Goods in transit insurance will cover your business needs, especially if you regularly transport things. Customers will usually want to know that you have this.
Before taking out cover, check the terms and conditions of any policy you already have to make sure your goods in transit aren't already covered.
You should avoid doubling up on cover, so it's important to check.
What kind of vehicle do you have?
The type of vehicle you drive could affect the type of goods in transit cover you need.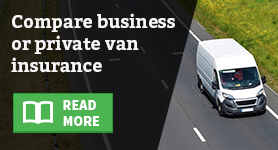 If you transport your own goods in a van, you might only need individual goods in transit cover.
But if you run a courier or haulage company you may need specific insurance, which would provide a level of cover appropriate for transporting other people's goods.
Levels of cover
Think about the level of cover you need - some policies may limit the value of goods they'll cover up to a certain amount, so check beforehand  that the amount covered is suitable for your business's needs.
Levels of cover will determine the amount of cover you have and whether certain items are excluded from a policy.
For example, jewellery and fine art is sometimes excluded from policies - if you're regularly transporting Turners or delivering diamonds, you'll need to ensure that these are included under your policy.
Look at the level of excess payable, and consider whether it might be too high for you.

By Emily Bater
[SeanSocialShare]