Back to business? How is the cost of living crisis impacting consumer spending?
Amid the cost of living crisis, we asked UK consumers how their spending habits have changed. Which companies are at risk as households cut costs, and are we still shopping at small businesses?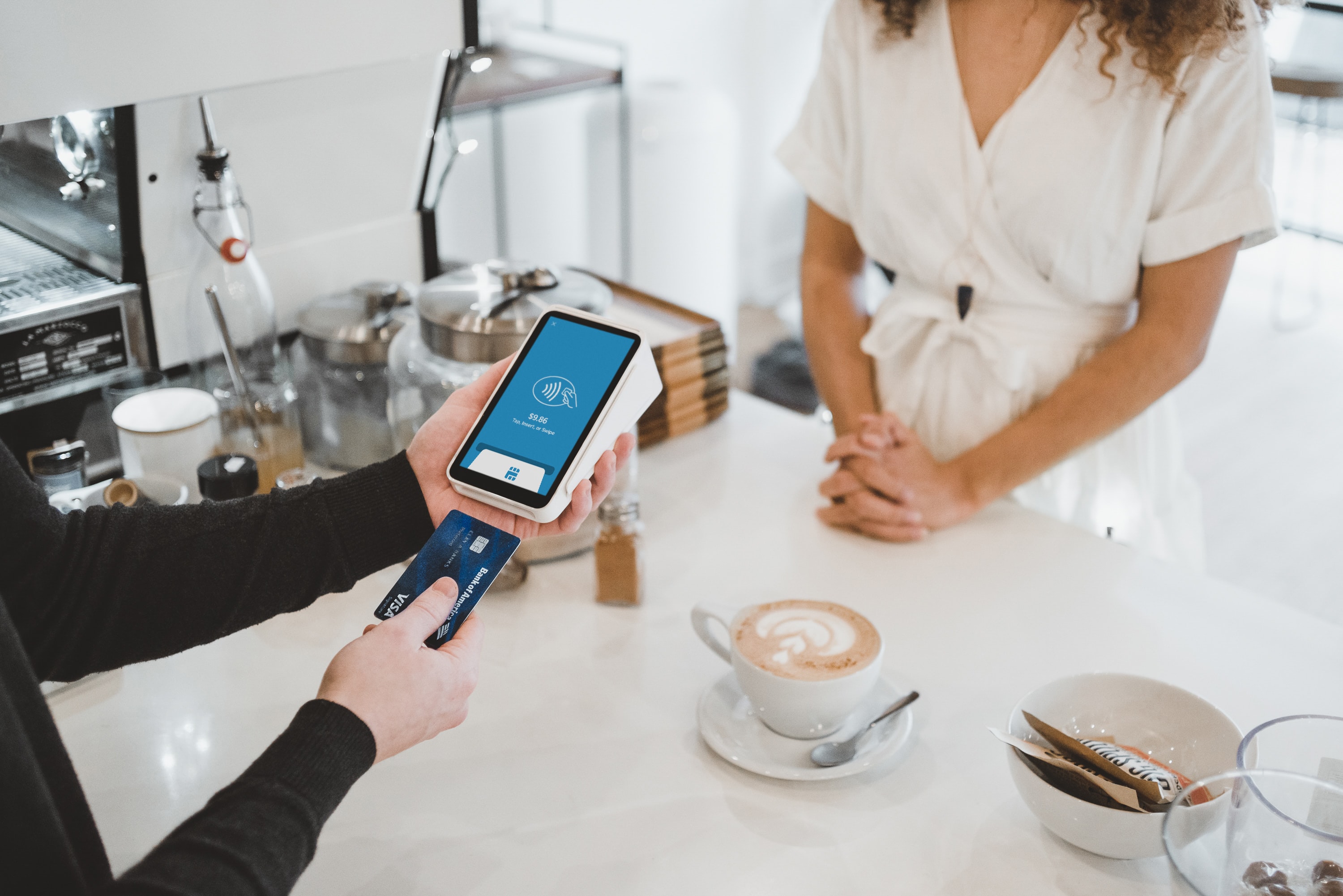 As the cost of living crisis continues, we explore what this means for the nation's standard of living. What will households across the UK try to cut down on to cope with rising prices and which businesses will be the worst affected as a result?
Additionally, we look into the effect on SMEs - small and medium-sized enterprises - and how business owners can adapt to deal with climbing costs. Meanwhile, our research reveals whether shoppers are supporting small and independent ventures, or if they have shifted to larger, nationwide retailers to take advantage of potentially cheaper bargains.
Businesses across the UK have already begun to notice and react to price increases. According to recent Government data, 38% of UK businesses reported needing to absorb additional costs at a detriment to themselves because of price rises. Unfortunately, over a quarter (27%) said that they had to pass on price increases to the customer, blaming climbing energy costs as the main contributor to this.[1]
The result of inflated expenses has created a cost of doing business crisis, particularly for owners of SMEs. Slimmer profit margins in smaller companies leave little leeway for soaring prices, while loss of custom can pose a significant risk.
How is the cost of living crisis impacting consumer spending?
As a consequence of the cost of living crisis, a staggering 83% of consumers told us that their purchasing habits have changed.[2] Already this shows the huge impact on how the majority of shoppers are spending, or not spending, their hard-earned money. For almost a quarter (24%) of UK adults, spending has changed a lot, while a further 59% said it has changed a little.
Just 17% of consumers claimed that their habits have not changed, meaning that only a small section of the public has been unaffected by the current economic climate.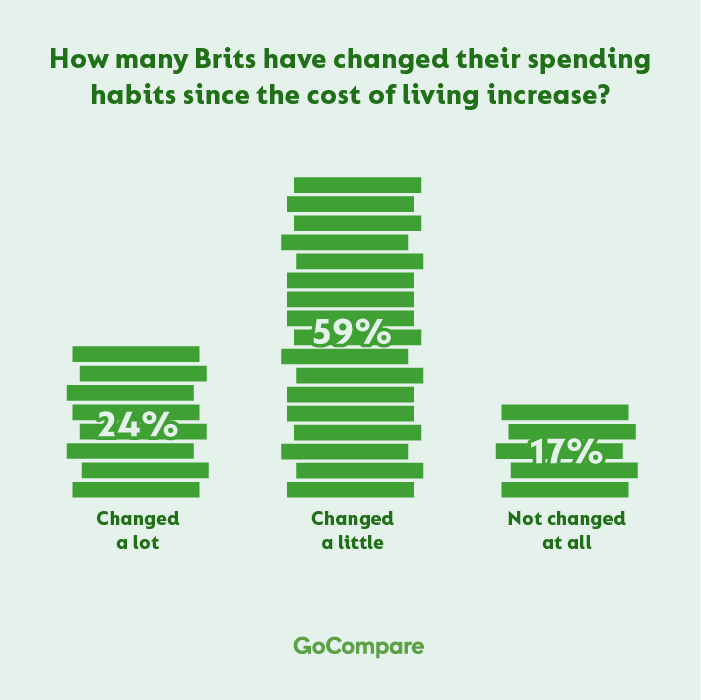 Which businesses will be the most affected by changing consumer habits?
Brits are tightening their purse strings to pay for the rising prices of items such as food and fuel, leaving them with less disposable income to spend on non-essential items. Businesses are expected to feel the effects of this, so to find out the most at risk, we asked shoppers which goods and services they plan to stop paying for first.
As penny-pinching becomes commonplace, households across the nation will cut down by no longer ordering expensive meals. A huge 50% of UK adults surveyed told us that they will give up takeaways to save money. Meanwhile, 42% of respondents said that they will stop dining out, something the public was encouraged to do by the Government during the coronavirus pandemic.
In April, businesses in the hospitality industry reported the greatest need to pass on price increases to the customer due to rising costs.[1] This suggests that these services will now come with a higher price tag, so as a non-essential treat, it makes sense that consumers would seek to cut them out.
Another industry at risk of losing custom is streaming services, as 34% of respondents said they'll stop paying for the platforms. Therefore, companies such as Netflix and Spotify could see a drop in subscriptions because of the cost of living crisis. This comes after reports that Netflix has already lost 200,000 UK subscribers earlier this year, yet has increased prices for customers again.[3]
The public is also planning to cut out other costly expenses such as gym memberships, food and beauty subscription services, and gaming and technology.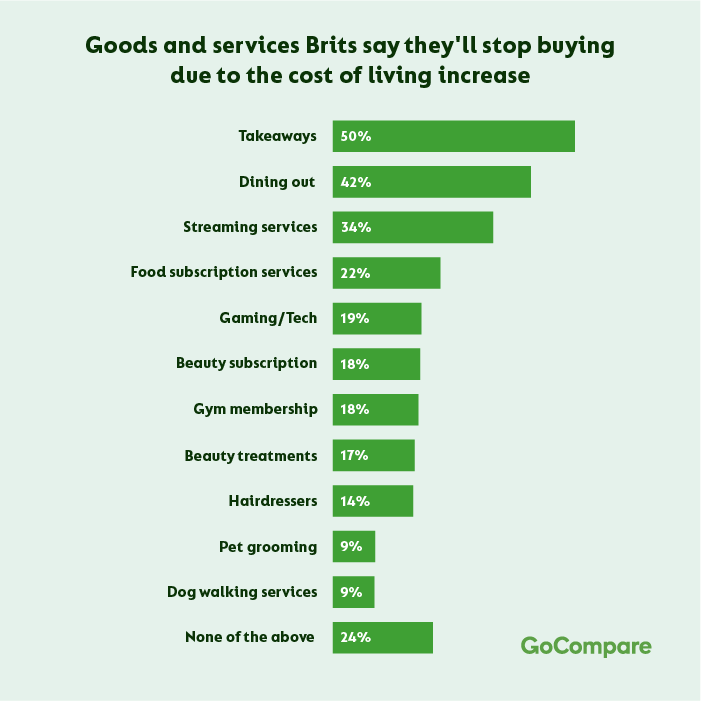 Are consumers still shopping at small businesses?
Small businesses are at risk of being some of the worst affected by recent rising costs. For owners of smaller companies, it's difficult to simply increase their own prices in response, as this can mean losing out on important repeat customers and a decrease in sales.
During the coronavirus pandemic, many UK shoppers focused on supporting local and independent businesses by buying more from them rather than from larger chains or supermarkets.[4] Now that expenses have increased, is the public still shopping this way, or has there been a shift back to cheaper alternatives?
Despite the cost of living crisis, our research has revealed that Brits are still shopping small. Over three-quarters (78%) of consumers surveyed said that they do use small businesses, leaving just 22% that don't. Surprisingly, over two-thirds (67%) of respondents even claimed that the cost of living increase has had no impact on their decision of whether or not to shop at small businesses.
A third of shoppers said that the cost of living had changed their view on buying from small businesses, yet it wasn't all bad news. Over a quarter (27%) of those whose minds had been changed said they were now buying from small businesses more often to support them with rising costs.
However, the majority did say that the cost of living crisis had changed their view on shopping at small businesses because it is now too expensive, so they're buying from them less often. Though this was the view of less than a third of overall consumers surveyed, it suggests there may be some impact on the volume of shoppers at small businesses.
What challenges are faced by SMEs today?
In light of our findings, we asked the experts to weigh in on the current challenges that small business owners are facing, and what can be done to combat these issues.
FSB National Chair, Martin McTague, said: "Rising operating costs are eroding small business margins in a way that many have never experienced before. Unlike big corporates, small firms don't usually have the leverage to negotiate the best deals on utilities, which are the primary driver of higher outgoings for many.
"Small firms find it hard to pass on higher costs to customers in the form of higher prices, fearing that doing so would add extra burden to consumers under the current cost of living crisis, but more and more are being left with no choice. At the same time, an entrenched late payment culture among big companies is threatening the futures of more than 400,000 small suppliers.
"We need targeted interventions from the Government to help small firms stay afloat – increasing the ceiling for small business rates relief, extending energy support issued via the council tax system to the rates system and making audit committees directly responsible for supply chain practice to address the late payment crisis would all be welcome moves.
"As cost pressures mount, a growing number of small businesses are embracing e-commerce – empowering them to reach untapped markets without the overheads of a shop or increased restaurant space. Through our small business e-commerce hub, we're helping more and more members to take advantage of development in this area."
How can small business owners cut costs?
During this cost of doing business crisis, many small business owners will be looking to cut costs wherever they can. With this in mind, we've compiled a few tips for those trying to save.
Shop around for your bills
As a result of rising prices, a huge 61% of UK adults are now shopping around more for financial products to help them save money.[2] Similarly, as a business owner, comparing policies for insurance is one way of making sure you're getting the best deal you can.
Savvy switchers will already be aware of the benefits of regularly comparing insurance premiums and avoiding any loyalty penalties. However, any managed service or regular bill should be under the microscope, too. As a small business, you can sometimes access better deals than the average customer for certain bills.
Review all outgoings and trim the fat
Think in terms of return on investment and assess when you would like that investment to make a return. If you're looking for money-saving tips, it stands to reason you'll be looking for an immediate return on any cash spent.
Try to review all of your small expenses, reduce maintenance costs and outsource work where possible, cut down on any noticeable unproductive time, buy in bulk, and seek out cheaper ways to advertise.
It can be hard to attribute results to spending, even at online businesses where advert interaction and sales are infinitely easier to track than in retail stores. So, start with small, noncommittal cuts and assess their impact, knowing you can easily resume the activity if necessary.
Renegotiate everything
Aim to renegotiate any deals where costs are too high, or where you suspect there may be wiggle room. For instance, landlords tend to prefer the stability of a sitting tenant to the cost of an empty property, so asking for a rent reduction could be an achievable target.
Similarly, don't be afraid to bargain with vendors to secure a better deal. To do this, be sure to browse around for multiple quotes and be prepared to walk away.
Sell any unused assets
Often, businesses have unused assets that they no longer have any use for, which are likely depreciating and costing owners valuable rent space and utility bills. Selling these can help to raise capital and improve cash flow.
Meanwhile, those businesses that can embrace remote working for employees, or even shift to a full e-commerce business model will be able to avoid these costs altogether.
About this data
[1]All Government data was sourced from the following ONS report: Business insights and impact on the UK economy: 5 May 2022.
[2]To collect the data used in this report, we surveyed 2,000 UK adults via YouGov. The survey ran from 19 - 20 May 2022 and all respondents were selected at random.
[3] This information was sourced from a BBC News article, published on 20 April 2022.
[4] This information was sourced from a Barclaycard Consumer Spend Report, published on 23 March 2021.