Compare tradesman insurance quotes and pick the right policy today
If you're a self-employed tradesman or you run a small business with employees, you'll need some kind of business insurance.
Key points
Tradesman insurance can cover a number of different risks, from public liability to tools
Check that what you need is included and make sure you don't already have cover
Make sure the cover protects you to the level you need, so you're not caught short
A specialist tradesman insurance policy can cover a range of business insurance elements, depending on your needs and those of your business.
Tradesman insurance can be tailored to cover your businesses specific risks, whether you're a builder, cleaner or plumber. 
From public liability to tool insurance, find out more about what tradesman insurance can include.
Public liability
Public liability cover is at the core of any tradesman insurance policy.
If your company has any contact with a third party, then you'll probably need public liability insurance.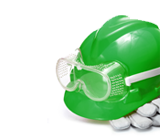 While public liability isn't a legal requirement, it's important to protect your business in the event a third party is injured or their property is damaged.
Public liability is intended to cover any legal expenses resulting from a claim, and compensation paid to the claimant.
Professional indemnity
If your firm offers advice and expertise, you may need professional indemnity cover. This protects you in the event a client believes you have been negligent, and covers any compensation or legal fees resulting from that claim.
Employers' liability insurance
If you employ staff, it can be a good idea to take out employers' liability insurance.
This protects your employees in the event of an accident or illness due to work, and covers you in the event you're liable to pay compensation.
Business interruption insurance
If you're stopped from doing business due to illness, injury or other issues outside your control, business interruption insurance will cover your costs and loss of income while you're unable to run.
Tool insurance
Insuring your tools should be a priority for tradesmen, whether you're a builder, hairdresser or dog groomer.
Tools are essential for many jobs, and if you don't have yours because of loss, damage or theft you could end up losing work and having to pay for new equipment.
Tool insurance may be included in your tradesman policy, available as an optional extra, or as an additional policy purchased separately.
Insuring your stock
Storing stock on business premises can present a risk - losing stock could not only present a temporary problem but it could have knock-on effects to your business and its future.
Whether you want to protect against loss, theft or damage from fire or flood, tradesmen insurance could cover your stock up to a certain amount.
Check the terms and conditions of any policy to check the level of cover they offer is enough for your needs.
If there's anything else your business needs cover for - such as goods in transit insurance - it may be covered by specialist business insurance, which covers other niche risks.
Things to consider
When looking for the right tradesman insurance, make sure the cover offered is enough to protect you and your business.
Before taking out cover, check you aren't already covered by another policy.
You don't want to double up on cover as this can complicate things if you do have to make a claim, as well as being a waste of money.
By Emily Bater
[SeanSocialShare]