If your car needs repair after an accident or incident, you don't have to use your insurer's approved repairer. But what are the implications of choosing your own?
Key points
If you need to make an insurance claim to repair damage to your vehicle you're entitled to your own choice of repairer
However, your insurer will probably not include a courtesy car if you choose to do this
You may also face a higher excess, and the repairs won't be guaranteed by your insurer
Make sure you send quotes to your insurer for approval before having repair work carried out
If your motor's damaged in an accident or another incident it can be a considerable inconvenience.
You'll probably want to get it repaired and back on the road as quickly as possible.
Most car insurance providers will offer to have your car fixed by an approved repairer, which means using their own network of garages that they work with to get better deals and keep costs down.
Yet you might prefer to plump for your own choice of repairer, perhaps because you trust them to do a good job or simply because they're more local to you.
Insurers have to allow you to do this, yet while they'll still pay out for the repairs if your claim's successful, they sometimes impose some extra terms which could leave you at a disadvantage.
Courtesy cars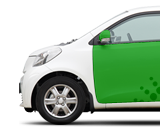 Most insurers will remove your right to use a courtesy car if you decide not to use their approved repairers.
This is because courtesy cars can significantly inflate the cost of a claim, so by only offering them if you use its approved repairer, the insurer can keep costs down.
On 27 May, 2014, Gocompare.com checked 225 comprehensive car insurance policies on the matrix of independent financial researcher Defaqto and found that 93% provided a courtesy car as standard during repairs.
However, only 7% of these would provide the courtesy car if the customer chose their own repairer.
Guarantees
Following a claim where a repair has been completed by an approved repairer, most insurance providers will guarantee the repairs, typically for three years or more.
If you use your own repairer, you won't benefit from this guarantee if the repairs are unsatisfactory, although your own chosen repairer may also guarantee its work for a certain period of time.
Of the 225 policies checked on Defaqto, 88% would guarantee all repairs made by a nominated repairer, while a further 1% guaranteed the bodywork only.
From the Ombudsman
Of the policies that offered a guarantee on repairs, the guarantee was three three-to-four years for 55% of policies and five years or more for the remaining 45%.
Additional excess
Some insurers will charge an additional excess if you decide to use your own choice of repairer.
This can be as much as 100% added to the standard excess.
Check your policy documents carefully to find out if there's an additional excess for choosing your own repairer.
Equivalent cost of repairs
The final issue with using your own choice of repairer is that your insurer may not pay out the full cost of the repairs.
This is because it might argue that it could've arranged the repairs more cheaply through its approved repairer.
If this is the case, the insurer may only agree to pay out what it would have paid to have the work done with its approved garage, which may be less than what your own repairer would charge.
It's a good idea to get a quote from your own chosen repairer before getting any work done so you can send it to your insurer and find out if it's willing to bear the full cost.
What to do if you want to use your own repairer
If you do want to use your own repairer, the first thing you'll need to do is check your policy documents for any conditions and additional excesses.
Remember, you're highly unlikely to be provided with a courtesy car by your insurer, so if you need to stay mobile, find out if your chosen repairer can offer you a vehicle instead – many will arrange this free of charge.
Get a quote from your chosen repairer and forward it to your insurer for approval.
If your insurer agrees to the cost of the work, make sure you're clear over whether you'll have to pay the garage directly and claim the money back, or if your insurer will pay the repairer directly.
By Derri Dunn