Guide to AXA car insurance
Could AXA be the right car insurance provider for you? Read on to find out more about AXA and its insurance policies.
Key points
AXA offers two tiers of cover: third party, fire and theft, and comprehensive
AXA also offers a multi-car discount, with which you can save 10% on your policy by registering all other cars from your household at the same address
The other policies will also get 10% off if linked by the multi-car discount
Ranked as Interbrand's #1 global insurance brand for nine years running from 2009, AXA is a multinational insurance firm based in France. 
It offers insurance for a range of products, from car insurance to shop insurance.  
AXA car insurance 
Founded in 1816 as Mutuelle de l'Assurance contre l'incendie (Mutual Fire Insurance), it soon diversified into the Ancienne Mutuelle group.  
When it acquired the Drouot Group in 1982, a new name was needed, and it became AXA in 1985. 
Written in upper case, the name may look like an acronym, but it was chosen as it is easily pronounced by anyone anywhere in the world. 
AXA's mission is to protect its customers "so that they can pursue their lives and ventures with peace of mind." So that's nice! 
How to get a car insurance quote from AXA 
AXA offers two tiers of cover for car insurance.  
The first is third party, fire, and theft (TPFT). This is a more basic level of cover, including repair or replacement of the car if damaged by fire or theft. 
It may also include a courtesy car, overnight accommodation or onward travel. 
The next tier, comprehensive cover, is more wide-ranging.  
It includes all the benefits of TPFT, but may also include replacement or repair of your car if the accident was your fault, windscreen repair or replacement, and even replacement keys or locks.  
However, you may need to buy breakdown cover separately, as this tends not to be included in the comprehensive cover. 
We can help you compare the benefits of insuring with AXA against those offered by other insurance providers.  
Cancelling an AXA policy 
If you wish to cancel your policy with AXA at any time, you can do. AXA offers a 14-day cooling-off period, and if you cancel during this time, you won't be charged any fees.  
However, if you cancel after this time, you'll be charged an administrative fee of over £50. 
It's worth double-checking the terms and conditions of your policy to make sure you won't be hit by any fees you might not be aware of.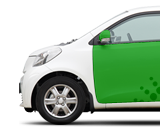 AXA reviews 
As one of the biggest insurance providers in the world, it's no surprise that AXA is much-lauded.  
Interbrand ranked it as best insurance brand globally for nine consecutive years between 2009 and 2017.  
The Sunday Times ranked AXA 16th on its list of 30 Best Big Companies to Work For in 2017.  
Independent financial advisers Defaqto gave AXA a range of reviews in 2018: AXA Direct's Car Insurance was given 5 stars, while AXA Insurance was only given 3. 
Even in customer reviews, AXA garners high praise. It uses Feefo, an independent customer feedback provider, to obtain customer reviews.  
AXA was awarded the Feefo Gold Trusted Merchant accolade for its comprehensive car insurance in 2017, indicating a very high level of customer satisfaction. 
AXA multi-car discount 
Like many other insurance providers, AXA offers a multi-car discount. This means all the cars in your household can be covered by AXA, and you could get up to 10% off insurance for all the cars registered with AXA. 
However, this is not one policy for all cars. Every car registered will get its own separate policy.  
This means you don't need to worry about paying for every car on the same renewal date, which would be very costly!  
It also means you don't have to share a certificate across all cars. However, all policies get 10% off their insurance. 
See also:
New drivers car insurance
Young drivers car insurance
Telematics car insurance
Insurance groups
AXA temporary car insurance 
Temporary car insurance, as its name suggests, is simply insurance on a vehicle for a defined period of time. 
It's very useful in certain scenarios like hiring or borrowing a vehicle; driving a vehicle purchased at the forecourt; driving a car while yours is being serviced or repaired; or using a vehicle in an emergency. 
It's worth shopping around, as different insurers will differ in the levels of cover offered. 
To find out more, head over to our temporary car insurance page.  
By Nick Dunn