Child on board: How to choose the right car seat to keep your children safe
Finding the right child car seat is one of the most important things you'll do as a parent. We'll tell you what you need to know.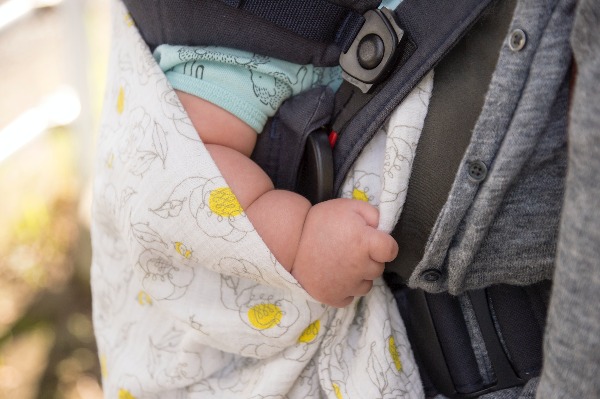 As any new parent will tell you, finding the right car seat for your child is vitally important. On top of car insurance, it's one of the most essential things you'll do before getting behind the wheel.
A car seat is a legal requirement if you want to take your child on the road. Government guidance says children must use a car seat until they're 12 years old or 135cm tall, whichever comes first. After that, they must use seat belts. 
But choosing a car seat isn't always easy. Different brands promise different things, and it's not always clear what you should be listening to before making your decision. 
We look at what you need to know to keep your child safe in the car. 
Finding the perfect child car seat - all you need to know
There are five things to consider when buying a child car seat, all of which will ensure a safe, comfortable journey for your mini passengers. 
1. You must buy a tested and approved child car seat
Car seats are tested for numerous things, all of which are covered under one of two codes: ECE R44 and R129. 
A car seat given ECE R44 approval has been tested in both forward and rear-facing collisions and is based on your child's weight. R129 or 'i-Size' seats have also been tested for side-on crashes and are based on your child's height. If a car seat doesn't have one of these approval codes, it's not fit for purpose. Given as many as 30% of accidents are side-on and you're more likely to know your child's height, a car seat that meets R129 standards might be a better option.
2. Choose the right car seat for your child's age and size 
R129 car seats don't have particular categories, it just depends on how old and tall your child is, but ECE R44 seats have five categories depending on weight. Check the government guidance for more information on car seat groups and regulations. The types of car seat you can choose from include rear-facing baby seats, forward-facing car seats and high back booster seats.
3. Make sure it fits your car
Your car will need Isofix rings in it to connect to an R129 car seat. Isofix rings are small metal rings along the bottom of your back seats. The car seat will clip into these to prevent it from sliding around. If your car doesn't have these, you can buy systems to install them yourself. 
ECE R44 car seats can be connected to the car's seat belt or Isofix rings. 
4. Choose a seat that grows with your child
You could easily spend hundreds of pounds on buying new car seats every few years. Save yourself some money by investing in an adjustable seat, making it suitable for your child's growth. 
5. Look for extra leg room
One of the main reasons parents turn child car seats around too early is because their child runs out of legroom. By choosing a seat with extra space, your child can grow into it without sacrificing their safety. 
What is Isofix and why do I need it?
Isofix, or International Standards Organisation Fix to give it its full name, is a system that secures child car seats to your regular car seat. It uses connection points on your car and the seat to ensure a good, secure fit, removing the need to use the seatbelt. 
Wrongly fitted child car seats can be dangerous, so Isofix uses fitting points already built into the car and the seat to effectively 'plug' it in. This keeps the child seat in place, as well as stopping it rotating in an impact. Not only does this make it safer, it also makes it much easier to install.
To see if your car has Isofix fitting points, look for labels between the base and back of your car seats. You might even be able to see the fitting points themselves. If that doesn't work, check your car's handbook for any instructions. 
The child car seat with the best reviews
We analysed 227 child and baby car seats listed on popular retailers Argos and Halfords to find out which car seats were the highest rated and how much on average parents are having to spend on safety. 
One of the more popular car seat brands is Joie, according to 9,090 reviews from Halfords and 9,456 ratings from Argos. With an average rating of 4.9 across both Argos and Halfords, they clearly hit the mark with parents. Cybex also score highly, with an average rating of 4.8 stars on Argos' and 4.7 on Halfords websites.[1]
Ultimately, the car seat you choose for your child should come down to whether you, and the experts who test it, trust it. Reading reviews can be a great way to put your mind at ease, as other parents have bought them, fitted them and driven with them already. 
With the 142 car seat options listed on Halfords averaging a total price of £161.60, it's important for parents and carers to spend wisely. 
What happens if you get caught driving without a car seat for your child or baby?
If you get caught driving without a car seat, the risks could impact both your bank balance and your child's wellbeing. Adult seat belts aren't designed to provide the correct levels of safety for children, and could even do them more harm than good if you're involved in a collision. 
On top of that, your finances and driving licence could also take a hit. Drivers face fines of up to £500. 
Given child car seats can cost under £100, it really doesn't seem worth the risk with all that at stake.
What are the risks of buying a car seat second hand?
Buying a second hand child car seat could be dangerous, as you don't know if it's been involved in any previous crashes. Car seats that have experienced collisions aren't safe to be reused. Not only could they be damaged, their fittings might also be loose, meaning they won't protect your child if you crash yourself.
Car seats have to undergo strict testing, and while all new models will come with proof that they have passed these tests, you won't get the same guarantee if you buy second hand. 
If I've been involved in a car accident should I replace the car seat?
Even if there's no visible damage, any car seat that has been involved in a collision should be replaced. The crash may have weakened it in ways you can't see, meaning it won't be as effective for your child's wellbeing in the future. 
You should also check the seatbelts and fittings that keep the child car seat in place, in case they have also suffered damage. 
The only instances in which it might not be necessary to buy a new car seat are if the collision was very low impact, there was no damage to the car, or if there was no child in the car seat at the time of the incident. If you're in doubt, it's probably best to just replace the seat. 
Is there a time limit on how long I can leave my child or baby in a car seat for?
A child shouldn't stay in a car seat for any longer than two hours. While it might be tempting to carry your baby inside after a journey, allowing them to sleep in a car seat for too long can be dangerous. 
This is because babies' heads are heavy. With the incline of a child car seat, their bodies have to support that weight, and doing so for too long can cause their airways to become obstructed.
Can your child sit in the car seat when it's not fitted into the car?
In short, no. While car seats provide the safest way for your child to travel with you, they're not safe for any prolonged period of use. This is due to the position they force your child to sit in, in which the weight of their heads forces the rest of their body down. 
Cribs and cots are much safer for your baby at home, allowing them to lie down, stretch and wriggle with their heads fully supported.
Why you shouldn't keep an empty car seat in your car if your child isn't using it
While it might seem easier to keep your car seat in your car all the time, the damage it can cause far outweighs the benefits. Child car seats can weigh anything between 4kg and 10kg, making a big impact if you have to brake suddenly or are involved in a collision. 
While 4kg might not sound like much, if unrestrained it can generate as much as 917kg of weight when travelling at 30mph. 
You don't want that crashing into you while driving. 
If your car seat is secured correctly, this impact is more than halved, potentially protecting both you and your child in the case of a crash. 
| Seatbelt | Empty car seat weight (kg) | Car's speed (mph) | Impact feels like (kg) | How much heavier this impact feels | Number of standard building bricks the impact weight equates to[2] |
| --- | --- | --- | --- | --- | --- |
| No | 4 | 30 | 917 | x230 | 450 |
| Yes | 4 | 30 | 183 | x46 | 90 |
| No | 10 | 30 | 2,292 | x229 | 1,124 |
| Yes | 10 | 30 | 458 | x46 | 225 |

Source: https://www.omnicalculator.com/physics/car-crash-force/ 
Safety for all the family
While a car seat will keep your little ones safe, car insurance will help look after the rest of you. It could even cover the cost of a replacement child car seat if yours gets damaged in an accident. It's always best to check with your insurer whether or not they offer cover for car seats within your current policy - not all do.
Compare our best car insurance deals today to see what you could save.
Methodology 
[1]The customer reviews of Halfords and Argos were analysed to find the average top rated child car seat. Accurate as of May 2022.
[2]A standard brick weighs 2.04kg.