Find out more about repairing written off category C and D vehicles and getting them insured.
Key points
If a car is a category C insurance write-off, it can be repaired but it will cost more to do the work than the current value of the car
If a car is a category D insurance write-off, it's economical to repair, but the associated costs for the insurance, such as a courtesy car, will outweigh the value of the car
Category C and D were replaced in October, 2017, by categories S, 'structurally damaged repairable', and D 'Non-structurally damaged repairable'
Insuring any of the above can prove more expensive or difficult, but you can compare prices to find a deal
'I'm afraid it's a write-off' are words you don't want to hear as a car owner - at least, not if you like your car.
But if you're looking to buy a used car, then car insurance write-offs, often known as Cat C and D car insurance write-offs, can mean a cheaper purchase price.
On 1 October, 2017, new write-off categories were introduced to make this system more transparent and easier for consumers looking to buy one of these cars.
What is a write-off?
It's actually a car insurance write-off, which describes what happens when an insurer decides that it won't pay to repair a car that has been damaged.
That's either because the car is beyond repair, or because it isn't worth paying the cost of repairing it.
There are different categories of car insurance write-off (sometimes called 'the Salvage Code'), depending on the type and severity of damage to the car.
Some vehicles have to be scrapped, but others can be repaired and put back on the road.
Those that return to the road may be of interest to potential buyers looking for a bargain.
How have the categories changed?
For many years, these categories have been A, B, C and D.
In October, 2017, however, the write-off categories were reclassified to A, B, S and N.
Categories A and B have remained the same, and these are the cars that will never legally be allowed on the roads again:
Cat A (scrap)
These cars are so badly damaged that they can't be repaired - they must be scrapped.
Cat B (break)
These are also badly damaged, but can be broken down so some of the parts can be salvaged for repair or re-use before the car is scrapped.
However, the categories that can be repaired and made roadworthy again have been changed.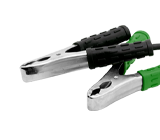 Categories C and D have been replaced with Categories S and N.
So, why change the category name?
According to Richard Billyeald, chief technical officer at Thatcham, who helped devise the new system, it's all about providing clarity to the consumer.
"The changes have refocused the process of classifying salvaged vehicles away from financial criteria to a categorisation that provides greater insight into the nature of the damage," he explains.
Once you see the definitions of each category, this makes more sense.
Quite simply, the new categories identify whether damage is structural or non-structural, while the old categories are a little more ethereal.
C, D, S or N - the write-offs that you may find on the market
It will take a while for the new categories to filter through the used car system, and in the meantime, it's possible for a Cat C or D car to be offered for sale after sub-standard repair work.
Cat C
These cars can be repaired, but because the repairs will cost more than the car's market value, the insurer has written them off.
These cars usually have heavier damage than Cat D cars.
Cat D
These can also be fixed - but while the cost of repairs is less than the market value of the car, the other associated costs for the insurer (for example, a courtesy car and inspection fees to show the car is roadworthy after repairs) mean that it's not economical for them to repair the car.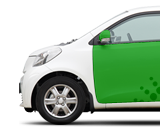 The damage to these cars is more often (but not always) related to electronics, suspension or steering than to the structure of the car, although there may be some superficial damage to the bodywork.
These are often sold again, usually with the damage repaired.  
Cat S: structurally damaged repairable
As it says on the tin, the damage here is structural, relating to the chassis or bodywork.
From October 2017, vehicles that have been structurally damaged but judged repairable will have their V5C registration certificate marked with an 'S' and the text: 'This vehicle has been salvaged due to structural damage but following a technical evaluation declared suitable for repair.'
Cat N: Non-structurally damaged repairable
Here, the damage is related to electronics or mechanics, rather than the bodywork of the car.
That may sound an easier problem to fix, extensive electrical problems can be very expensive to sort out.
Is it worth buying one of these cars?
These are cars that have been deemed repairable, so as long as they have been repaired properly, they're certainly worth considering.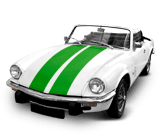 As Ben Howarth, Senior Policy Adviser for Motor and Liability at the Association of British Insurers (ABI) says: "Not all insurance 'write offs' need to be taken off the road forever and buying one of these cars can be a great way to find a bargain.
"The new Salvage Code should mean there is better information for anyone considering a second hand car, so you know what questions to ask and can buy with confidence."
However, even with the new classification, it's a case of buyer beware and it's worth doing your homework if you're looking at these cars.
Why are these cars cheaper?
It's much the same as buying a reconditioned computer or phone, which is always cheaper than its brand-new equivalent.
Its market value is lower because it's been damaged and repaired, even though it may effectively be the same as an equivalent model that has never been damaged.
However, insurers sometimes don't cover these vehicles, or charge more to do so, so make sure you compare car insurance before buying and offset savings on the vehicle against more expensive insurance.
Is it safe to buy a write-off?
Along with the new categories came new safeguards to prevent unsafe vehicles returning to the road.
For a start, look at the categorisation on the registration paperwork.
It's also easy to check whether a car is truly roadworthy through the AA, RAC, Dekra or another service.
It does involve a cost, which is a little annoying if you're looking at one of these cars because you want to save money, but it's always money well spent, and often worth doing on any second hand car you're considering purchasing.
Here are the checks you can make:
First, have a thorough check yourself for anything suspicious such as slightly different colours of paint.
Check the MOT certificate to see when it was last judged roadworthy and how much work was needed
Organise a car history check
Book a vehicle inspection, or at least get a mechanic to check the car over and ensure that it is roadworthy. There are many companies that offer this service, including the RAC and Dekra
If you're buying a used car, will you know if it's a Cat C or D?
Professional dealers have to tell you that a car has been written off, but private sellers aren't legally obliged to do this unless you ask.
The rule of thumb is simple: always ask the seller if the vehicle's previously been written off, but also invest in a vehicle check to be sure.
Will insurers cover written-off cars?
Many, but not all, insurers will provide cover for write-offs, although some may charge more, and require evidence that the car is safe (ie an independent vehicle inspection).
As always, it pays to compare premiums offered by different companies, so you can get the best value cover for your needs.
By Katrina Hendley