Read on for all you need to know about Chrysler car insurance in the UK
Through its rich history of innovation, Chrysler has become a renowned and well-respected name in the world of motoring. Compare car insurance for your Chrysler today!
Key points
Chrysler officially pulled out of the UK in 2017, following a consistent drop in annual sales
Today, Chrysler is owned by Fiat Chrysler Automobiles, which also operates other big brands such as Jeep, Dodge and Maserati
While Chrysler-branded insurance isn't available in the UK, plenty of insurers will still cover Chrysler vehicles
Formed in 1925, the Chrysler brand has seen much change over the last century. In fact, the last 20 years alone have seen it undergo several mergers and acquisitions. 
However, throughout all the change, one thing has remained constant – Chrysler quality. And you've come to the right place for quality Chrysler car insurance (and tongue-twisters). 
About Chrysler 
As one of the biggest car brands in America, Chrysler has grown to become a globally recognised brand in the auto world. Even the high-rise Chrysler Building in New York City is a bona fide tourist attraction in its own right. 
This acclaim noticeably crossed the pond in the mid-90s as 'America's Import' saw a surge in European popularity. Between 1995 and 2005, Chrysler sold well over a half a million cars in Europe. 
Despite those impressive figures, sales plummeted from 2008 onwards, causing Chrysler to officially pull out of the UK in 2017. With parent company - Fiat Chrysler Automobiles - switching its focus to other areas of its portfolio, Chrysler owners were left seemingly stranded. 
If you happen to be one of those Chrysler owners left behind - like Kevin McCallister in Home Alone - fear not... GoCompare is here to help you find the right car insurance for your abandoned brand. 
So feel free to stuff your face with cheese pizza and gorge on copious amounts of ice cream, as we delve into all things Chrysler. Whatever we find we'll leave on the doorstep and get the hell outta here. 
Insuring your Chrysler
Due to Chrysler's decision to withdraw from the UK, official Chrysler branded car insurance isn't an option for British Chrysler owners. However, there are still plenty of insurance options to explore outside of the Chrysler banner. 
As with most cars brands, Chrysler insurance groups naturally vary depending on the type of vehicle you own. For example, a sporty, high-spec Chrysler - such as a Viper - will likely necessitate performance car insurance and attract a higher premium than a less extravagant model.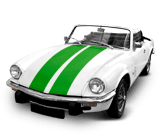 Here's a few examples of popular Chrysler models and their associated insurance groups. Groups sometimes change, by the way – so go to our car insurance groups page to double-check. 
Chrysler Crossfire insurance group 
Produced between 2003 and 2007, the Chrysler Crossfire was one of Chrysler's more noticeable contributions to British roads. 
The car itself was the result of the brief partnership between Daimler-Benz and Chrysler, in an attempt to make a two-seater that would put a dent in the competitive roadster market. 
The Crossfire was available in Coupe and Roadster form - with a powerful, six-cylinder, 3.2-litre engine that packed a serious punch. With 330 bhp, the Crossfire could reach 60mph in 4.8 seconds. All great for driving experience, but not so great for the insurance expense. 
The standard Coupe falls into insurance group 43, while the SRT version (Street & Racing Technology) bumps it up to group 46. Meanwhile, the Roadster edition sits in insurance group 46 as standard, while the SRT version of the Roadster rests in group 48.
Chrysler Ypsilon insurance group 
The Chrysler Ypsilon was actually a third generation Lancia Ypsilon, repackaged under the Chrysler badge for the UK and Ireland market. 
A stark contrast to the big cars it was commonly known for, the Chrysler-labelled Ypsilon covered a base seldom embraced by the US brand – the supermini. 
Manufactured from 2011 to 2015, the Chrysler/Lancia lovechild was named after the Greek letter Y (our thoughts exactly). 
Nevertheless, the five-door hatchback was an affordable yet upmarket answer to the Fiesta and Corsa market. 
Unlike the sporty Crossfire, the Ypsilon is far more affordable on the insurance front. In fact, the 1.2 S is categorised way down the list in group 3. While the 1.3 M-Jet series are higher up in groups 11 to 13, most standard versions of the Ypsilon fall into groups 4 to 10. 
Chrysler 300C insurance group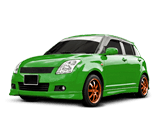 Classified as a full-size luxury car, the popular four-door had a good run in Europe from 2005 to 2015. Also known as the Lancia Thema, the 300C was voted Motor Trend's Car of the Year in 2005, and the list of celebrity owners included the likes of Barack Obama. 
While it was considered by some to be somewhat of a Bentley knock-off, the car gained widespread popularity and featured in countless hip-hop videos. In addition to that, rappers Dr. Dre, Ice Cube and Snoop Dogg all starred in ad campaigns for the car, proving that the 300C didn't deserve a bad rap. 
With an engine size ranging from 3.0 to 3.5, the insurance groups tend to sit between 32 and 42, with the diesel versions on the high end of that scale. Meanwhile the SRT models with their 6.1-litre engines are higher again in group 46. 
How to find cheap Chrysler insurance 
Despite the fact that Chrysler itself no longer officially resides in the UK, plenty of insurers are more than happy to cover their vehicles. 
Don't be afraid to shop around and compare insurance prices before settling with your provider of choice. Our comparison service is a great way to weigh up your options. 
It's also worth contemplating whether or not you need optional extras. 
You may be covered for certain protection already – eg breakdown cover through your bank policy – while other additions may not be relevant to you at all. Don't pay for cover you don't need, and make sure you're not signed up for anything you haven't explicitly asked for. 
Finally, an owners' club may open you up to discounts or insider information on deals and offers available. A specialist provider may be able to offer the most relevant cover for your car, so it's worth exploring the variety of options before you commit. 
By Martyn Grant