Guide to Churchill car insurance
Famous for its nodding bulldog mascot, and his infamous catchphrase, Churchill is one of Britain's leading car insurance providers.
Key points
Churchill is more than just a nodding dog mascot: its motor insurance has a 5-star rating from Defaqto
It offers two tiers of cover: third party, fire and theft, and comprehensive cover. Churchill also offers black box policies, and a multi-car discount
Its customers tend to rate the brand highly
Could Churchill be the right car insurance provider for you? 
Churchill car insurance 
Founded in 1989, Churchill was one of Britain's first direct car insurance companies. It's since expanded to offer a variety of products such as home and pet insurance.  
Its car insurance has a 5-star rating from independent financial review service Defaqto, indicating a high-quality service.  
Churchill provides several different types of car insurance, including comprehensive and third party, fire, and theft cover, black box cover, and multi-car policies.  
Getting a quote from Churchill 
Churchill offers two tiers of cover for car insurance. The first is third party, fire, and theft (TPFT), which will cover you in the event that someone makes a claim against you. You'll also be covered if your car is stolen, or damaged by fire. 
However, if you have an accident, you won't be covered for the cost of repairs - regardless of fault. 
The second tier, which offers more wide-ranging protection, is comprehensive cover. With comprehensive cover, you'll be covered for the cost of repairs in the event of an accident, regardless of fault. You may even be covered for any medical expenses following an accident. 
Multi-car policies 
Churchill also offers a multi-car discount, with which you can insure a maximum of 10 vehicles. Every person in your household that owns a vehicle can be insured.  
Linking all the vehicles together will give everyone a discount on their policy, and the renewal dates will all be kept separate for the sake of your wallet.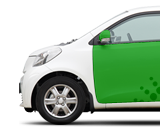 Even better, your no claims bonus won't be affected if another vehicle in the household is involved in an accident.
Black box insurance 
In addition, Churchill also offers 'telematics' insurance, or black box insurance. 
The little black box is plugged into your car, and analyses the way you drive to help tailor your renewal quote to you. 
If you're a new driver under 25, this particular policy could be a great help in saving money on your insurance. 
We can compare Churchill's car insurance policies against other insurance providers to help you find the right one for you. 
Rave reviews for Churchill car insurance? 
Defaqto has given Churchill car insurance a 5-star rating. Given that Defaqto is a completely independent financial services reviewer, it's fair to trust its judgment in doing so.  
The customers themselves also seem to be very happy with Churchill's service. On independent customer review site reviews.co.uk, in February 2018, far more customers have left five-star reviews than one-star reviews.  
It would certainly seem Churchill knows how to keep its customers happy! 
How to cancel Churchill car insurance 
If you cancel your policy within fourteen days of purchase, Churchill will refund any premium paid, minus a fee based on the number of days covered. 
So, if you cancel on the 12th day, you'll be charged a fee for those 12 days.  
If you cancel after 14 days, that same fee still applies, but is supplemented by an administrative fee of for car insurance. This is usually over £50. 
It's worth checking the terms and conditions of your policy to make sure there aren't any other charges you may be liable for. 
By Nick Dunn