Find out all you need to know about courtesy car cover and ensure you have the right insurance if your vehicle is off the road.
Key points
Courtesy car cover may be included as standard on your policy, or you may need to purchase it as an optional extra
Could provide you with a vehicle for a limited time if you're off the road after a theft or accident
Many providers exclude cover if your vehicle is a write-off ('total loss')
You're likely to have to use the insurer's approved repairer after an accident and should watch out for other terms and conditions
Take care when dealing with accident management companies
If you've ever been involved in a car accident or had your vehicle stolen, you'll know how inconvenient it can be.
And it can be even more frustrating when you expect your car insurance provider to deliver a courtesy car within a day or two, only to find that this type of cover isn't included in your policy.
Some insurance companies provide a car as standard under a comprehensive policy, whilst others class it as an added extra and charge an additional fee, and some don't offer this cover at all.
On 23 February, 2015, Gocompare.com analysed the 226 comprehensive car insurance policies listed on the matrix of independent financial researcher Defaqto.
Of those policies, 211 provided courtesy car cover as standard and nine as an optional extra, while six offered no such provision.
What's more, only 101 of the policies would guarantee a courtesy car, 112 policies stating that provision of a vehicle was 'subject to availability'.
Remember that every individual policy will vary. For example, when this guide was researched one provider's comprehensive insurance included a courtesy car if the customer's car was damaged in an accident and was repaired at one of the company's approved garages.
The same provider's standard cover did not provide a courtesy car for write-offs or stolen vehicles, but customers could opt to take out the insurer's hire car upgrade, which provided a car for up to three weeks whilst these types of claims were sorted out.
Does my insurance cover me to drive a courtesy car?
It's important not to assume that you have the same insurance cover on a courtesy car as you have on your regular vehicle, even if your usual drive is in the hands of the insurer's approved repairer.
In Gocompare.com's February 2015 analysis, just 46 policies provided insurance cover for the courtesy car as standard. Although it's likely that many other drivers would be covered under the terms of the car hire company's policy, this protection may not be to the same standard as the driver's regular policy and they may have to think about additional protection.
Remember that it's always wise to check with your insurers or the party providing you with the courtesy vehicle to make sure you have the cover you think you do.
How long can I keep a courtesy car for?
You might assume you can keep the courtesy car for however long it takes yours to be repaired or replaced, but you might have to hand the keys back sooner than you think.
If your car is a write-off, you'll usually have a courtesy car only for a limited period until yours is deemed a total loss, not until you buy a new car
Paul Sample, Gocompare.com
Depending on the level of cover you have, you might only be entitled to a courtesy car for a specified time, such as 30 days or three weeks.
In Gocompare.com's February 2015 study, 214 of the 226 policies would provide a replacement vehicle for the duration of the repair (although many of these included the 'subject to availability' clause).
Courtesy cars after a write-off
Things can get more complicated if your car is declared a write-off. In our study, 27% of policies offered a courtesy car after a write-off and 38% could offer this as an optional extra, but the remaining 35% excluded replacement vehicle cover in these circumstances.
"If your car is a write-off, you'll usually have a courtesy car only for a limited period until yours is deemed a total loss, not until you buy a new car," said Gocompare.com's Paul Sample.
"Make sure you tell your breakdown cover provider that you're driving a courtesy car, or get separate cover.
"If you have your breakdown policy through your insurers, make sure they're aware that you have a courtesy car and give them the registration number.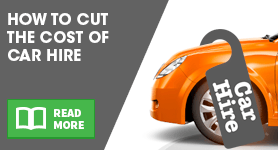 "And when you pick up your courtesy vehicle, check there's no damage. If there is, get the garage to make a note of it so you're not charged later on."
Type and suitability of replacement cars
A further point to consider is whether a courtesy car will be fit for the purpose you need it for. In Gocompare.com's February 2015 study, 197 of the 226 policies would provide a small hatchback as a courtesy car, while just five offered a medium hatchback or saloon.
A total of 23 policies would provide an 'enhanced' courtesy car as standard, but 160 policies explicitly stated that they would not provide such an 'enhanced' replacement vehicle.
Will there be any hidden costs?
If your car is being repaired at a garage on the insurer's approved list, you shouldn't be billed for the use of any courtesy vehicles.
But there is a 'grey area' where accident management companies become involved in the claim, and there have been cases of motorists using a hire car believing it to be complimentary, only to receive a large, unexpected bill.
Customers should always use the approved repairer from their insurer to avoid the pitfalls associated with accident management companies
Paul Sample
This is because accident management firms sometimes introduce their own terms and conditions which fall outside your usual insurance policy terms.
You might be asked to sign a credit agreement, not realising that this could leave you liable for costs if the firm is unable to recover them from the other party's insurance firm.
"Third parties such as accident management companies might contact you following an accident, but they are not usually approved and some of the costs can be expensive," said Sample.
"It's always best to check who's ringing you and who they're calling on behalf of. Customers should always use the approved repairer from their insurer to avoid these pitfalls.
"An approved repairer means the insurers trust their charges. If the accident was your fault, your insurer will be dealing with it and will know what the costs are going to be.
"If the other party's insurance is dealing with it, they will pay reasonable costs. If, for example, you hire a Porsche, they may say the vehicle is not like for like and you'll have to pay some of the costs yourself."
In June 2014 the Competition and Markets Authority (CMA) said that replacement vehicles were costing car insurance customers £180m a year in increased premiums.[1]
Consequently, it said that a cap on courtesy car costs for at-fault motorists would be set by a panel of independent assessors.
What if I don't have courtesy car insurance?
If you are involved in a non-fault accident and need to remain mobile due to commitments such as work, it's advisable to try to keep costs to a minimum if you aren't covered and need to hire a car.
"Consider the type of vehicle you have and try to keep to a similar or lower-grouped vehicle," said Sample.
"Also, the length of time hired must be considered reasonable by the third party insurer you're looking to direct your claim to."
If the accident was your fault and you don't have courtesy car cover then you're likely to be liable for all alternative travel costs.
If you borrow a vehicle for a limited time to tide you over, you may want to read our articles on named drivers and cover to drive other cars, or consider short-term car insurance.
By Rebecca Lees
[SeanSocialShare]