How does having a dash cam in your vehicle affect the cost of your car insurance? And how is camera evidence used?
Key points
Insurers, police and the courts will consider dashboard camera evidence
A small number of insurers offer a discount if you have a dash cam, others may follow their example
If your policy demands a dash cam, ensure your equipment meets the requirements and that the camera is always on when you drive
A policy with a dash cam discount isn't necessarily the cheapest or best one you'll find, and you need to consider the cost of the camera
Dash cams have benefits other than car insurance discounts - they can help encourage good driving, fight crime and resolve disputes.
Technology is having a huge impact on the car insurance world, with things like telematics policies connecting driving behaviour with the price paid for cover.
Dashboard cameras that give a driver's eye view of the road ahead are an increasingly common feature of the modern windscreen, with millions of motorists having installed them in their vehicles.
Insurers are well aware of the potential value of a dash cam. Footage can be used as evidence following an incident to, for example, prove which party was to blame for an accident.
As well as capturing images, many cameras use GPS to record speed and location. This evidence could help to reduce fraud and speed up insurance claims.
So should you join the dash cam revolution?
Insurance discounts if you use a dash cam
In 2014, Swiftcover became the first insurer to offer a dashcam discount and a number of other providers have since followed its example.†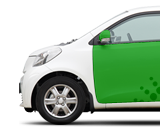 At the time of writing, in March, 2017, this included the RAC, Adrian Flux and Axa, while Sure Thing! even offered a free dashcam with certain policies.
As of March 2017, discounts were typically set at around 10-15%, while the RAC offered £30 off to new customers who bought directly from it.
Bear in mind that there will be a variety of terms and conditions attached to any discount and that - even with the discount - the policy may not be the cheapest or best one for you.
Some of the caveats to look out for include whether a particular brand of camera is required and whether it has to be professionally fitted.
You'll almost certainly need the camera to always record when you're driving and, if you can't supply footage after an accident, you may risk invalidating your policy.
Dash cam evidence in insurance claims
Clear evidence from a dash cam can help speed up insurance claims, deliver a fair outcome and combat fraud. The police, courts and insurance companies will all consider video evidence as part of their investigations.
Did you know...?
Dashcams are also known as car camera recorders
This can be particularly beneficial to you if an accident wasn't your fault, meaning you can avoid cases being settled on a 'knock-for-knock' basis.
This could help to protect your no-claims bonus, mean you won't have to pay an excess and help keep down your premium when you come to renew. Of course, if an accident was your fault, this may be revealed by the camera footage.
Other benefits of dash cams
One of the major benefits of dash cams is that their evidence can help combat crime including crash-for-cash scams, plus hit-and-run drivers who may have their licence plates caught on camera.
Some dash cams can record thefts and vandalism, but this will depend on the set-up you have; most only record when the engine is running, although cameras working on motion detection are available.
As with telematics, dash cams are seen as a way of improving driving skills. Their presence can encourage good behaviour from both the driver - who will know that their actions are being recorded - and other motorists, who may be aware of the increasing number of cameras on the road.
Is big brother watching?
Unlike with telematics, insurers don't currently use dashboard cameras to monitor your overall driving performance. The providers offering dash cam discounts only seem to want footage to help with claims.
In March 2017, Swiftcover said it would only ask a policyholder to provide video footage in the event of an accident.
However, Axa said it may occasionally ask a policyholder to provide footage even when there's been no accident as it wants to ensure that the dash cam is working correctly.

It is, of course, also possible that the police could use footage - either from a driver's own dashcam, or from that of another motorist - to convict someone of speeding or of other illegal behaviour on the road.
Why don't more insurers offer dash cam discounts?
Offering discounts for the use of a dashboard camera is still a fairly new practice and some may consider it a marketing gimmick.
Insurers will monitor the performance of their competitors who do offer discounts and use the evidence to help decide whether they should follow their example.
Did you know...?
In March 2017 the RAC's £30 dashcam discount required you to have one of its approved dashcams, the cheapest of which was £26.50
The use of a dash cam is, of course, just one of a huge number of factors insurers can use to assess your risk and set your premium. Some may even see the camera itself as a risk, as it could attract the attention of thieves.
Insurers may also feel that concentrating on such a single factor could alienate particular groups who may be their target customers; perhaps certain older motorists, who may not be comfortable with the new technology.
Asking whether a driver has a dash cam and including the terms and conditions that govern its use can complicate the insurance buying process.
Some price comparison websites, including Gocompare.com, don't ask whether you have a dash cam, but even if you do use one it's a good idea to compare car insurance quotes on other factors to find the best deal for your circumstances.
Dash cam costs and discounts
A March 2017 search of Amazon found dash cams that ranged in price from £8.34 to £520.
If you're taking out insurance that requires a dash cam for a discount, make sure that the camera you buy is able to meet the policy's terms and conditions.
You might also find that the initial investment in the camera might be more than the potential discount.
As just one example, to qualify for the RAC dash cam discount you need to buy one of its cameras, and the cheapest in March 2017 was £26.50.
To be of any use as evidence, your dash cam images will need to be reliable and clear. There are free smartphone apps that can meet this requirement; insurers should accept smartphone footage as evidence after an incident, but they don't typically accept these apps as suitable for their dash cam discount policies.
By Sean Davies
[SeanSocialShare]