Guide to Diamond car insurance
Thinking about Diamond car insurance? From customer reviews to cancellation charges, here's what you need to know about Diamond...
Key points
Diamond car insurance markets itself as cover for female drivers
Women aren't the only ones who can get cover with Diamond; men can also apply for a quote
Diamond will charge a fee for cancellation and any changes to your policy details
Are you a woman? A lady? An adult human female? If you are then Diamond might be interested in offering you car insurance. 
What is Diamond car insurance?  
Diamond car insurance is "designed for girls". According to Diamond, "women should pay less for car insurance because they are better drivers." 
Well, women are often very close to metastable allotropes of carbon. No wait, hang on. Diamonds are a girl's best friend! That's the one. 
Admiral started Diamond after it spotted a gap in the market for car insurance for young women. Bright, colourful and featuring lots of ladies in its promotions, Diamond makes it quite explicit that it's for women only.  
Yet men are able to apply for car insurance from Diamond. Since 2012, insurers aren't allowed to charge men and women different premiums and they cannot discriminate on gender. Despite this, Diamond still focuses on female customers.  
Diamond launched in 1997. It's part of the Admiral group (as is Elephant), and is based in sunny Cardiff. 
Diamond's car insurance quotes  
Diamond, like most car insurers, offers three types of insurance: 
Third party only - the basic level you must have by law 
Yet no policy is the same. What's included in comprehensive insurance for one provider will be different for another provider. Many offer extra perks to attract customers as well as competing on price. 
With Diamond these extra perks can include: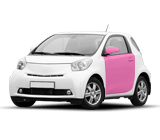 Handbag cover up to £300 (see what we mean?... For ladies) 
Child car seat cover 
Courtesy car  
Cover in Europe as well as the UK 
24-hour emergency helpline 
But check your terms and conditions and compare the benefits before choosing a policy with Diamond. 
Providers will also include bolt-on cover options. Diamond's can include: 
Breakdown cover 
Bonus accelerator - get a no claims bonus after 10 months rather than a year  
Personal injury cover 
Before you decide to go with Diamond, compare car insurance quotes with GoCompare. As well as listing the price, we also have the features that come with policies - so you can compare side-by-side. 
Will Diamond charge me a cancellation fee?  
You always have a 14-day cooling-off period when buying car insurance. Yet some providers will charge an administrative fee. Also you can expect to pay for some of days you've had the policy.  
thinking of changing your insurance before the end of your policy? Check the admin fees and charges first to make sure it's worth it
Diamond does charge a fee if you do cancel within 14 days. 
You can still cancel a policy after 14 days with a car insurance provider. Always check the terms and conditions of your policy. 
You're likely to have to pay an administration fee, and most will also charge for the days you've been covered. You're also not likely to add to your no claims bonus if you cancel early.  
Diamond also charges for any changes to policy details - things such as name, address or job. And for duplicate documents. 
Thinking about changing your car insurance before the end of your policy? Weigh up whether the cost of admin fees and other charges is worth the savings you can make with your new provider. 
See also:
New drivers car insurance
Learner driver car insurance
Young drivers car insurance
Telematics car insurance
Insurance groups
Reviews and customer service for Diamond car insurance  
There's almost as many rating systems and reviews for car insurance as there are policies. But bear in mind that many sites are unverified, so some reviews should be taken with a pinch of salt.
Writing in February 2018, Diamond car insurance scores 4 out of a possible 5 stars by independent reviewers Defaqto. This rating doesn't take customer satisfaction into account.
Diamond didn't appear in the top 10 of Auto Express's Driver Power car insurance survey in 2017. Yet neither was it in the bottom five. This is an improvement on 2013, when it finished in last place. 
OK - let's look at Diamond car insurance customer services. You can contact its customer care team by phone seven days a week: 
Monday to Friday: 8am - 8pm 
Saturday: 9am - 5pm 
Sunday: 9.30am - 4pm  
If you prefer to tweet then it's @DiamondUKHelp. It's online Monday to Friday, 9am - 5pm for customer support. Diamond also has an email form, which is a little hidden away.   
By Sam Easterbrook