Get the right European car insurance and learn more about breakdown cover, Green Card and road essentials when driving abroad. 
Key points
Don't assume that your policy covers you in Europe and - even if it does - the cover level may be basic
Some policies offer dedicated European cover as an optional extra for which you'll pay a fee
Take note of the number of days you're covered for - and of how many days continuous cover
Some insurers will need to be notified if you're travelling overseas
Europe is a popular destination for UK holidaymakers heading abroad in both summer and winter.
Despite this, motorists don't always pay enough attention to the practicalities before setting off.
To drive in another country, you have to be able to show that you have the minimum car insurance required there - certain countries may insist that you have a Green Card to prove this.
Despite such legal requirements, research by Gocompare.com suggested that only 57% said that they always check their policy will cover them when they're abroad, and just 42% arrange specific European breakdown cover.[1]
European cover on car insurance policies
While UK vehicle insurance usually provides the minimum compulsory insurance cover to drive in other EU countries (and other countries specified in your policy document) policies don't necessarily offer the same level of protection as you have while driving in the UK.
If you opt for such a basic level of cover you may not be covered for events such as theft and fire damage.
On 4 April, 2014, Gocompare.com analysed 247 comprehensive car insurance policies listed on the matrix of independent financial researcher, Defaqto.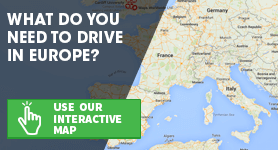 While 83% provided cover for foreign use as standard, only 16% provided full cover as an optional extra (for which a fee was payable), and three polices provided no overseas cover at all.
The comprehensive car insurance policies also varied in the length of time European car cover was valid for, some offering protection for only eight days, while others provided cover for 180 days in a year.
Did you know...?
You may not be able to take the number of days of annual European cover you're entitled to in one consecutive block
Remember also that some insurers will expect you to notify them of the countries you're travelling to, whilst others won't require you to tell them at all.
Certain companies don't expect to be told if you're driving in Europe for a short period, perhaps a week, but might require notification beyond that.
As always, read the small print on your policy documents or call your insurer.
Do this a few weeks before you travel to make sure that additions can be made to your policy and that updated documents arrive in time.
Continuous cover
Another point to be aware of is the length of continuous cover your policy offers.
While policies may offer a certain amount of annual cover when taking your vehicle abroad, this is the maximum number of days you can take annually, not necessarily the number of continuous days you can travel abroad with your car and be covered.
If you're planning an extended jaunt across Europe and intend on staying for longer than your policy allows, you'll have to ring your insurer to get your policy extended.
If you decide to extend your trip while you're away, give your provider a call to make sure you can arrange this.
Green Card (International Motor Insurance Card System)
The Green Card is a document created as part of an international arrangement to facilitate the movement of vehicles with appropriate insurance cover.
Did you know...?
The Green Card is no longer essential in many countries, but it is still needed in certain circumstances
It used to be obligatory for motorists driving abroad in more than 40 countries - including all the countries in Europe - to have to carry a Green Card in order to prove that they had at least the minimum level of insurance required to drive.
The card's origins lay in an international arrangement between insurers and government authorities designed to facilitate the movement of vehicles and to ensure that both motorists and those affected by motoring accidents were adequately covered.
The card is no longer essential in many countries, but it is still needed in certain circumstances.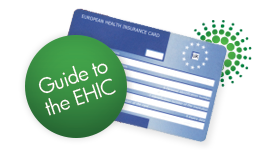 There is some confusion around it, firstly because many drivers don't know which countries it is and isn't needed in.
What's more, although it's no longer legally required in some other countries motorists are sometimes still asked to produce the document by the local authorities.
A Green Card is free but, confusingly, some insurers describe their added European cover - which policyholders have to pay extra for - as Green Card cover.
As with car insurance, motorists shouldn't assume their UK breakdown cover extends to driving abroad
Some insurance firms still issue a card as standard, and others are happy to provide one if requested.
Certain insurers will instead print wording in the major European languages on the back of your certificate of insurance confirming that you have at least the minimum cover required.
Don't forget to take this certificate with you as proof of your European car insurance, as well as the contact details of your insurer in case you need to get in touch with them while you're away.
European cover on breakdown insurance policies
As with car insurance, motorists shouldn't assume their UK breakdown cover extends to driving abroad.
In Gocompare.com's April 2014 analysis of comprehensive car insurance policies, 21% of policies offered UK breakdown as standard, but just 11% included EU breakdown cover as standard.
While 43% allowed European breakdown protection to be added as an optional extra, 45% wouldn't offer such cover on the continent at all.
Insurance on car ferries
If you're planning on using a ferry or the Channel Tunnel to get your vehicle overseas, it's again advisable to check your car insurance terms and conditions.
While you should expect some sort of cover on the vessel, not all insurers will have the same conditions.
If, for example, you have a comprehensive policy your insurance protection on a ferry may not be as extensive as it is on a UK road.
It's also worth checking your breakdown cover in advance. Should your motor conk out on the ferry on the wrong side of the Channel, not all breakdown providers will cover the cost of the ferry transportation back, even if your policy has nationwide recovery included on it.
Think about driving laws overseas
In addition to insurance, motorists also need to know about the laws of the road relating to the country they're travelling in.
Insurance expert Caroline Lloyd stressed that UK motorists should do their research and take every possible precaution before heading to the continent.
"Many people now feel adept at researching the best hotels, restaurants and places to visit on holidays," said Lloyd.
"But if you're planning to drive abroad, make sure you also familiarise yourself with the local driving rules, traffic signs and priorities and road conditions.
"Driving in France, for example, isn't just about remembering to stay on the right-hand side of the road.
"Speed limits, parking regulations and alcohol limits are different to the UK and all motorists are legally required to carry a warning triangle and fluorescent vest, as well as a portable breathalyser kit.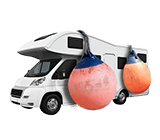 "Also, don't assume your car insurance provides the same cover as it does in the UK - speak to your insurer and check your policy well in advance of your holiday so can you can top it up if necessary.
"Not having the right cover could leave you with a bill of hundreds or even thousands of pounds to get your family and your car back home."
Driving beyond Europe
Take extra care if you're planning to drive beyond the European Union. If, for example, you're planning to drive in Turkey, read your policy closely.
Check your terms and conditions for the list of countries covered against those you're planning to visit. If you're unsure - or if there are any grey areas - contact your insurer.
They may be able to help you, or you may have to look for a specialist insurer.
Don't forget your home insurance
If you are planning an extended trip, remember that most home insurance policies will have exclusions regarding how long you can leave a property unoccupied - 31 days tends to be typical.
Read your policy terms and conditions and - if you think you have a problem - speak to your insurer.
There are dedicated unoccupied property insurance policies on the market that may prove suitable to your needs.
By Sean Davies