Fire up the engine and take our Ferrari guide for a spin
Dripping in history, oozing opulence and screaming status from the very first rev, Ferrari is one of the most desirable car brands on the planet.
Key points
Most Ferraris are found in insurance group 50 – the most expensive insurance group available
Customisation and modification will likely affect the price of your insurance premium
Joining an owners' club could make you eligible for insurance discounts and offers
There's no denying it - Ferraris are sexy, stylish, and cooler than a frozen cucumber listening to smooth jazz. 
Sadly car insurance isn't quite as exciting or seductive... but the benefits can still be pretty handy nonetheless. 
If you own a Ferrari, keep your pride and joy running joyous and proud by backing it up with Ferrari car insurance. 
About Ferrari 
Founded in 1939 by auto legend, Enzo Ferrari, the iconic racing staple was originally born out of Alfa Romeo – the company that Enzo had been working for at the time. Over the next 30 years, the newly minted Ferrari brand would grow exponentially. 
In 1969 Ferrari became part of Italian auto giant, Fiat, and shifted its focus from strictly race cars to street-legal vehicles. The move changed the game forever, and saw Ferrari transition from the track to the open road. 
The classic red Ferrari is still one of the most recognisable cars in the history of motoring and the colour makes up 45% of all Ferraris sold. 
Today, Ferrari has become so much more than a traditional car manufacturer. Ferrari makes approximately $1.5 billion in retail, through sales of branded items such as clothes, watches and scale models.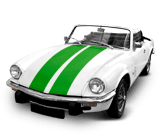 In fact, Ferrari is so popular worldwide that there's even a Ferrari theme park in Abu Dhabi, appropriately titled World of Ferrari. 
Where can I get Ferrari insurance? 
Ferrari is the oldest team in the history of the F1 Championship and boasts countless records on its resume. As such, it's fair to say Ferrari knows a thing or two about sports cars. Luckily, so does Lockton Performance. 
Lockton Performance is the exclusive insurer of the Ferrari Owners' Club and its bespoke insurance scheme. You can't buy Lockton Performance policies through GoCompare, but you can compare a range of other policies for your Ferrari through us.
Featuring 90-day European cover, UK and EU breakdown cover and the option to choose your own repairer in the event of a claim, a policy with Lockton Performance is designed specifically to keep your time behind the wheel running as smoothly as the engine beneath the bonnet. These features were available in March 2018.
Ferrari insurance groups will naturally be high, while different models will also warrant a slightly different cover, depending on age, spec and design. Here's two of the most common Ferrari models you may see outside of the race circuit. 
Ferrari F430 insurance group 
Making its debut at the 2004 Paris Motor Show, the Ferrari F430 is a sporty two-door with 4.3-litre engine. 
Despite being discontinued in 2009, the car itself retains a big cult status to this day. 
The F430 was available in a number of models, namely the F430 Coupe and F430 Scuderia, along with their respective convertible versions, the F430 Spider and F430 Scuderia 16M. 
The F430 has also appeared a number of times on the small screen, with supporting roles in 90210, Entourage and Two and a Half Men. It's even appeared in animation form in an episode of American Dad. Meanwhile, the F430 has also crossed over to the big screen in the movie version of Miami Vice and Fast & Furious 6. 
With such prestige, power and value, the F430 is understandably ranked in insurance group 50 - the most expensive insurance category available. 
Ferrari 458 insurance group 
As the successor of the F430, the 458 had some big shoes to fill when it was unveiled in 2009. 
Naturally, it didn't disappoint. With an acceleration of 0 – 60mph in just 3.4 seconds and a top speed of 202mph, the 458 is a slender beast that breathes some serious fire. 
The Ferrari 458 came in three different versions throughout its run from 2009 to 2015: the 458 Italia, the 458 Spider and 458 Speciale. 
With a 4.5-litre engine beneath the bonnet and 562bhp, Ferrari's slick 458 is essentially a four-wheeled cobra: serpentine in both appearance and movement, yet powerful and ferocious at the same time. 
The 458 has won countless awards throughout its run, including Top Gear's Car of the Year, GQ's Supercar of the Year and a #1 ranking in the New York Times. 
With such fanfare, ferocity and fame, it's no wonder the Ferrari 458 also sits in the highest insurance group available – insurance group 50. 
How much does car insurance cost for a Ferrari?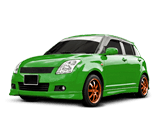 When it comes to luxury sports cars and premium performance vehicles, few brands hold the prestige, credibility and exclusivity of Ferrari. 
In fact, the most expensive Ferrari ever made was rumoured to have sold for £15 million at a private auction - it doesn't get any more exclusive than that. 
Needless to say, the privilege of being a Ferrari owner typically comes with a hefty price tag attached. 
With such expense for the cars themselves, it should come as no surprise that insurance for these superbly built specimens doesn't come cheap.
However, there are a few ways you can hopefully lessen the expense of car insurance. 
Ferraris are notoriously popular cars for post-purchase customisation. However, it's worth remembering that any modifications made could affect the price of car insurance. 
While some insurers may be reluctant to cover a Ferrari, there a still plenty of insurers who will. 
Be sure to shop around and compare Ferrari insurance quotes between providers – a short comparison search could go a long way. 
Meanwhile, joining an official owners' club could make you eligible to discounts. 
Finally, it may be possible to get a lower premium by pursuing limited mileage insurance. This is essentially an agreement whereby you agree to only drive your car for a set number of miles a year. 
For those that drive their sports cars on a infrequent basis – weekends, hot weather, special occasions etc – this option could be ideal. 
By Martyn Grant