The power of Honda car insurance
Do you own or plan on owning a Honda? If you do, "The Power of Dreams" company might have some car insurance to go with your Honda vehicle.
Key points
Honda's car insurance offers the usual, like personal accident and medical bills cover, as well as extras such as legal protection and breakdown cover
Car insurance groups range from 1 to 50, and could have an impact on your car insurance price
Other things that could affect your car insurance quote are vehicle value and your occupation. Compare difference insurance providers with Honda to see who offers the most suitable cover for the best price
Hondas tend to be expensive cars, so you'll want to get the right insurance to properly cover it in case something goes wrong.  
Honda has its own comprehensive car insurance which aims to give Honda drivers some peace of mind – "who better to insure your car than the people who built it?" is what they say. 
Although in truth, it's always a good idea to compare policies before you commit. You can't buy Honda's bespoke policy through GoCompare, but you can compare a selection of other policies to see how they measure up. 
Honda car insurance  
Honda's comprehensive car insurance can be bought from a dealership and offers as standard the usual third-party liability, personal accident, medical bills and possessions cover, as well as: 
Genuine Honda repairs and guarantees 
Uninsured driver promise – your no claims bonus won't be affected if you're hit by an uninsured driver 
New vehicle replacement cover – provided your Honda is written-off within 12 months of buying it 
Courtesy car cover 

Key replacement cover 
Legal cover 
24-hour accident recovery 
Child seat cover 
In-car entertainment cover 
If you want to protect your no claims bonus (NCB), you can choose to take out NCB protection as an add-on to your car insurance.  
Breakdown cover comes as standard with any Honda that has an extended guarantee or is within its factory warranty period. 
One factor that might have an impact on the cost of your insurance quote, whether that's from Honda or another provider, is your vehicle's car insurance group. 
Car insurance groups range from 1 to 50. If you're lucky enough to have a car in the lower groups, you could benefit from cheaper premiums.  
Let's take a look at some popular Hondas and see what insurance groups they can be found in. Although groups may change from time to time, so use our car insurance group checker to be sure. 
Honda Jazz 
The Honda Jazz is bold and imposing to look at, which means it's got great presence. If you want a compact car with a reasonable amount of room then this model will do you fine.  
There's also a sports version for any performance enthusiasts out there.  
The car insurance groups for the Jazz range from 12 to 16.  
Honda Civic 
Honda Civic fans, we've got some info for you too. 
The Civic was first produced in 1972 and there are 10 generations of it.  
It's mostly known for its compact but roomy interior, fuel efficiency and reliability, with more modern versions having a sportier reputation.  
Although now only available as a hatchback, the Civic is also available second-hand as a saloon, estate and coupe.   
The hatchback has a huge range of insurance groups, between groups 5 to 40. Where your Civic hatchback falls will depend on things like the engine size and vehicle value.  
If it's a coupe you've got, you'll find it in insurance groups 15 to 29. 
A saloon version of the Civic can be found around groups 16 to 29, and similarly, the Civic estate is between groups 17 and 29.  
Honda Accord 
Honda's Accord model is another car that offers plenty of choice, whether you want a hatchback, a tourer or something in-between.  
The Honda Accord is a luxurious model, with a focus on being practical too. It can be found in insurance groups 17 to 34.  
Honda CR-V and S2000 
The Honda CR-V - a compact crossover SUV first made in 1995 for those daily trips and weekend adventures.  
The new CV-R is a bold and contemporary SUV with a snazzy interior and lots of safety and design extras to suit your needs. You can find the CR-V in insurance groups 19 to 30. 
If you'd prefer something a bit more sporty, the Honda S2000 might be more your speed.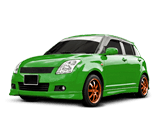 With fun and responsive handling, snug cabin and a throaty exhaust, you can be a little smug about owning such a cool sports car. The downside of this car is its insurance group placement, which is on the higher end of the scale, between 40 and 44.  
The Power of Dreams 
The founder of Honda, Soichiro Honda, always had an interest in vehicles, and started off making piston rings for Toyota and motorcycles. Honda's first motorbikes were first made in 1949 called the D-type or 'Dream', and the first production car was made in 1963. 
Honda discontinued its Formula 1 racing team in 1992, partly because it wanted to encourage a more environmentally friendly image. Even though it started the Honda Aircraft Company three years later... Hmm.  
Honda also produces robots, the most famous being ASIMO, who can be controlled using a special helmet that measures human brainwaves. At the time of writing, it's the only humanoid robot that can go up and down stairs on its own.  
See also:
New drivers car insurance
Learner driver car insurance
Young drivers car insurance
Telematics car insurance
Find the right insurance at a good price 
You won't be surprised that our top tip for cheaper car insurance is to compare prices from different providers to see who's offering what for the cheapest price.  
Honda's car insurance has all the bells and whistles, so it may seem like a no-brainer... But you could find yourself paying out for options you don't need. A policy that only covers exactly what you require may end up cheaper.   
For more top tips on getting cheaper car insurance, check out our guide.  
Wherever you get your car insurance from, just remember to follow your car insurance dreams. They're powerful things, apparently.  
By Amy Smith