There's no shortage of advice on what to do in the event of an accident or collision, but what about in the days and weeks afterwards? There's more involved than simply filling out a claim form...
Key points
Contact your insurer promptly with all the details they require
Check your paperwork so you know what you're entitled to and what you're liable for
If you have Gap insurance, inform the Gap provider of the incident at the earliest opportunity
Should you want to buy back a total loss vehicle, ensure your insurer knows this
Check your paperwork
It's such a simple thing to overlook, but it's also such an important thing to do.
Check your insurance documents fully and thoroughly, ensuring you're aware of everything that's applicable to you and, most importantly, what you're entitled to as part of your policy.
There's every chance you dismissed something on the basis of 'I'll never need that', or, even worse, you could be under the assumption that you have cover which isn't actually applicable.
Here are some examples:
Replacement vehicle cover
Some policies will entitle you to a temporary replacement vehicle which should be with you within 24 hours of notifying the insurer.
Legal cover
While standard on many polices, ironically it's not a legal requirement to have legal assistance. If you do have it in place you should call them, as they'll be able to offer free advice in most cases.
If it's not part of your policy, being aware as soon as possible will give you time to seek other legal aid should the collision have resulted in dispute.
Personal accident cover
Personal accident insurance is often part of a comprehensive policy, but it's definitely worth checking. Most personal accident policies will offer some sort of cover for both the driver and passengers.
Guaranteed Asset Protection (Gap)
Although there have been criticisms of the product, a Guaranteed Asset Protection (Gap) policy can be a valuable thing to have in place. In brief, it'll pay out the difference between what you paid for the car and what the insurer pays out in the event of a total loss/write-off.
This is because the insurer will typically only pay you the market value of the car, not what you paid for it. If you have a Gap policy there are a few things you can do to ensure that the pay-out is handled quickly:
Tell the Gap providers
Don't wait for your insurer to sort it all out because they won't. You'll need to inform your Gap provider of the incident as soon as possible.
They won't be able to release funds until the vehicle insurer has done its work, but the sooner the Gap provider knows, the sooner they can start getting everything in place for a quick pay-out.
Who to tell
Your vehicle insurer doesn't have any legal need to know you have a Gap policy. In fact, a Gap policy is a totally stand-alone purchase.
Telling your vehicle insurer about it could slow down the pay-out - they may try to pay out as little as possible, thus putting the bulk of any claim on the Gap policy.
Make your claim as normal with your vehicle insurer. Inform your Gap underwriter that you're making a claim and then, when your vehicle insurer has paid out, you can claim back the Gap portion, usually within 14 days.
The excess
Often overlooked when setting up a policy, the excess can become a key element in the event of a claim. It can also be an element which can slow down a claim, so make sure you know the facts.
Voluntary/compulsory excess
Make sure you know what the split is (if there is one) between the voluntary and the compulsory part of your excess.
You may be positive that your excess is, for example, £300. However, that might only be the voluntary part of it, meaning there could be an additional 'compulsory' element insisted upon by the underwriter.
Pay the excess quickly
Make sure you pay the excess as soon as you're able to. The sooner the insurer has it, the sooner it can progress with the claim and get you back on the road.
Consider insuring your excess
A quick internet search will highlight companies who are willing to insure your excess for a fee. So, even if a claim is a direct result of your actions, not those of a third party, you'll be able to get your excess back for just a fraction of the excess itself.
Buying your car back
It's certainly not for everyone, but we're sure some of you would like to get your car back after a claim.
Maybe you've recently invested in new parts, maybe the car has sentimental value… Whatever the reason, your car being written off doesn't always mean you have to hand it over to the insurer.
When your car is written off, it remains your property until the insurer has settled any claim. That's when the car becomes their property, as they've paid you for that car, returning you to a position where you have the funds to go and buy another.
That said, once the insurer has paid out they are left with a four-wheeled asset which they have to dispose of. They do this by selling it, and there's no reason why the person they sell it to can't be you.
Tell the insurer
As soon as you speak to your insurer, express the fact that you'd like the car back. It won't alter your claim, but it will act as a record of your request. Basically, it will put the insurer in a position to offer you first refusal when it comes to selling the vehicle.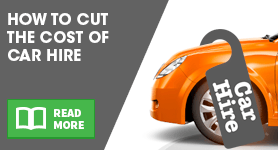 Locate the vehicle
Find out where the car is and view it as soon as possible. The reality is, the last time you saw it was immediately after the collision.
While in a state of shock your mind's eye might have painted a picture somewhat better than reality. Viewing the car will allow you to assess if buying it back is worthwhile.
Keep in touch
Your insurer will do everything to help you with your claim, but they're dealing with thousands of other claims, so you can't expect them to be overly proactive when it comes to buying your car back. Stay on their case and ensure you're up to speed with the latest developments regarding your claim.
By Chris Pollitt
[SeanSocialShare]