Guide to insurance for left-hand drive and other imported cars
Key points
Cover is readily available for left-hand drive vehicles, but costs may be higher and choice of insurers more restricted
Ensure you accurately describe the vehicle when seeking a quote and - if you're in any doubt that the cover is appropriate - speak to the insurer directly
Try Gocompare.com's quick and easy quotes service, but if you don't see appropriate deals there may be specialist insurers to turn to
Be it by foot or carriage, the tradition of keeping to the left can be traced back to at least Roman times.
There's an extensive history behind left-hand-traffic, whether that's as a way of ensuring order in a congested area, organising troops, or being able to pull out your sword with your dominant hand if a conflict arose.
Mercifully, sword fights are no longer a threat on the road, but over 60 countries have stuck to the logic of making road-users travel on the left-hand side of the road, and consequently of having right-hand drive vehicles.
In the UK, driving on the left has been recommended legally since the General Highways Act of 1773 and official law since the Highway Act of 1835.
However there are no laws against driving a left-hand-drive (LHD) vehicle on UK roads and many UK insurance companies can provide cover.
Insuring a left-hand drive vehicle
Insurance for a LHD or imported vehicle is easy to obtain and you should be able to find a variety of options through a comparison site such as Gocompare.com. If the vehicle is recognised by the Association of British Insurers (ABI) you'll find it in our car insurance quote process.
If you've found an insurer who'll cover your vehicle but you're unsure about any aspect of it, it's always best to speak to the provider directly
Just enter the vehicle details and you'll see it in our extensive list of cars that UK insurers cover. You'll be given the option to state whether the vehicle is left- or right-hand drive.
If you don't find your vehicle in that list, then you may still be able to find cover by going direct to an insurance company that specialises in imports.
Be aware that policy premiums may be higher when insuring a LHD vehicle and your choice of insurers more restricted.
Imports from beyond the EU are rated differently because of differing safety and manufacturing standards, plus there's often a general wariness from many insurers because the vehicle is not UK-standard.
"Most mainstream direct insurers simply don't cater for LHD vehicles," said Rob Balls of insurer Adrian Flux. "Some will continue to decline them or to load premiums for these cars, even if the vehicle has been previously owned and insured. Most will not insure vehicles that fall into this category on anything but a UK plate."
Speaking to an insurer directly
If you've found an insurer who'll cover your vehicle but you're unsure about any aspect of it, it's always best to speak to the provider directly. Model specifications differ between continents; ensuring the provider has the precise details of your vehicle, and not something similar, is a legal requirement.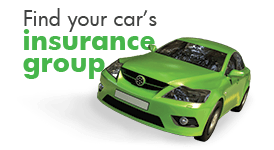 Insurers may wish to ask you about your experience of driving LHD vehicles, or may need to know the progress of the import paperwork and DVLA registration.
Some insurers can provide a full policy while they wait for your paperwork to be completed (just as they wait for evidence of your no claims bonus or licence) while others will insist on a short-term policy or additional vehicle add-on to your current vehicle policy.
Other insurance companies won't cover your import until it's fully certificated, taxed and registered with a UK number plate. Contacting an insurer directly means you'll know exactly what you have to do to ensure you're legally covered to drive your imported vehicle.
Importing a vehicle
Imported vehicles are often cheaper than their UK counterparts. This is because of the exchange rate, local tax laws and the fact that more LHD vehicles are made so there's a higher quantity of stock.
There are many specialist companies who can manage the whole process for you - from purchase to your doorstep, including all the necessary logistical and legal paperwork - but it's a good idea to have your own knowledge of the way the process works.
What happened when Sweden switched from driving on the left to the right?
Importing from the EU
When importing a vehicle from the EU you'll need a European Certificate of Conformity to prove your vehicle has been built to EU standards. This can be obtained from the manufacturer directly.
You also require a Certificate of Mutual Recognition, proving that certain alterations have been made to adhere to UK safety standards. This includes adapting your headlights so that the beam isn't directed into oncoming traffic, converting the speedometer and fitting rear seatbelts.
A Certificate of Mutual Recognition can be purchased from the Vehicle Certification Agency (VCA).†
Importing a non EU vehicle
Vehicles imported from a non-EU country will have to be type approved by the Driver and Vehicle Standards Agency (DVSA). This process is called Individual Vehicle Approval (IVA) and details of costs and test centres can be found on the DVSA website.†
Registering with the DVLA and HMRC
Once you have the right certification in place, the DVLA need to document the vehicle and provide UK registration plates. As well as the above documentation you'll also require the original foreign registration certificate. If you're importing the vehicle yourself, you can apply for an import registration pack from the DVLA.†
The vehicle also needs to be registered on the Notification of Vehicle Arrivals within 14 days of arrival. This will ensure that HM Revenue and Customs is aware of your vehicle and can apply any additional tax or VAT that may be necessary.†
Tips for driving a LHD car
If you're new to driving a left-hand drive vehicle in the UK, there are several key differences to be aware of:
Positioning on the road
Similar to driving on the continent in a right-hand drive car, at first you may feel unnaturally close to the kerb and may have the instinct to drift right towards the centre. Be aware of this and correct any drifting that occurs.
Keep more distance
When overtaking, be sure to maintain as much distance from other vehicles as possible. This is because your view of oncoming traffic is more limited. Before making the decision to overtake, keep your distance in case you need to pull back in.
Rear-view mirror
Make sure your rear-view mirror allows you to see the entire road. You may want to consider a wider mirror or an extension device for both your rear-view mirror and your right-hand wing mirror.
Keep your speed
If you've yet to obtain your Certificate of Mutual Recognition and your speedometer is still in kilometres-per-hour then be wary of your speed. Note that:
30mph is 48km/h
50mph is 80km/h
70mph is 112km/h
By Dave Jenkins