Here's what you need to know about car insurance for left-hand drive vehicles
Key points
Cover is readily available for left-hand drive vehicles, but costs may be higher and the choice of insurers more restricted
Ensure you accurately describe your imported vehicle when seeking a quote and – if you're in any doubt that the cover is appropriate – speak to the insurer directly
Try Gocompare's quick and easy quotes service. But if you don't see appropriate deals there may be specialist insurers to turn to
Whether you're looking to save a few pounds on a Peugeot or hit the highway in an all-American muscle car, if you're importing a car then you're going to need import car insurance.
Whatever side the steering wheel is on, you can always compare car insurance quotes with GoCompare!
Import car insurance
Imported vehicles are often cheaper than their UK counterparts. This can be down to the exchange rate, local tax laws, and the fact that more left-hand drive (LHD) vehicles are made so there's a higher quantity of stock.
There are many specialist companies who can manage the whole process for you – from purchase to your driveway, including all the necessary logistical and legal paperwork – but it's a good idea to have your own knowledge of the way the process works.
Is imported car insurance more expensive?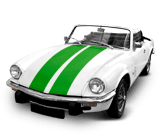 It can be, and your choice of insurance providers may be fewer.
It all comes down to insurers not being sure of how much of a risk they're taking. And when they're not sure, the premiums will go up.
So, if you're importing say a Volkswagen or Fiat then your insurer will probably know all about it and offer a competitive quote. If it's a rare Japanese super car or vintage Chevy, then your insurer may not have enough of the relevant data, and won't provide cover.
Imports from beyond the EU are rated differently because of differing safety and manufacturing standards. Plus there's often a general wariness from many insurers because the vehicle isn't UK-standard.
"Most mainstream direct insurers simply don't cater for LHD vehicles," said Rob Balls of insurer Adrian Flux. 
"Some will continue to decline them or to load premiums for these cars, even if the vehicle has been previously owned and insured. Most will not insure vehicles that fall into this category on anything but a UK plate."
What happened when Sweden switched from driving on the left to the right?
Car insurance for imported cars
There's two different categories of cars that you can import to the UK. These are grey imports and parallel imports.
Which one your motor falls into can have a big impact on how much imported car insurance you'll be paying.
Grey import car insurance
Grey imports are cars built outside the EU and don't have an equivalent model available in the UK. We're mainly talking Japanese and American motors here. 
These cars don't tend to comply with European standards on safety and emissions, and you may have to jump through a lot of hoops to get cover. Insurers will require lots of information and details before deciding on whether to offer you a quote.
Many won't due to the cost and potential difficulty in sourcing spare parts for your imported motor.
However, if you're buying a grey import through a reputable dealer, they're likely to have made the modifications necessary to make them road legal in the UK. 
Also, as non-EU cars tend to be built to a higher spec – more powerful, heavier etc – insurers calculate that you're more likely to have an accident and make a claim. Imported cars may also be more attractive to thieves due to their rarity and power.
All this adds up to higher premiums for grey import car insurance.
Did you know...?
If you're not sure whether the car is an import or not, check the V5C document (vehicle log book) to see its origin.
Parallel import car insurance
The other type of imported car is parallel. Parallel imports are typically cars from EU countries that have the same spec as models sold in the UK.
Yet just because most of Europe drives on the right, it doesn't mean all cars imported from the EU are left-hand drive. While only Cyprus, Ireland and Malta join the UK in driving on the left in Europe, car dealerships in mainland Europe can sell right-hand drive vehicles. Indeed, manufacturers must treat orders for RHD vehicles the same as LHD vehicles under EU law.
As such, parallel import car insurance tends to be more affordable than grey import car insurance.
What's personal import car insurance?
If you import a car rather than go through a broker or a dealer then it's a personal import. Depending on where you get it from, it'll be either a grey import or a parallel import. You'll have some extra paperwork to do and taxes to pay, so give GOV.UK's info a read on importing vehicles into the UK before you start.† 
Japanese import car insurance
Japanese import cars are among the most popular to be brought into the country. "Not only are these high-powered vehicles popular with certain drivers, the fact that Japan also drives on the left means they're right-hand drive like cars in the UK. However, due to different build specs they tend to be grey imports instead of parallel," says Matt Oliver, car insurance expert at GoCompare.
Left-hand drive car insurance
Insurance for a left-hand drive vehicle is easy to obtain and you'll be able to find a variety of options through GoCompare. If the vehicle is recognised by the Association of British Insurers (ABI), you'll be able to find it when getting your car insurance quote. 
Just enter the vehicle details and you'll see it in our extensive list of cars that UK insurers cover. You'll be given the option to state whether the vehicle is left or right-hand drive. 
If you don't find your vehicle in that list, then you may still be able to find cover by going direct to an insurance company that specialises in imports.
US import car insurance
Cars imported from the USA tend to be grey imports and left-hand drive, so can be expensive to insure for UK roads. So, get right under the hood with our guide to American car insurance before taking the plunge. 
Finding cheap import car insurance
As the premiums for imported cars are often higher than standard cars, it's more important than ever to compare what's out there and find the best deal for you. But if your new imported car is very rare, consider contacting an owners' club for advice on your particular model.
You may be able to lower your premiums for imported cars by following the golden rules of car insurance: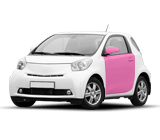 Park your car securely – preferably in a garage
Fit alarms and immobilisers
Consider telematics boxes
Don't add modifications
Opt to pay a higher excess
Build up your no claims bonus
You can use GoCompare to find parallel import car insurance and grey import car insurance. Pop your details in and see what you could save!