Ready to insure your luxury Lexus?
If you're a fan of the best-selling Lexus cars, it's worth getting the right insurance. So, we've put together a handy guide to getting the right policy.
Key points
Lexus is well known for its hybrid and luxury cars
There are three different types of cover offered by the company: Lexus SMART, Asset Protection, and Motor Insurance
The Lexus models fall into insurance groups go from 17 up to 50, meaning some models are comparatively cheap to insure
As one of the biggest luxury car brands in the world, Lexus cars are owned by plenty of celebrities, including Sir Paul McCartney (beep beep'm, beep beep yeah). 
Lexus is one of Japan's largest global brands. It also offers its own car insurance policy. 
Lexus car insurance 
You can compare performance and sports car insurance, plus many other types of policy to cover your Lexus.
But, if you want to plump for a Lexus own-brand insurance, that's possible too.
Owners of a Lexus are able to take out three different types of policy with the company. The one with the most benefits is the bespoke motor insurance policy, exclusive to Lexus drivers.  
As standard, this policy offers a courtesy car while your vehicle is being repaired at an approved Lexus repairer with genuine Lexus parts. 
You're also entitled to cover for medical expenses and personal belongings up to a certain value, as well as cover for your keys and your child's car seat.  
If you're hit by an uninsured driver, Lexus states it will not charge you an excess, and that your no claims bonus won't be affected.  
On top of this, Lexus owners can also take out Lexus SMART (Small Motor Accident Repair Technology) cover. This provides protection against small repairs for the little scratches and dents life likes to throw at a vehicle. So, if your carefully-crafted champagne-glass pyramid collapses, you'll be covered for the damage it causes. 
Being a luxury vehicle brand, Lexus also understands how expensive its vehicles are to replace. So, if yours is written-off, it provides cover called Asset Protector.  
This acts in the same way as Gap insurance: it'll pay the difference between the market value of your car and the original cost. So, if your car was £22,000 at purchase, but is only worth £13,000 when it's written-off, you may receive approximately £9,000 from Asset Protector.  
Please be aware that you can't buy bespoke Lexus insurance through GoCompare. But you can compare other policies for your Lexus, and find the level of cover that suits your needs.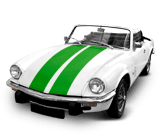 What to expect from a Lexus 
Lexus is the luxury vehicle division of Toyota, and by March 2016 had sold over 1 million hybrid electric cars worldwide. 
In 1983, Toyota's chairman Eiji Toyoda issued a challenge to build the world's best car. Six years later, the Lexus LS 400 was born, famously marketed by the 'Balance' advert of 1989.†  
Lexus' vehicles are mostly sedans of various sizes, as well as some convertibles and sport-utility vehicles (SUVs). It's perhaps most famous for its hybrid vehicles such as the RX, and the CT200h. 
Lexus insurance groups 
In Britain, all cars are given an insurance group rating, based on a number of factors. This rating goes between 1 and 50, and the higher the number, the more expensive the insurance for that car.  
Being a well-known luxury car manufacturer, Lexus cars tend to fall into the higher-numbered groups. For example, research undertaken in February 2018 showed the LC Coupe in groups 47-50. 
Some models, such as the CT, can be found in lower-numbered groups between 17 and 21. In the middle of these is the NX, found in groups between 27 and 38.  
So, while a Lexus might be a luxurious car to own, it needn't be too expensive to insure.  
Top tips for cheaper Lexus insurance 
Lexus' own brand of insurance may feature a number of benefits, but that doesn't necessarily mean it'll be right for your needs.
If you're looking for cover at the right price, check out our top tips for cheaper car insurance.
And if you want to make sure you're getting the right policy for you, we can help you compare policies from other insurers. 
By Nick Dunn