Rev up and strap in for Lotus car insurance
If you want to unleash your inner super-spy and drive a fast car, it's worth insuring your Lotus. We've crafted this useful guide to help you get the right cover.
Key points
Lotus doesn't offer its own insurance policy, but there are providers who do insure Lotus vehicles
The vehicles made by Lotus generally fall into the highest numbered insurance groups
Lotus won 79 Formula 1 Grand Prix prior to 1994
Lotus is one of the biggest names in sports cars. James Bond famously went underwater in one. 
It's one of the youngest car manufacturers on the market, and focuses exclusively on sports and racing cars. 
So, if you like the feel of the wind in your hair and the roar of a racing engine, it's worth making sure you get the right car insurance policy for your Lotus.  
Lotus car insurance 
There's no bespoke own-brand Lotus insurance. But there are several insurance providers who will insure your Lotus with a standard motor insurance policy. 
We can help you compare their policies to make sure you get the right one for you at the right price.  
Standard motor insurance policies come in three types: third party only; third party, fire, and theft; and comprehensive.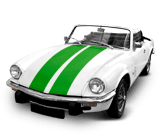 Given the value of Lotus cars, you may only be allowed to take out comprehensive cover, though this is down to your provider.  
A fully comprehensive policy will insure you against accidental damage caused to you or your vehicle, any third party, as well as any fire damage or theft of the vehicle. 
Some policies include excess cover against damage caused by an uninsured driver, but this is dependent on the provider. 
Lotus owners tend to be very careful over how they treat their vehicles, with many models becoming classic or vintage cars. 
It may be worth investigating classic car insurance, especially if your Lotus is an older model. This will ensure your policy is better tailored to your car and its needs if repairs become necessary. 
Driving a Lotus 
Lotus Engineering Ltd was founded in 1952 by Colin Chapman and Colin Dare. 
It expanded over the course of the 1950s into the Lotus Group of Companies, and quickly gained success in racing. 
Did you know...?
Elon Musk - co-founder of Tesla - now owns 007's 'Wet Nellie', and plans to make it a functional submarine
Lotus Engineering also contributed various aspects of the spectacular motoring flop the Sinclair C5. 
On the flipside, Lotus is responsible for about 40% of the content of Tesla's Roadsters through selling the chassis to Tesla. 
Lotus is probably most famous for the Lotus Esprit S1 - known as 'Wet Nellie' - driven by James Bond in The Spy Who Loved Me, which drove underwater. 
Sadly, this was only a fiction. But Lotus' real cars are still impressive sports cars in their own right.  
Lotus' current models include the Evora, produced since 2009, which has a 3.5-litre 24-valve V6 engine. The Evora is larger than the Lotus Elise, which has been in production since 1996. The Elise was named for Elisa, the granddaughter of Romano Artioli, chairman of Lotus and Bugatti at the time of its launch. 
In 1954, Team Lotus was split off from Lotus Engineering, and won its first Formula One victory in the 1961 US Grand Prix. 
Between 1958 and 1994, Team Lotus won 79 Grand Prix, and a total of seven Constructors' Championships.  Famous F1 driver Ayrton Senna drove for Lotus between 1985 and 1987, taking his first pole position in the Portuguese Grand Prix. 
See also:
New drivers car insurance
Telematics car insurance
Young drivers car insurance
Lotus Elise insurance group 
All cars sold in the UK are given a number between 1 and 50, based on a variety of factors such as engine size and trim. These numbers represent the car's insurance group. The higher the number, generally the more expensive the car is to insure. 
Being manufacturers of sports cars, Lotus are usually found in the higher end of insurance groups. 
In February 2018, the Lotus Elise could be found in groups between the mid to high 30s, and 40s, between 36 and 48. 
The lowest numbered group that Lotus cars fell into was 30, for the Lotus Exige, while the Lotus Evora was exclusively found in groups 47 or 50.  
Top tips for cheaper Lotus insurance 
Although there's no bespoke policy from Lotus itself, we can help you find the right policy at the right price for you. 
For more ways to potentially reduce the cost of your premiums, check out our top tips for cheaper car insurance. 
By Nick Dunn