Do you remember every driving offence from the Highway Code? Our recent survey of British motorists revealed up to four out of five drivers are unaware of certain offences that could land them with hefty fines and points on their licenses.
Does this mean that people behind the wheel are unknowingly breaking the law? Via a FOI request, we asked police constabularies around the UK for annual figures on driving violations between 2016 and 2018 to find out. *
Careless driving
(Also known as: Driving without due care and attention.)
Breaking any motoring law could be considered careless, but it is also recognised as a specific offence which carries a penalty of either disqualification or between 3 and 9 points. Depending on how severe the incident is, it can also cost the offender up to £2,500 in fines.
Examples of careless driving are varied and nuanced, but can include: driving inappropriately close to another vehicle; overtaking on the inside; and colliding with a pedestrian.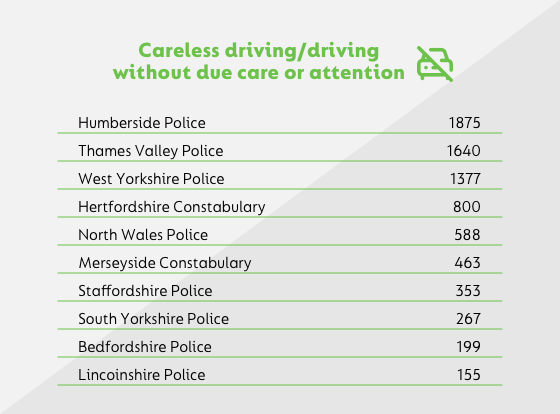 Within the Yorkshire & the Humber region, 3,519 instances of this offence were recorded between 2016 and 2018. Motorists were caught driving without due care and attention more times by Humberside Police than any other constabulary that responded to us.
Children travelling in cars without seatbelts
Drivers are responsible for making sure any passenger under the age of 14 is wearing a seatbelt.
Between 2016 and 2018, there were 657 drivers fined for this offence and with a maximum fine of £500 per incident, the total value of these offences could be worth up to an eye-watering £328,500.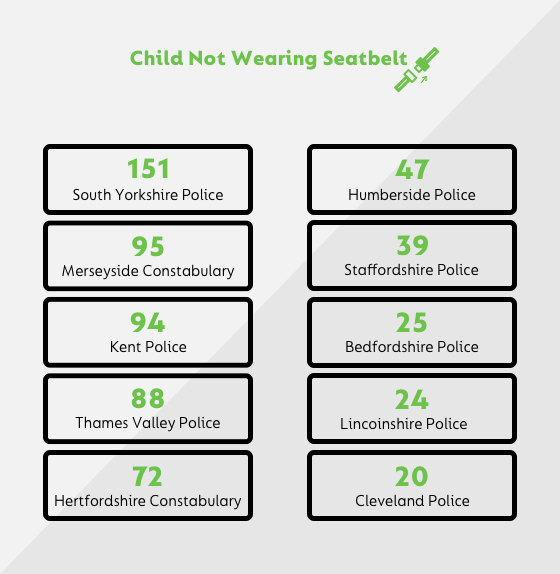 The offences counted for this category consist of either 'a child under 14 years in the front passenger seat not wearing a seatbelt', or 'a child under 3 years sat in the rear not wearing a seatbelt'.
Unclear or unmaintained glass
The law on UK roads states that a vehicle must let at least 75% of light through its front windscreen, and at least 70% of light through its front side windows. This attempts to ensure that a driver's vision is not significantly reduced by tinted windows.
If a vehicle's glass is damaged, this could also render a car considered to be 'in a dangerous condition'. This would be the case if a windscreen has a crack larger than 10mm when in line with the driver's view, or if the crack is greater than 40mm elsewhere on the screen. Worse yet, should said vehicle go on to have an accident in this state, it can also lead to the driver being charged with an even more serious driving offence.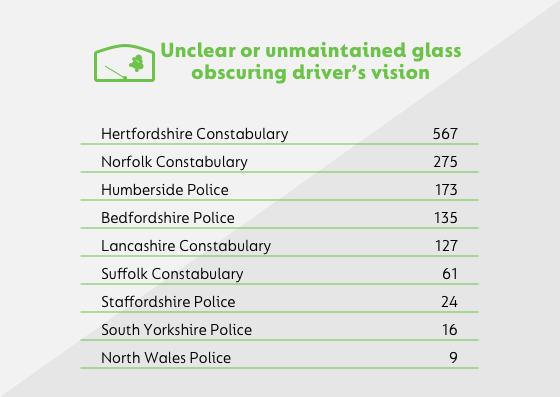 Over three calendar years, 567 motorists in Hertfordshire were caught driving with unclear or unmaintained glass on their vehicle. More than 68% of these offences consisted of glass that was damaged, while just under a third of these offences were for vehicles that transmitted an insufficient amount of light through their front windscreens.
An obscured or indistinguishable vehicle registration
It isn't illegal to drive a dirty car, so long as the registration plate is clean enough to read. Number plates should be untampered with, and laid out in a standardised size, colour and font. Common knowledge to most motorists, but not to all, if police records are anything to go by.
If the keeper or driver of a vehicle fails to ensure that the numbers and letters on their license plate are readable—to a human and a camera— they risk incurring a fixed penalty notice of £50.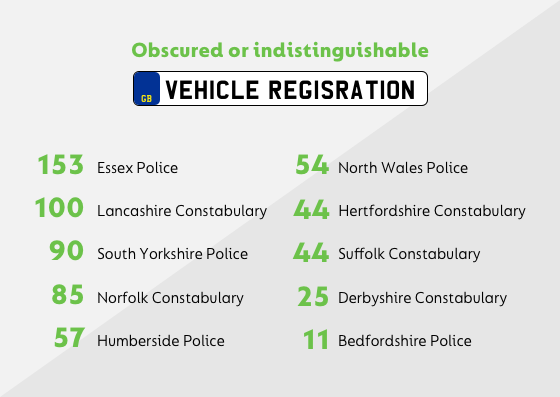 In Essex, 153 motorists were charged with this offence between 2016 and 2018. Although an exact description of how their license plates were obscured was not provided, the fact that this law is enforced should serve as a reminder to motorists to keep their car license plates as clean as they hope their driver's licenses to remain.
Sounding a horn
Some drivers may be tempted to honk while stuck in a testing traffic jam, but doing so also risks a starting fine of £50, which could rise to as much as £1,000.
This law doesn't only apply to the use of horns, government legislation states that no person can sound "any horn, gong, bell or siren" while a vehicle is either stationary, or in motion on a restricted road between 11.30pm and 7.00am.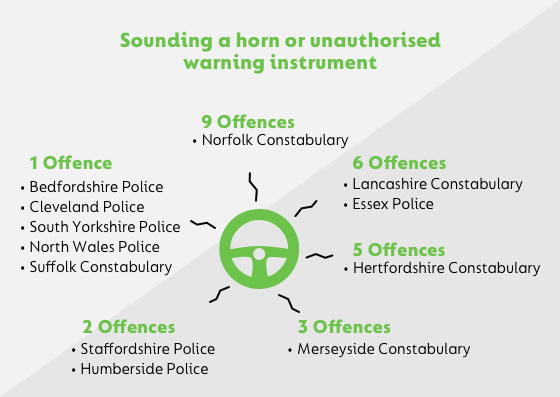 The low instances of this offence being recorded illustrate how difficult this law is to regularly enforce. However, unless motorists are in motion and trying to warn others of their presence, there is always a chance that punching their car horn in a fleeting moment of frustration could land them in trouble with the law.