Looking for over 50s car insurance quotes? You're in the right place...yes
If you're over 50, you could find a cheaper car insurance deal with GoCompare. Find out what's on offer and compare car insurance for over 50s drivers today.
Key points
You may find that your car insurance is cheaper in your 50s than at any other age, particularly if you have a number of years of claim-free driving
If you're tempted by a specialist older driver policy, make sure you compare it with standard car insurance policies to find the right deal for you
Follow our tops tips for cheaper car insurance to make sure your premium is fair and covers your circumstances
If you've recently joined the Half Century Club of over 50s drivers in the UK, you're not alone. According to the DVLA, there were 20,058,315 over 50s drivers with full driving licences in July 2018. 
That figure equates to just under 50% of all fully qualified drivers in the UK, making car insurance for the over 50s a very lucrative market. 
However, the real question is: does reaching the big five-o also mean cheaper car insurance for over 50s drivers?
According to the AA's British Insurance Premium Index report at the close of 2017, on average drivers aged between 50 and 70 pay the lowest amount for their car insurance premiums.  
One of the main reasons for this is due to the fact that many over 50s have been driving longer and have more driving experience. What's more, many also have years of claim-free driving built up – all positive stuff that makes them a lower risk to an insurer, as they're less likely to make a claim.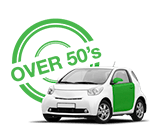 However, if you throw a high-performance car and some points on your licence into the mix, the price of insurance may edge towards the danger zone. Whatever your circumstances, it's always a good option to shop around for a quote so you can get a policy that suits your needs for the right price.
Do I need an older driver policy? 
While there are numerous over 50s car insurance companies out there that offer specialist packages for older drivers, that isn't to say that a standard insurer is any less qualified to provide a quote.
In fact, some of the best car insurance for over 50s drivers may be found at a regular insurance company, with many providing comparable rates and features to that of their specialist counterparts.
Gareth Dyer, senior product manager at insurance company iGO4, says: "Car insurance policies marketed at the over 50s are typically feature-rich, as extras like breakdown cover are more popular in this age bracket.  
"Specialist providers may be able to offer these policies at competitive prices, but the same benefits are commonly available in the open market. So it always pays to shop around, taking the level of protection as well as the price into account."
Will my health affect my insurance policy? 
In short, as long as the DVLA is happy you're healthy enough to drive, then your health won't affect your car insurance.  
Read more about medical problems and driving here.
However, there are some medical conditions you must tell the DVLA about; for example, ailments that will hinder your driving ability – such as epilepsy or issues with your eyesight. Once informed, the DVLA will then be able to advise whether or not you're deemed fit to drive.   
You can find out more about the medical conditions you should report to the DVLA here.†
It's very important that you do disclose any issues or disabilities you suffer from that are listed on the DVLA website. It could come back to haunt you if you don't, and you could end up with a hefty fine of up to £1,000. On top of that, if you do withhold medical information, your insurance company may refuse to pay out if you try to make a claim.
Keeping the cost of your insurance down 
If you're on the hunt for cheap car insurance for over 50s, you can compare quotes quickly and easily using the handy comparison here at GoCompare. A single search can help return a long list of options for you to choose from, and could help you get a great deal in a matter of moments. 
However, if you're dead set on finding some of the very cheapest car insurance for over 50s drivers, there are a few more tips that can drive down costs even further before you drive away. 
Look at your mileage 
As a general rule of thumb, the lower your mileage, the less you'll pay. You may even be able to get a special policy if you drive very few miles indeed.
So, if you only drive 3,000 miles a year, don't be tempted to insure your car to drive 10,000 miles 'just in case' – it could translate into an unnecessarily inflated premium.
On average, drivers aged between 50 and 70 pay the lowest amount for their car insurance premiums
Increase your voluntary excess 
If you're willing to pay more towards a claim, and can afford to, then your insurer will reflect this in the cost of the policy.   
This approach can be a bit of a no-brainer if you're a safe driver. Better still, you'll be able to claim your excess back if you have an accident that isn't your fault. 
Check what you're using your car for 
Has your car's purpose of use changed? If so, telling your insurer about the change may reduce your premium.  
For example, if you used your car to travel for business, but are now based in one office, you'll only need cover for social, domestic and pleasure including commuting, rather than business use.   
Secure your car 
Protecting your car with an alarm, immobiliser or tracker can reduce the cost of your car insurance. If your car doesn't have one as standard, it may be worth installing one.  
Oh, and remember that home gym setup in your garage that's been left to gather dust? If you clear it out and use your garage for car storage, you may find some insurance providers will knock a good chunk off your premium. 
Pay in full 
Unless your insurer offers interest-free instalments, you're always going to pay more if you spread the cost of your insurance over the year. As such, paying in bulk can be one of the easiest ways to secure cheap over 50s car insurance. 
If you can afford to pay for the annual policy upfront, you should be able to reduce your premium instantly. 
Consider who's insured on your car 
If it's only you and your spouse or partner driving the car, then just put the two of you on the policy.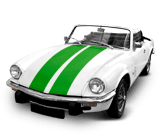 If someone else uses your car from time to time, it may be cheaper to add them as a temporary driver when they need it, rather than adding them for the whole policy term. 
Adding a younger driver who doesn't have much driving experience is sure to increase the cost of your policy, so keep this in mind should your offspring ask to drive your car. 
Telematics 
If you're a careful driver, you may want to consider taking out a telematics policy. This involves fitting your car with a black box which then measures how well you drive.
This takes into account a variety of factors, such as how fast you go, if you accelerate and brake aggressively, as well as the times of day that you're out on the road.  
Based on the data gathered from the black box, you may get a discount once your insurer is happy you meet its criteria of being a safe driver. 
By Kath Denton