Car insurance for over 60s
If you're a driver over 60, read our handy guide and make sure you get the right car insurance for you.
Key points
Drivers aged between 66 and 70 pay the least for their car insurance, according to the Association of British Insurers (ABI)
If you have any significant health conditions, make sure they are declared to the DVLA so you aren't at risk of breaking the law or invalidating your policy
If insuring a classic or collectable car, don't assume the insurance will always be expensive. Your significant experience behind the wheel may make your premium quite cost-effective
Everyone ages differently, and many men and women in their 60s enjoy a healthy, fun and fulfilling lifestyle.  
You're not an 'older driver' or 'elderly driver' at just 60. And you shouldn't have to battle against stereotypes such as decreased mobility or diminishing senses just to get a fairly priced car insurance premium. 
Fear not - age is but a number, and most car insurers know that with it comes wisdom, experience, and many years of no claims discount behind the wheel. 
You can use this to your advantage, particularly when looking for cheap car insurance for the over 60s. 
Is car insurance cheaper once you turn 60 years old? 
In July, 2017, the Association of British Insurers (ABI) announced that your 60s is the golden age of motoring, with drivers aged between 66 and 70 paying the least for their car insurance, at an average of just £260.†
This leaves drivers in the 18 to 20 category eating your dust in terms of insurance premiums, as the ABI's figures show these younger drivers pay almost four times more than your contemporaries do, at an average of £973. 
However, nothing good comes easy, and keeping costs low will require some work and investigation on your part. 
For instance, loyalty may cost you dearly when it comes to insurers, with premiums increasing every year - regardless of your age or claims history - if you allow your car insurance to auto renew.  
Get cheaper insurance tips for over 60s drivers  
By shopping around on a comparison website (and even haggling where possible), you can make a more informed choice and find an affordable insurance policy that sees your age as a benefit, classing you as a safer, more responsible driver with lower risk. 
You're more likely to have built up years of no claims discount, so make sure your policy includes extras like protected no claims discount bonus and has no upper age limit. 
If you find that certain policies and insurers make assumptions that bear no relation to your lifestyle or motoring habits, you might want to consider a telematics or pay as you go policy.  
These policies assess your individual circumstances and driving habits instead of relying on age stereotypes. Winner!  
What will make your car insurance more expensive? 
Some circumstances could make your premium more expensive, for instance: 
You haven't built up a decent no claims bonus 
You're driving a more powerful, specialist or performance car 
You're likely to drive abroad on regular post-retirement European breaks 

You're travelling twice the mileage of the average sexagenarian 
If any of the above applies to you, shop around between different insurers. And make sure you've investigated specialist car insurance policies specific to your unique driving circumstances. When did one size ever fit all? 
Don't hide the truth about your health 
If you have concerns about a health condition, or an age-related issue you feel may affect the validity of your car insurance, there are a host of policies available specifically for drivers over 60 - from providers including Saga, Age UK and Rias.  
If you're unsure, read your policy documents and check the government's list of health conditions that will affect your driving.†
The experts say that the over 60s make fewer claims 
With the right amount of research, you should be able to avoid paying the sort of high premiums usually reserved for 17-year-old boy racers. 
Ben Howarth of the ABI says "The cost of motor insurance will be based on a range of factors, including your age.  
"People aged between 60 and 70 tend to claim the least. The number of claims and the average claim cost increases again as people get older. 
"Motor insurance is a very competitive market, so we would encourage all consumers to shop around, or speak to a broker, regardless of their age." 
There are also a few practical things you can do to get the best deal on car insurance for the over 60s.  
Keep an eye on your mileage 
Before you shop around, aim to limit your annual mileage as much as you can.  
Read more about low mileage car insurance here.   
Take extra caution with your car's security 
If the insurer can see you're vigilant against car crime, it may help decrease the cost of your premium.  
Improve your vehicle's security with an alarm, immobiliser or wheel-locking nuts 
Wherever possible, park your car in a locked garage or on a secure driveway overnight to reduce the risk of threat or vandalism 
Don't assume a classic car will always be expensive to insure 
If, at the weekend, you've made a hobby of vamping up vintage motors, paying for insurance for a once-in-a-blue-moon trip out could seem like an expensive nuisance. 
However, insurers recognise the love and care bestowed upon them by owners over 60, and may reward care and upkeep with a better premium via a specialist policy.
Read more about specialist classic car insurance.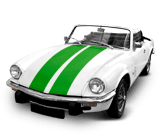 However, be cautious of rare models, or cars with modifications - both could push up your car's insurance group.  
Practice safer driving  
Above all, driving carefully and avoiding accidents will help you maintain a healthy no claims bonus. 
If you fancy taking an advanced driving course, that too many reduce premiums of the over 60s. 
Cheaper insurance tips for over 60s drivers  
When it comes to shopping around for the cheapest car insurance for over 60s, aim to give your insurer an accurate estimation of your low mileage. And try to opt for the highest voluntary excess you can afford, as this tends to reduce your premium.  
Carefully consider what cover you need, don't forget that third party, fire and theft cover, or just third party cover is also available. But it won't offer you as thorough protection as comprehensive insurance if you're involved in an accident.  
Take care with policy add-ons too, making sure any extras like courtesy car cover, windscreen cover, legal assistance or breakdown cover are suitable for your needs.  
Putting an additional driver on your policy doesn't always make a huge difference to your quote, but having anyone under 25 on your insurance can dramatically hike up your costs.  
And, after you've shopped around and found the best car insurance policy for you, look out for high administration charges. 
Finally, remember to weigh up the annual lump sum cost versus monthly direct debit payments, as the savings can be significant.  
By Catherine Evans