Where in the world are people paying the most to fill up their car?
February marked the end of three consecutive months of tumbling fuel prices in the UK. Since November 2018, 11 pence has come off the price of a litre of petrol, while diesel fell by 8 pence in the same period. This mirrored a trend in global fuel prices, which fell by an average of 9 percent in the final few months of 2018.
However, changing fuel prices are experienced differently in each country, so we wanted to explore how the cost of filling up a car impacts the average motorist throughout the UK and around the world.
Petrol prices vs average hourly wages in the UK
Across the UK, the difference between the cheapest and most expensive fuel price in a region can vary by as much as 35 pence per litre. The main driver behind this variation is competition. Where petrol stations are more highly concentrated, prices tend to be lower. The presence of supermarkets can also push an area's prices down, and, unlike their national pricing on groceries, the likes of ASDA, Morrisons and Sainsbury's will tweak their fuel prices depending on where in the country each of their stations operate.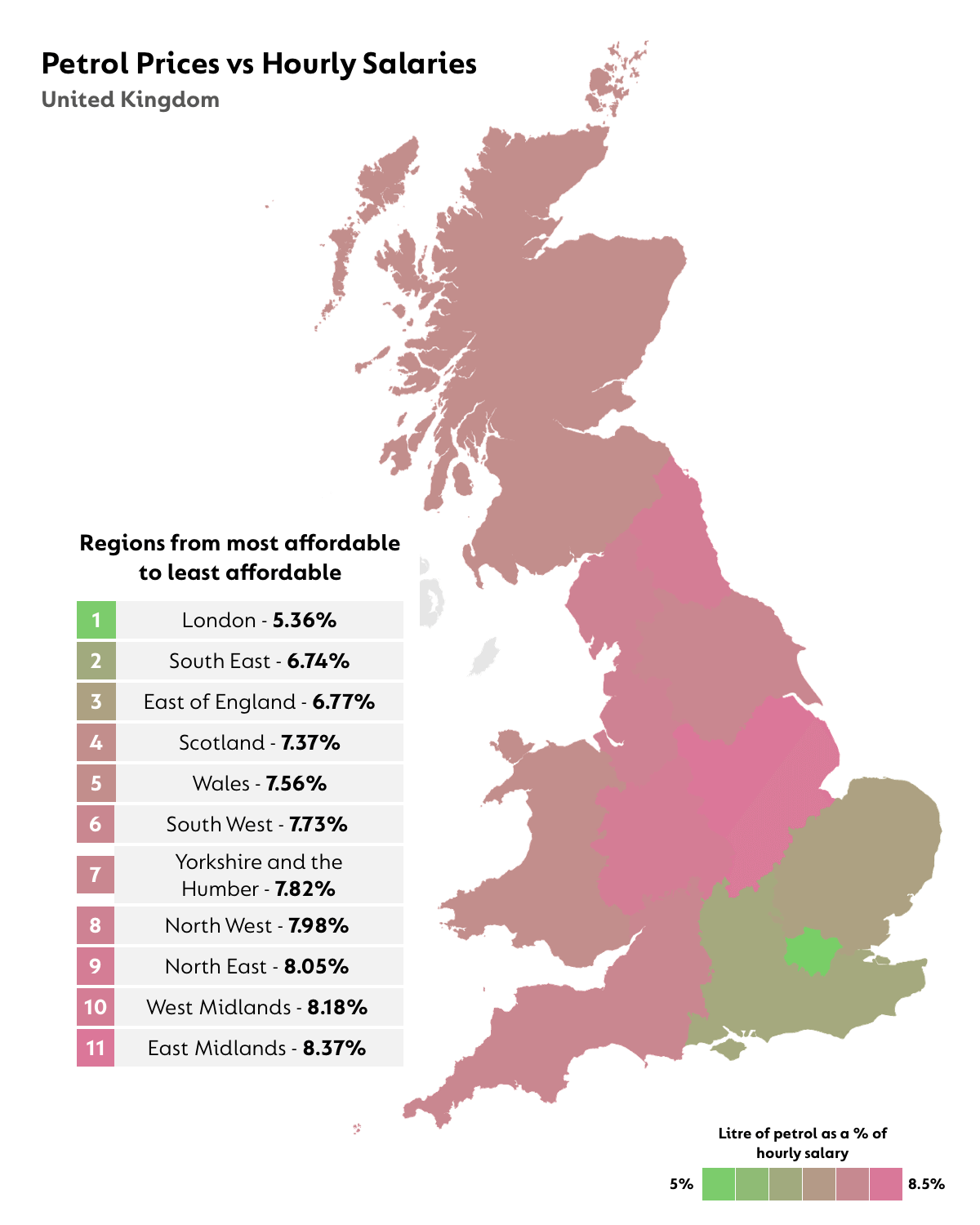 A motorist who works in St. Albans, will be spending a smaller proportion of their salary on petrol than workers in any other UK city— one litre of petrol there is equivalent to 4.2% of the city's average hourly salary.
On a regional level, the higher earnings of Londoners mean petrol prices make the smallest dent on the wages of those who work and fill up there. A motorist earning the average salary in a Central London borough would see one litre of fuel take up 4.4% of their hourly earnings, while the average earner in an East London borough would lose 6.2% of their hourly wage for every litre of petrol they buy.
Outside of St. Albans and London, the most affordable relative petrol prices can be found for average earners in Guildford, Cambridge and Edinburgh, where motorists spend 6.2% or less of their salary on one litre of petrol.
At £1.16 per litre, motorists in Hull are spending the greatest slice of their wages at the pump. Almost one tenth (9.5%) of the city's average hourly earnings would be needed to pay for just one litre of petrol, meaning an average earner in Hull would need to work for more than five hours in order to fill up a 55 litre Ford Focus.
Fuel Prices in the USA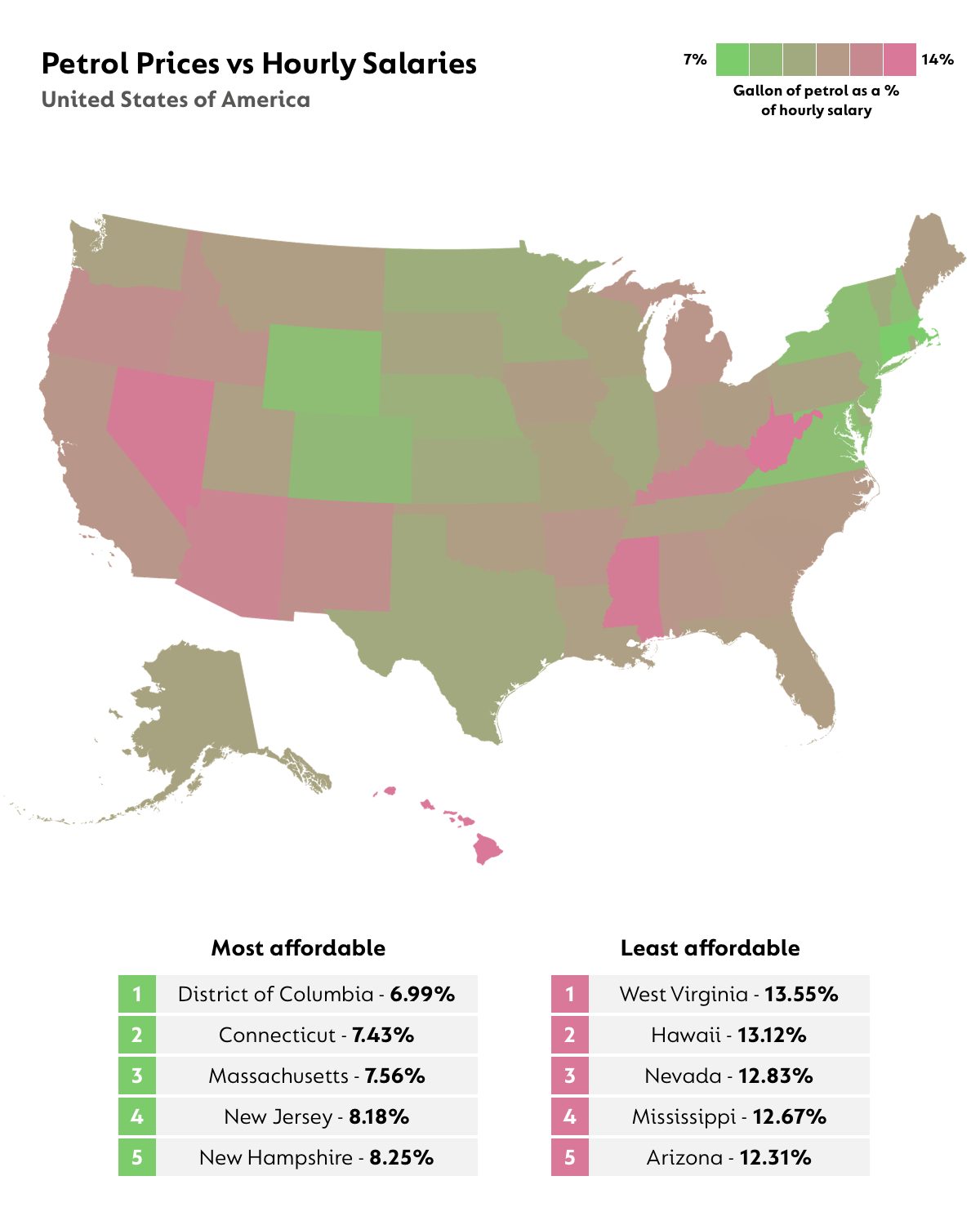 As we've seen in the UK, the price of a country's fuel is dictated by many more factors than the changing costs of crude oil. As a general rule, richer countries tend to have more expensive prices, but one notable exception to this is the US, where environmental regulations and emissions standards have relaxed and fossil fuel production has received increased support in recent years.
This may partially explain why motorists in America continue to pay less to fill up their vehicles than drivers do in any other country in the OECD. Petrol in the state of Mississippi or Utah costs as little as 40 pence (53 cents) per litre, while even at the top end, motorists in Hawaii or California only pay around 74 pence (98 cents) per litre.
The Global Picture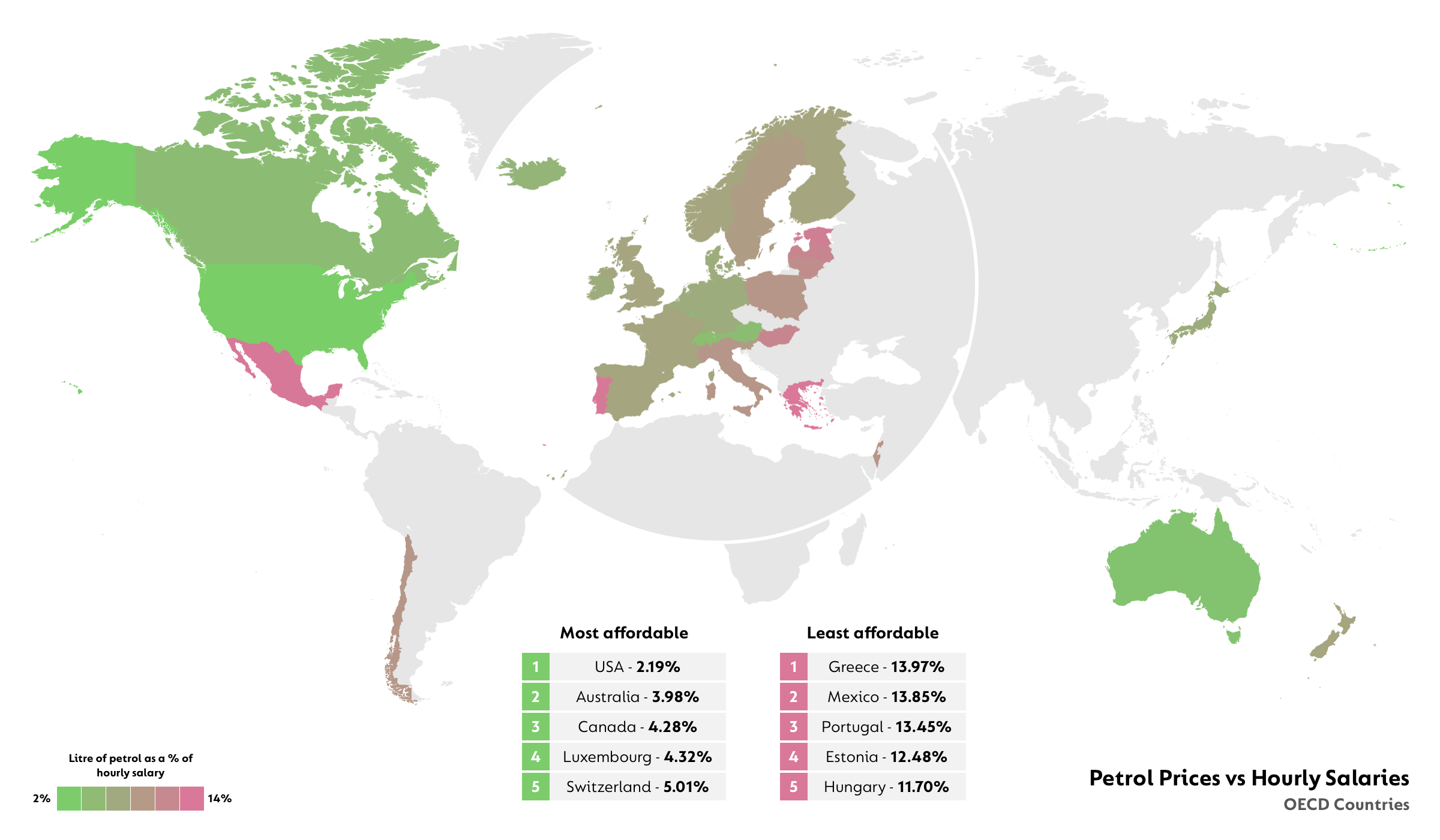 When we compare petrol prices to the typical salaries of each OECD country, the United States also ranks first in terms of affordability. Although prices vary from one state to another, the average price of one litre of petrol will cost the average worker just 2.19% of their hourly salary.
Greece, Mexico and Portugal are the least affordable — with one litre of petrol draining more than 13% of each country's average wage. At £1.32 per litre of petrol in Greece, and £1.24 per litre in Portugal, both countries sell fuel at some of the highest prices in the OECD. Mexico's fuel prices are some of the world's cheapest (77 pence per litre), however, all three countries' average earnings are currently some of the lowest in the developed world.
Sources:
[1] UK, [2] US, [3] Canada and [4] OECD petrol prices were extracted on Thursday 14th March 2019. [5] Average hourly salaries per UK local authority are correct for 2018. [6] Average salaries per US state are correct for 2017. [7] Average salaries per Canada province are correct for 2017. [8] Average salaries per OECD country are correct for 2017.