Pay as you go insurance may be a cheaper way to insure your car if you drive very few miles, or if you're a new or young driver battling sky-high premiums.
Key points
Pay as you go car insurance is like Netflix for your wheels - pay a flat rate every month, then top your insurance up with the additional cost per mile, or per hour
The subscription is usually a rolling contract so you're free to cancel if you need to, but check your terms and conditions
Drive with pay as you go for 13 consecutive months, making no claims, and you'll accumulate a years' no claims discount
We all love a subscription box.
Coffee, beauty products, or stationary, it's a little treat every month that doesn't cost the earth.
You couldn't liken car insurance to a present in the post, but, subscription pay as you go car insurance may be an unexpected gift to the bank account if you don't drive many miles.
If you're an infrequent driver, but paying the same as a mile-guzzling petrol head, you may be interested in car insurance that adjusts its cost based on your driving routine.
What is pay as you go car insurance?
Pay as you go, or pay as you drive cover, charges by the hour or per mile, on top of a monthly subscription charge.
Most cars are covered under these policies, with a few conditions:
The car must have seven or fewer seats
It must not operate as a commercial taxi
It must have a market value of £40,000 or less
The car can be no more than 15 years old
Car insurance by the hour
Here's how it works:
You're charged a monthly subscription rate. This is all you pay if your car is dormant, parked on the drive, or by the roadside
The subscription charge covers fire and theft, only the very basics. That price is calculated using your personal details, such as where you live, the size of the car, and the number of years no claims bonus (NCB) you've accumulated, and considers any claims and prior driving convictions.
When you're ready to drive off, use the app to tell the insurer how far you intend to drive
Pay a charge per hour driven
If you've capped the number of hours you want to be insured for, but you're going to go over, it's like topping up mobile phone credit - use the app and top up the time.
A pay as you go car insurance policy is usually a rolling contract. You could cancel the policy at any time without incurring penalties but read your terms and conditions carefully before signing up.
And, best news yet, if you subscribe to a PAYG policy for 13 consecutive months without making a claim, you'll build up no claims discount, just the same as a traditional car insurance policy.
Car insurance by the mile
Is this black box insurance by any other name?
There are different forms of pay as you go car insurance that'll ask you to fit some tech to the car, which can be used alongside an app.
The notable difference is that in addition to the monthly subscription fee, these policies will charge per number of miles driven, rather than hours.
And it's an automatic service - you don't need to tell an app how long you'll be out, or how far you'll travel, but you can use an app to calculate exactly how much your journey will cost, putting you in complete control.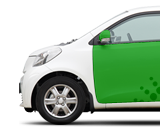 If you're not sure which policy would best suit you, think of it this way: if you pay for an hour on the road and only drive 15 miles, arguably, you're paying for unused time.
Like black box car insurance, pay as you go car insurance that charges you per mile monitors how you drive and recalculates the price per mile based on how safely you drive.
Unlike black box insurance, you feel the benefit of safer driving straight away - you'll be rewarded with a cheaper premium the very next month.
Short-term pay as you go car insurance
It's also possible to insure a car for a very short period of time, again using an app to register your details.
For instance, it's handy when:
You buy a new car and need cover just to get it from the dealership to your driveway
You need to take a family member's car for an MOT
You're borrowing your mates' car for an hour or two - you need the owner's permission if you're going to borrow their car and insure it
Open the app, add your details and the car's covered for a short window or time.
You don't need to be the owner of the car, and your 'flash in the pan' cover won't affect the existing insurance already on the car.
How low is a 'low mileage'?
If you compare car insurance with GoCompare, the lowest annual mileage you can tell us is up to 1,000 miles.
Yes, that's very low but it's entirely realistic - if you only drive for 12 minutes a day, Monday to Friday, that's four hours a month, and if you cover 12.5 miles per week, that's just 650 miles a year.
If you make very short daily journeys or use your car only for a couple of hours once a month, your driving lifestyle may save you some money.
Who will benefit from pay as you go car insurance?
Infrequent drivers may get a much cheaper quote by using pay as you go, but it's impossible to tell unless you compare all the options.
Motorists between the ages of 17 and 24 are a demographic often penalised by insurers because statistically, it's this age group which is most likely to have an accident.
Again, subscription car insurance may offer an escape from wild premiums charged to young drivers.
The drawbacks of per mile pay as you go car insurance
Pay as you go car insurance is a pretty head-turning concept, but as with all new releases, there are a few teething problems you'll need to be aware of:
If you forget to top up your hours on the road, you're not insured and that's a criminal offence
There may be a minimum age limit. This will vary between providers, but is pretty frustrating for young drivers who face colossal premiums from traditional insurers
Bear in mind there may be a cap on how many miles you can travel per day. For instance, you may want to drive from John o' Groats to Land's End, but with one of these policies, cycling may be your only option
You can't pause the hourly insurance. Time is linear, after all
And, you may not be able to protect your no claims discount if you've got a claim under way - worth checking your specific situation with the insurer though
It's also worth mention that a pay as you go policy probably won't offer any additional savings for drivers that use their car every day and travel a long way, sorry folks.
Obviously, there are other ways you can get a cheaper quote - read about it in our top tips for cheaper car insurance.
By Amanda Bathory