Zoom through our guide to car insurance for your Porsche
Warranties, genuine parts, owners' clubs, servicing and car insurance for your Porsche. You've got the questions, and we could provide the answers!
Key points
Porsche doesn't do car insurance. But it does have a range of warranties and financial services
Car clubs, such as the Porsche Club of Great Britain (PCGB), could point you in the right direction when it comes to finding car insurance for your Porsche
Insuring a Porsche could be pricey, so make sure you compare prices through sites like ours to see what some of your options are
If you're reading this article, you're probably looking for some Porsche car insurance, and you want to know a bit more about the kinds of products and services that are out there.  
Read on to learn about Porsche warranties, repairs and finance - as well as a bit of info on car insurance groups and getting car insurance for your Porsche.  
Porsche insurance 
Unlike many other sports car brands, Porsche doesn't have its own car insurance.  
Instead, Porsche offers a range of financial services in order to help you buy and maintain your car. But there are plenty of other providers that specialise in insuring Porsches, and other classic or performance cars.  
The Porsche Club of Great Britain (PCGB) has a recommended list of finance and insurance providers. You can also use comparison sites (hello!) to search for car insurance for your Porsche.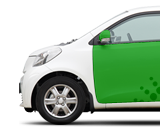 Porsche car insurance providers will generally offer comprehensive cover, which covers your third party liability, accidental and malicious damage to your vehicle, so many days of EU driving, and medical cover. 
Some Porsche specialist providers will also include things like breakdown cover, track day cover, genuine parts - and even paying your PCGB membership fee. 
Financing your Porsche 
Porsche Financial Services is a trading name of Volkswagen Financial Services (VWFS), which offers a variety of car finance plans. Yep - Volkswagen owns Porsche. 
The Porsche lease purchase allows you to pay for your Porsche monthly or annually. You can either own the vehicle at the end of the lease term, or part-exchange it. 
If you're a business user, you can get Porsche contract hire, which means you pay a fixed amount each month and give the Porsche back at the end of the payment period.  
While driving around in a Porsche would be pretty awesome, it's not worth potentially getting into financial difficulties - so be realistic when looking at car finance. 
Warranties, guarantees and maintenance 
Though you'd still need a car insurance policy, you can get a new-car guarantee and Porsche assistance service when you buy a new Porsche from a dealership.  
The new-car guarantee means that your car will be protected against manufacturing defects. Porsche assistance service is essentially breakdown cover for your Porsche.  
Did you know...?
The Porsche 917/30 from 1973 had between 1,100 and 1,580 horsepower, and could reach over 220 mph
You can change your Porsche new-car guarantee to a Porsche approved warranty at any time. 
The Porsche approved warranty requires your car to undergo a 111-point check. 
If eligible, your Porsche will have scheduled servicing appointments, genuine parts and worldwide validity up until it's 15 years old.  
If you want to keep your tyres and engine oil in tip-top condition, you can get them serviced and changed through your Porsche dealership too. 
What's it like to drive a Porsche? 
Porsche was founded in 1931 by Ferdinand Porsche. The first project it had was to produce a "people's car", which resulted in the Volkswagen Beetle.
The first car to carry the brand was the Porsche 356, of which only 49 were made between 1948 and 1965.  
Since its beginning, Porsche has totalled around 28,000 race victories, and over 70% of Porsches ever made are still on the road.  
Anyway, that's all well and good... But what about car insurance for your Porsche? 
Get cheaper car insurance quotes for Porsche 
Factors that affect the price of your car insurance include your occupation, medical conditions, claims history, vehicle value and car insurance groups.  
Did you know...?
The first hybrid electric car was made by Porsche in 1899, called the 'Semper Vivus'
Car insurance groups run from 1 to 50. And the higher the group, the higher your insurance could be.  
We've gathered together some information about the most popular Porsche models, to give you an idea of what they're like and what insurance groups they're in.  
Boxster 
The Boxster is a sporty and streamlined car, with door-contouring to direct headwinds, and v-shaped mirror bases to enhance its curb appeal and functionality.  
The Boxster can be found in insurance groups 44 for the standard 2 litre, 46 for the 2.5 litre and group 49 for the GTS version.  
Cayman 
This model is the coupe version of the Porsche Boxster.  
While the Boxster has a convertible top, the Cayman is hard topped. Aside from that, there's very little difference between the streamlined looks of the Boxster and Cayman.  
The Cayman sits in insurance groups 37 to 48, depending on the engine size and whether it's got any special edition features.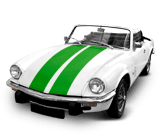 Cayenne 
As the first off-road variant since Porsche made tractors in the 1950s, the Cayenne is for the Porsche fans who want something a little different. 
The Cayenne retains the familiar sloping bonnet and air intakes, while the rear of the car has subtle changes to incorporate the extra doors and boot space.  
What insurance groups is it in? You can find it in groups 40 to 50.  
911 
Perhaps one of the most well-known Porsche models, the 911 has a distinctive style - with the oval headlamps, the aerodynamic front spoiler, and the 911 model designation along the sides and rear. 
The Porsche 911 is situated in groups 46 to 50, with most versions being near the higher end in groups 49 and 50.  
To see if a specialist Porsche car insurance provider can offer you the type of insurance cover you need for a cheap price, you should compare them with other insurance providers - even those that don't specialise in Porsche vehicles.  
Using a comparison site could save you time (and hopefully money). You only need to enter your details once, instead or trawling through insurance providers individually – we can't think why you'd want to do that if you own a Porsche! 
By Amy Smith