Traffic lights play a vital role in keeping motorists and pedestrians safe at intersections and other stretches of road that are considered high-risk for collisions. Most recent figures from the Department for Transport show that more than 150,000 motoring accidents occurred at junctions throughout the UK in 2017 alone.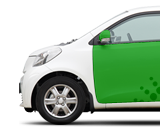 This year, in an effort to further curb the number of accidents that take place at junctions, police officers in Merseyside have begun trialling 'speed on green' cameras. In 2017, 577 people were killed or seriously injured on Merseyside roads, the majority of which took place on 30mph roads with junctions. This new type of camera aims to catch both those that jump red lights and 'amber gamblers' (drivers who speed up as they approach a changing traffic light).
Still in its early phase of trialling, it remains to be seen whether this will deter motorists from driving dangerously at traffic lights. In the meantime, we contacted police constabularies around the UK to find out how common running a red light currently is, and which vehicle makes and models are most guilty of this offence.[1]
The Cost of Running Red Lights
Our recent study that analysed the cost of motoring offences around the world found that the UK's financial penalty for driving through a red traffic light is one of the least severe. Offenders here pay a minimum fine of £100, which puts the UK 20th in terms of expense (out of the 31 countries in the OECD). 
Despite the comparatively low cost, the accumulated value of fixed penalty notices issued for red light running by the constabularies that responded to our FOI request total more than £3.3 million in 2018.
Where do People Run the most Red Lights? 
In 2018, there were more than 61,600 vehicles caught running red lights across 18 police constabularies — a 9% decrease from the previous year's tally of 67,910.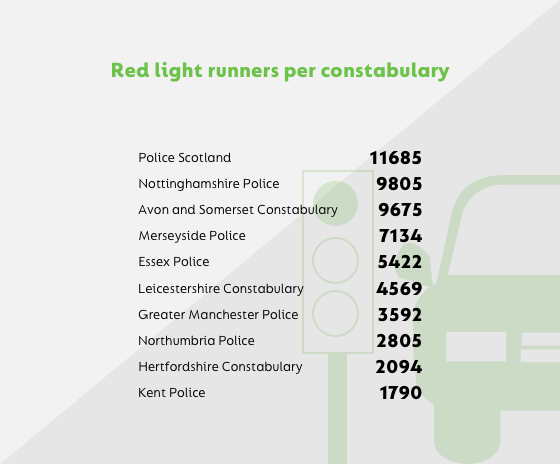 The highest number of offences occurred in Scotland, where 11,685 motorists were caught in 2018, a slight drop from the 11,842 offenders in 2017.
Not every traffic light is installed with a camera to detect offences, and the number of active red light cameras varies considerably from one constabulary to another. This explains why some areas have caught so few offenders in recent years, such as In Durham, where only 17 vehicles were caught running a red light in 2018.
Where are the Most Active Traffic Light Cameras?
A traffic light camera on the A167, Durham Road in Gateshead snapped 2,698 motorists jumping red lights in 2018 alone — this was the worst offending street in Northumbria, and of any police constabulary that responded to us.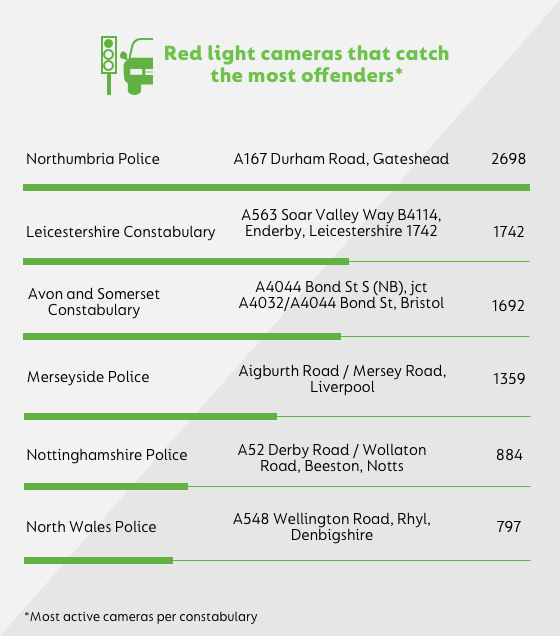 Three traffic light cameras in Avon and Somerset rank in the top 10 most active cameras for red light offences, with a combined total of 3,755.
Overall, the ten most active cameras have issued motorists with fixed penalty notices worth more than £1.29 million in 2018.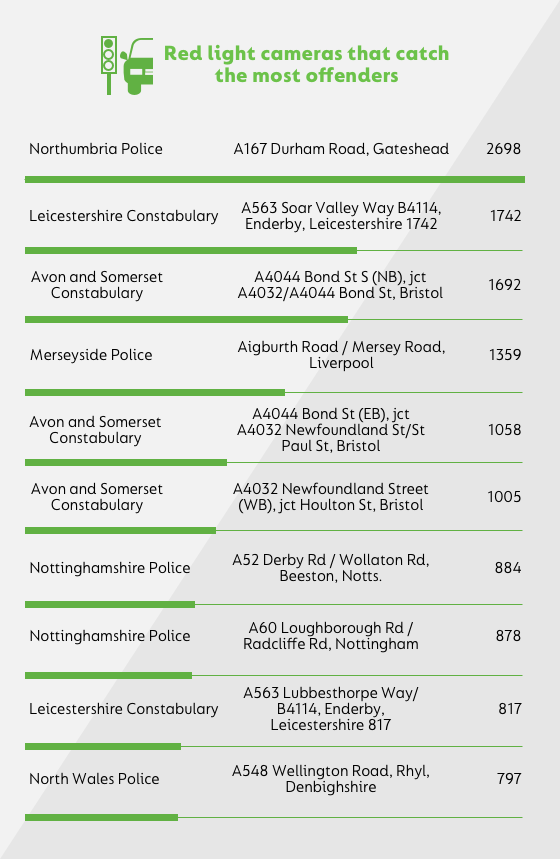 Which Cars are Most Likely to Run Lights?
According to police figures, Ford, Vauxhall and Mercedes were the car makes most likely to run a red light in 2018.[2] Of the handful of constabularies that were able to provide details on makes and models committing offences, 2,833 Fords were caught in 2018, which included 71 Fiestas and 53 Focuses.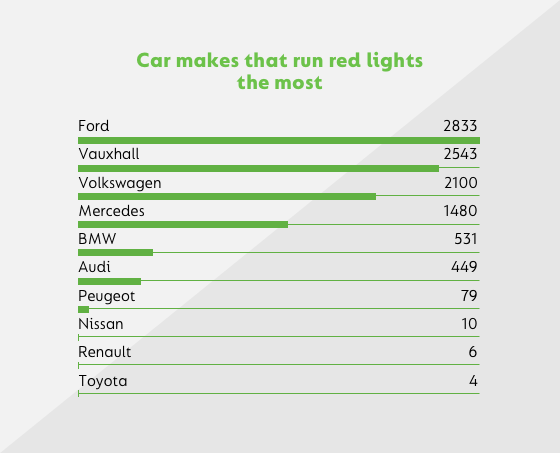 Vauxhall Astra drivers were caught committing more red light offences than drivers of any other car model — 205 in total. Overall, Ford drivers came out on top as the worst offenders in 7 different police constabularies, which is more than drivers of any other car make anywhere else in the UK.