XS Direct
XS Direct was incorporated in Ireland in 2004 to develop specific financial services products. They're an innovative motor insurance company and their philosophy is to provide drivers with cheap car insurance, in return for sharing the risk of a claim. This is achieved by paying a lower premium and having a higher excess. XS Direct are regulated and authorised by the Central Bank of Ireland.
Principal Insurance
Principal Insurance are committed to finding you our best car insurance deal, drawing from our wide range of leading insurers to get a policy that is right for you. Our approach has made us one of the fastest growing specialist insurance groups in both Ireland and the UK with thousands of Irish bikers, motorists, van drivers and homeowners choosing Principal. Over 45,000 people now trust Principal Insurance to insure their story, what's yours?
Republic of Ireland car insurance
Key points
Insurance is a legal requirement for driving on the road in the Republic of Ireland
Shop around for multiple quotes every time you renew your car insurance
Don't just go for the cheapest price - get the right product at the right price, ensuring you have the cover levels you need
Read our guide for more tips on keeping down the cost of your policy
While it's become common-place for drivers in the UK to shop around for their car insurance using price comparison websites such as GoCompare, that market hasn't yet developed so fully in the Republic of Ireland.
This potentially leaves Irish drivers paying more than they need to for car insurance because one of the major factors driving up prices is auto-renewal - when customers allow their insurer to automatically renew their policy, year after year.
You may have gone for a cheap deal when you first bought your car cover, but over the years insurers typically push premiums up for loyal customers, relying on consumer apathy to keep their business.
New customers are often offered discounts and deals that don't apply to existing customers, so it's worth shopping around every time you have to renew.
"The car insurance market is fiercely competitive and insurers often offer better deals to new customers than for those renewing existing policies," said GoCompare's Matt Oliver.
"So, our advice is simple - even if your current insurer offered the best deal last year, you shouldn't automatically assume that they will when your policy comes up for renewal.
"Use your renewal letter as a prompt to take action. Look at your renewal notice as soon as it arrives.
"Compare the price and cover against last year's documents, consider any changes you might need to make to the cover and take a look at similar policies with other insurers to see if you can make any savings.
"If you decide to switch, don't forget to notify your current provider. Most policies automatically renew, unless you tell the insurer otherwise within the 14-day cooling-off period.
"Miss the cut-off date and you could face hefty cancellation charges."
Other factors affecting car insurance prices in the Republic of Ireland
In addition to the auto-renewal trap and the lack of a fully developed price-comparison market, there are a variety of other factors that could prevent drivers from getting cheap car insurance in the Republic of Ireland.
Much of the motoring in the country is on rural roads and/or single carriageways, and these types of routes can lead to high incidences of accidents and expensive claims.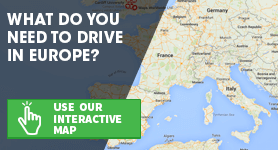 In addition there are price-inflating factors that will be familiar to drivers in the UK and elsewhere, including whiplash and other personal injury claims, plus vehicle crime and fraud such as crash-for-cash scams.
Read our car insurance money-saving tips for more guidance on ways to cut the cost of your cover while getting the protection you need.
Women's car insurance in the Republic of Ireland
Women in the Republic of Ireland used to be able to secure cheaper car insurance deals than men, based on statistics proving that they're the safer drivers. That changed in 2012, when the European Court of Justice (ECJ) gender ruling made it illegal to charge a different price for insurance based on gender.
Female drivers should consider, though, that their safer driving record does make many insurers keen to get them onto their books.
Top tip
Check whether your policy covers you for Northern Ireland if you're planning to cross the border
Research from Newcastle University Business School has suggested that some insurers may weight the importance of a job title in favour of female-friendly professions.
Your job is one of the many factors that insurers will take into account when calculating your premium and each company will have its own way of assessing a particular occupation - read more in our article on how your job affects your car insurance.
What's more, insurers may produce advertising intended to appeal to women and offer added extras which they believe females will find appealing, things such as priority breakdown cover and (however patronising some may consider this!) handbag cover.
Another option for female drivers to think about may be telematics; this uses a mobile phone app or a 'black box' in your car to base the price you pay for cover on the way you actually drive.
See also:
Given that women are statistically the safer, better drivers, it follows that they may potentially have more to gain from telematics than men.
Crossing from the Republic of Ireland to Northern Ireland
The border between the Republic of Ireland and Northern Ireland may barely register when you cross it and there's no passport check to go through.
But you should check your policy to see whether your insurer covers you for both countries - it's possible that it may treat Northern Ireland like any other EU country, which would mean that you'd need to have European cover and that you may have to inform your insurer of your cross-border trip.
There are numerous vehicle-carrying ferries operating into and out of the Republic of Ireland and, if you plan to use one, it's again advisable to check your car insurance terms and conditions.
While you should expect some sort of cover, not all insurers will have the same conditions.
If, for example, you have a comprehensive policy your insurance protection on a ferry may not be as extensive as it is on a Republic of Ireland road.
It's also worth checking your breakdown cover in advance. Should your motor conk out on the wrong side of the Irish Sea, not all breakdown providers will cover the cost of the ferry transportation back, even if your policy has nationwide recovery included on it.
By Sean Davies
[SeanSocialShare]