Ready to compare car insurance? Sainsbury's may have the cover for you
Have you ever wanted to get your car insurance from the same place as your weekly shop? Well now you can, with Sainsbury's car insurance!
Key points
Sainsbury's Bank offers third party, fire and theft, and comprehensive car insurance policies
Take some time do research any insurance provider you're considering, and compare policy prices through sites like... well, us!
If you have a Nectar card, you might be able to benefit from extra discounts and point bonuses when you take out car insurance with Sainsbury's Bank
Don't worry, you're not going bananas – the Nectar Card connoisseur actually does car insurance through its own Sainsbury's Bank.  
About Sainsbury's car insurance 
As a grocery shop, Sainsbury's has been around since 1869, when John James Sainsbury opened the first shop in Drury Lane, London.  
There were around 128 Sainsbury's stores when John James died in 1928 and his last words were apparently "Keep the shops well lit." 
Well, we suppose that's more imaginative than "I have been stabbed", which was apparently said by Henry IV of France, after being, um… stabbed.  
Anyway, back to car insurance.  
Sainsbury's Bank began trading in 1997. It was originally jointly owned by Sainsbury's and Bank of Scotland, until the supermarket took complete ownership of Sainsbury's Bank in 2014.  
Can I insure my car with Sainsbury's? 
Sainsbury's Bank offers third party, fire and theft (TPFT) and comprehensive cover.  
TPFT will provide cover for other people, vehicles and property, but you'll be responsible for any damage to yourself and your own vehicle that weren't caused by fire or theft. 
Sainsbury's Bank's comprehensive car insurance also covers third-party liability, fire and theft. In addition, it includes: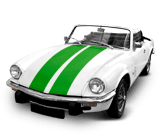 Loss or damage to your car 
Windscreen damage 
A courtesy car 
Driving other cars 
Replacement keys and locks 
European driving 
Replacement child seat 
New car cover 
Medical expenses 
Personal belongings, including your Sainsbury's shopping (yes, it actually covers that) 
Personal accident 
Protection against uninsured drivers 
You can also add breakdown cover, legal protection, no claims discount protection, enhanced guaranteed courtesy car and full keycare cover on to your car insurance policy, if you need them.  
Ever heard of a Nectar card?† It's a type of loyalty card that gives you points for purchases you make in certain retailers - usually one point per one pound spent.  
You can either redeem the points at certain shops - like Sainsbury's and Argos - for money off your shopping, or save up lots of points for bigger purchases.  
Reviews for Sainsbury's car insurance 
You should research any insurance provider before taking out cover with them, so you know what's on offer and what you can expect when it comes to customer service.  
When you're looking for information, make sure it's for the specific product or service you're looking for. So in this case, look for reviews, awards and articles for Sainsbury's Bank's car insurance.  
Sainsbury's Bank has a mixture of online reviews about its car insurance and customer service, and it also has a 5-star Defaqto rating - meaning it's well respected in the industry. 
See also:
Insurance groups
New drivers car insurance
Learner driver car insurance
Young drivers car insurance
Get quotes for your car insurance from Sainsbury's and more 
One of the most cost-effective ways to get your Sainsbury's Bank car insurance quote is to compare it with prices from other insurance providers on a comparison site. It could save you a lot of time and effort. 
Keep your eyes peeled for any offers and discounts insurers may be offering along with their car insurance. And if you choose Sainsbury's Bank, don't forget to have your Nectar card handy! 
By Amy Smith