A guide to Subaru insurance including Subaru Impreza insurance groups
Haven't got a Scooby-Doo when it comes to Subaru car insurance? Let GoCompare be your guide...
Key points
Four-wheel drive comes as standard on all Subaru models
Subaru WRX STIs are in the top car insurance groups
Subaru's nickname is Scooby, as in Scooby-Doo
Think Subaru and for many it's a flash of blue and yellow, skidding round a corner with Colin McRae at the wheel. And rallying played a huge part in establishing Subaru in the west. 
Yet now it has moved on to SUVs and family cars. They're all still four-wheel-drive, mind. 
But what does that mean for Subaru insurance premiums? 
Get quotes for Subaru insurance 
Unlike many manufacturers, Subaru does not offer its own in-house car insurance. So you may want to use a price comparison website - such as GoCompare - to sort out your car insurance. 
Third party only Subaru insurance 
Third party only (TPO) is the basic level required by law. It only covers the damage you do to others. 
Despite being the lowest level of cover, it's not always the cheapest. Strange right? This is because stats show that TPO policies can attract high-risk drivers. As such, insurance providers may charge more.   
Third party, fire and theft Subaru insurance 
Third party, fire and theft (TPFT) car insurance is the next level up from TPO. 
These policies also cover you if someone steals your Subaru or it's engulfed in flames. 
Yet TPFT won't cover you for damage you do to your own car. For that you'll need... 
Comprehensive Subaru insurance 
Comprehensive, as the name suggests, offers the most complete level of cover. 
All policies will include TPFT as well as cover you for injury and damage you do to your own car. And insurance providers often add extra perks to stand out from the crowd. 
At GoCompare, we include policy information in our search results. This means you can make an informed decision for you and your Subaru. 
Suba-Subaru, where are you? 
Tokyo, Japan in 1953 is where the Subaru story begins. It made Japan's first mini car, the Subaru 1500. 
Did you know...?
Subaru is the Japanese name of the Pleidas star cluster. Hence the stars on the badge
Yet it was the introduction of the boxer engine that fired up the company. And Subaru continues to use boxer engines, unlike almost any other manufacturer. Its commitment to 4WD also helps the company stand out. 
It wasn't until 1974 when Subaru first came to the UK. But it truly arrived in 1995. This is when Colin McRae became the first British winner of the World Rally Championship in a Subaru.  
What's your Subaru insurance group? 
A car's insurance group is one marker that insurance providers use to judge how much to charge.
We'll look now at some of Subaru's more popular models and their insurance groups, but bear in mind these may change very frequently, so use our car insurance group tool to find out exactly what group your motor is in: 
Subaru Impreza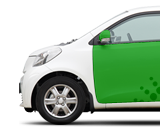 Subaru Impreza insurance group: 12-18 (2018) 
Subaru Impreza insurance group: 14 (2014-17) 
Subaru Impreza insurance group: 11-36 (2007-12)  
It's Subaru's most well-known model and the car that Colin McRae drove to victory. 
The Subaru Impreza is now a compact family car despite the rallying heritage. "Reliable. Resilient. Capable" is how Subaru describes the Impreza in its fifth generation. In 2018, the Impreza is a hatchback with a choice of 1.6 or 2.0-litre petrol boxer engines. 
The big range of insurance groups for earlier Imprezas is due to WRX models being part of the range then. After 2012, Subaru WRX STIs became a separate model line, which we'll look at now... 
Subaru WRX STI 
Subaru WRX STI insurance group: 43 (2014-17) 
Subaru WRX STI insurance group: 40 (2010) 
For the authentic rally car then you're looking at the Subaru WRX STI. WRX stands for World Rally Experimental after all.  You'll find it in the upper car insurance groups. This is down to tighter emission laws, its 2.5-litre engine and its high performance. 
Subaru announced the WRX STI Final Edition in 2018. It of course comes in metallic blue as standard. This edition marks the end of the line for this cult classic. 
Subaru SUVs: Forester and Outback 
Subaru Forester insurance group: 16-34 (2013-18) 
Subaru Outback insurance group: 18-23 (2015-18) 
Subaru has decided to move away from its rally image and into the SUV market. Hence the end of the WRX and pushing the Outback and Forester in the UK. 
Top Gear describes the Subaru Outback as "tough as old boots" and the Forester as a "workhorse". These SUVs are often seen as less flashy but rugged alternatives in the SUV market. 
Want to know where your Subaru sits? Use GoCompare's car insurance group tool. 
How to find cheap Subaru insurance 
Here's a few tips to lower your Subaru insurance: 
A smaller engine size is likely to mean a smaller premium

Paying monthly rather than annually can be more expensive overall 
Consider every type of insurance, including black box policies  
Be mindful of add-ons - only pay for what you need   
It's wise to avoid letting your policy auto-renew   
Modifications usually mean steeper premiums  
Be savvy! Shop around and compare prices  
Great reliability comes as standard with Subaru, especially with its SUVs. As such, you should be able to find a good deal on your Subaru car insurance. Use a price comparison site to find the best deal for you. 
By Sam Easterbrook