Are you driving a Tesla? Make sure your insurance is the envy of your neighbours, as well as your car
Leading the way in electric cars, and now flying through space, Tesla is one of the newest car makers around. So, if you want to take off in one, our handy guide will help make sure you're insured.
Key points
Tesla has partnered with Direct Line to provide insurance for Tesla owners
Electric car insurance should also cover Tesla models
A Tesla Roadster was the first car in space
As a leading light in electric car manufacturing, Tesla is rapidly becoming one of the most popular car manufacturers in the world. 
Whether you want to go to space in one or not, if you want a luxurious, eco-friendly car, Tesla may just have the right one. 
So, it's worth getting the right car insurance policy to go with it. 
Tesla Insurance 
Tesla doesn't operate its own insurance policies. Instead, it's officially partnered with one provider for branded Tesla policies. But don't be fooled, you need the right car insurance for you and your driving history, rather than what's recommended by Tesla.   
But if you want to buy exclusively on brand, Tesla's official car insurance is a comprehensive policy. This will cover you for accidental damage to your Tesla, as well as damage by fire or theft. 
The policy also covers your excess and no claims bonus in the event of an accident with an uninsured driver. Sadly, it won't cover any damage by space debris or hostile Martians. 
Don't forget about electric car insurance. This type of cover takes into account the costs of specialised parts and repairers, which may make it more expensive than a standard policy.  
It may also be generally cheaper given that electric car drivers are seen as more responsible and less likely to drive dangerously. Electric vehicles are also often less powerful than a petrol or diesel vehicle, and are therefore safer, which can make insurance cheaper.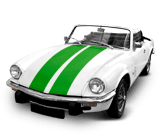 Please note that you can't buy an official Tesla car insurance policy via GoCompare. But it's well worth comparing policies to make sure you're getting exactly the right amount of cover for your requirements. 
Tesla insurance groups 
All vehicles in the UK are given an insurance group number between 1 and 50. The higher the number, the more expensive the insurance. 
All Tesla vehicles were in group 50 in February 2018. So, despite any savings made by having an electric car, your Tesla is still likely to be quite expensive to insure. 
Owning a Tesla 
Tesla was founded in 2003 by Elon Musk, Martin Eberhard, Marc Tarpenning, Ian Wright (not the footballer) and JB Strauber. Elon Musk became CEO in 2008. The company makes electric cars, lithium-ion batteries and solar panels.  
In February 2018, Tesla offered three models of car: the Model S, the Model X, the Model 3. It had also unveiled plans for other models, including a resurrected Roadster.  
Did you know...?
Tesla is named for famous physicist and inventor Nikola Tesla, who invented Tesla Coils
The Model S was awarded the World Green Car of the Year in 2013, and was ranked the world's best-selling plug-in vehicle for two years running between 2015 and 2016.  
Tesla's Model X, a crossover SUV smaller than the Model S, was awarded the Golden Steering Wheel on 8 November 2016. By the end of that year, it was ranked seventh among the world's best-selling plug-in cars. 
The Model 3, a sedan, represents Tesla's foray into the world of driverless cars. Although it isn't yet active, the Model 3 contains full self-driving hardware, which can be enabled in future. Production on the Model 3 started in 2017, and it can be driven manually as well as automatically. 
To boldly go where no car has gone before 
Despite production stopping in 2011, the Roadster is the most famous Tesla model. This is in no small part because, on 6 February 2018, Elon Musk's personal Roadster was sent into space. 
It was the dummy payload on the test flight of the Falcon Heavy, a reusable rocket built by Musk's other company, SpaceX. With it went a mannequin called Starman, named as a reference to David Bowie's song 'Space Oddity', and a copy of the famous sci-fi novel Hitchhiker's Guide to the Galaxy.  
It's now the first consumer car in space, and is on course to cross the orbit of Mars. Whether it will answer Bowie's question about life on the red planet remains to be seen. 
Sadly, there are no plans to send any other Tesla cars into space, which should make owning one much less risky, if not cheaper to insure.  
Top tips for cheaper Tesla insurance 
Shop around for electric car insurance and find yourself a great policy that'll protect you and your Tesla on the road. 
We can help you compare providers to make sure you get the right policy for you. 
By Nick Dunn