Our roads are a risk for wildlife and pets
The UK is home to some truly stunning drives, along the coast and through the countryside as the roads weave in and out of mountains, fields and valleys. But, these picturesque journeys are also the home to our wildlife - who don't fare well around roads.
It's been estimated that hundreds of animals die on Britain's roads each week, but only a tiny fraction of those are reported. The rest are sadly left as roadkill for other drivers to navigate around.
We take a look at where the most animal accidents happen, which species have the most car crash victims, and what you should do if it ever happens to you.
The A1 is the worst road for animal collisions
The A1 runs all the way from London to Edinburgh, with its length meaning it's the most lethal road for wildlife by quantity. Of all the reported incidents, 7.65% of them happened on the A1, with 130 incidents being reported by drivers in 2018.
The most common casualties on the A1 were deer - 51 of them were hit by drivers, well ahead of badgers (32). Tragically, cats (10) were in third place, highlighting how our own pets are in danger on the roads.
Deer are a common sight on British roads, with miles of tarmac cutting through their native woodland. You'd do well to pay attention to those 'Deer crossing' signs - an average of £24,000 is claimed on car insurance every year for deer-related damage.
The M6 is the second deadliest road for animals, with 7.24% of all reports happening there, while the A1(M) is third with 6.94%.
The deadliest roads for animals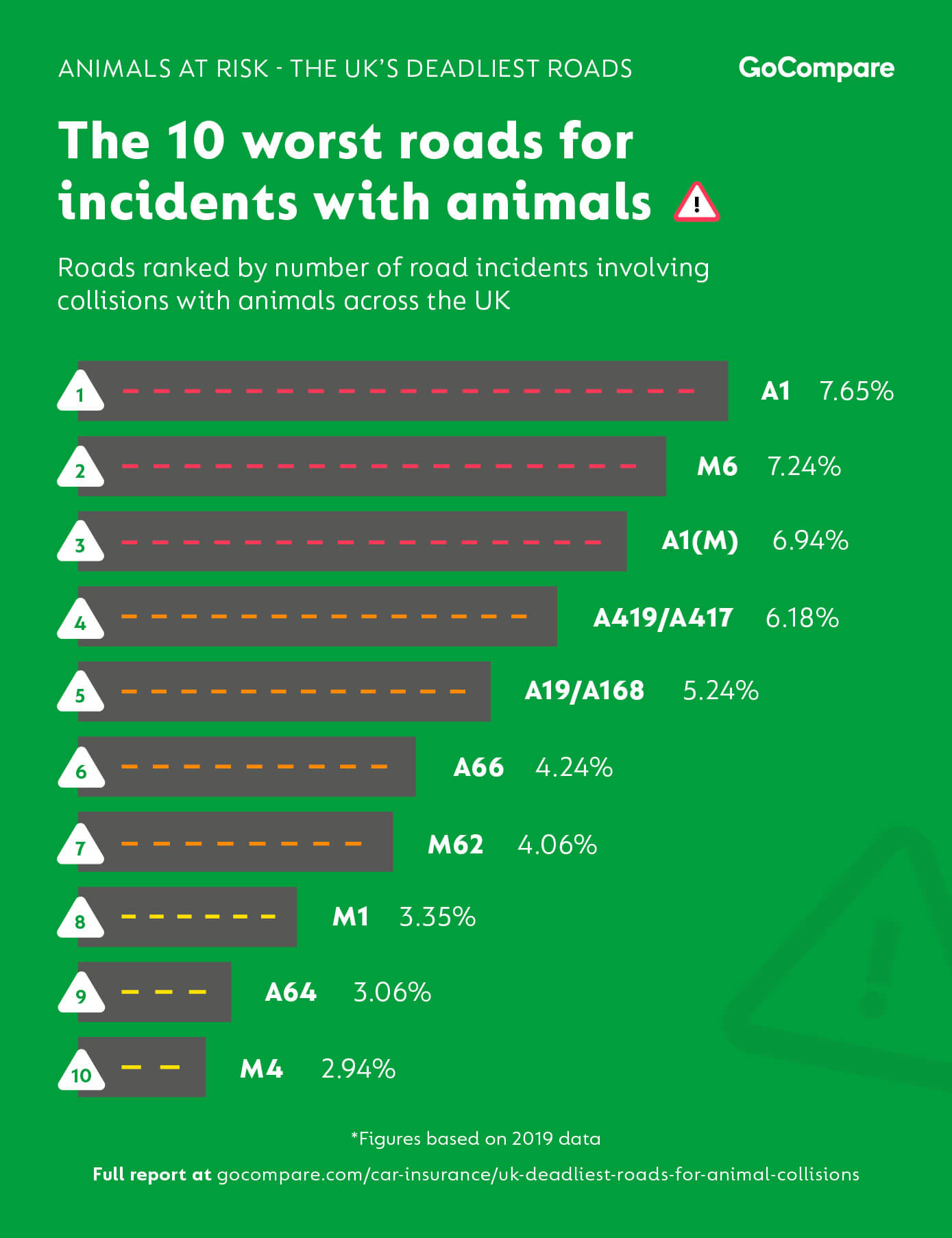 The M271 has seen the biggest increase in animal casualties
Despite being one of the shortest motorways in the country, the M271 just outside of Southampton has seen the biggest rise in animal collisions. Between 2017 and 2018, the road had 113 more accidents reported than the previous year - a 6.82% increase.
It wasn't the only road to fare badly. The A627(M) in Greater Manchester had a 6.11% increase in reported animal incidents, while the A259 saw 4.73% more.
Thetford and its surrounding areas have the highest number of animal casualties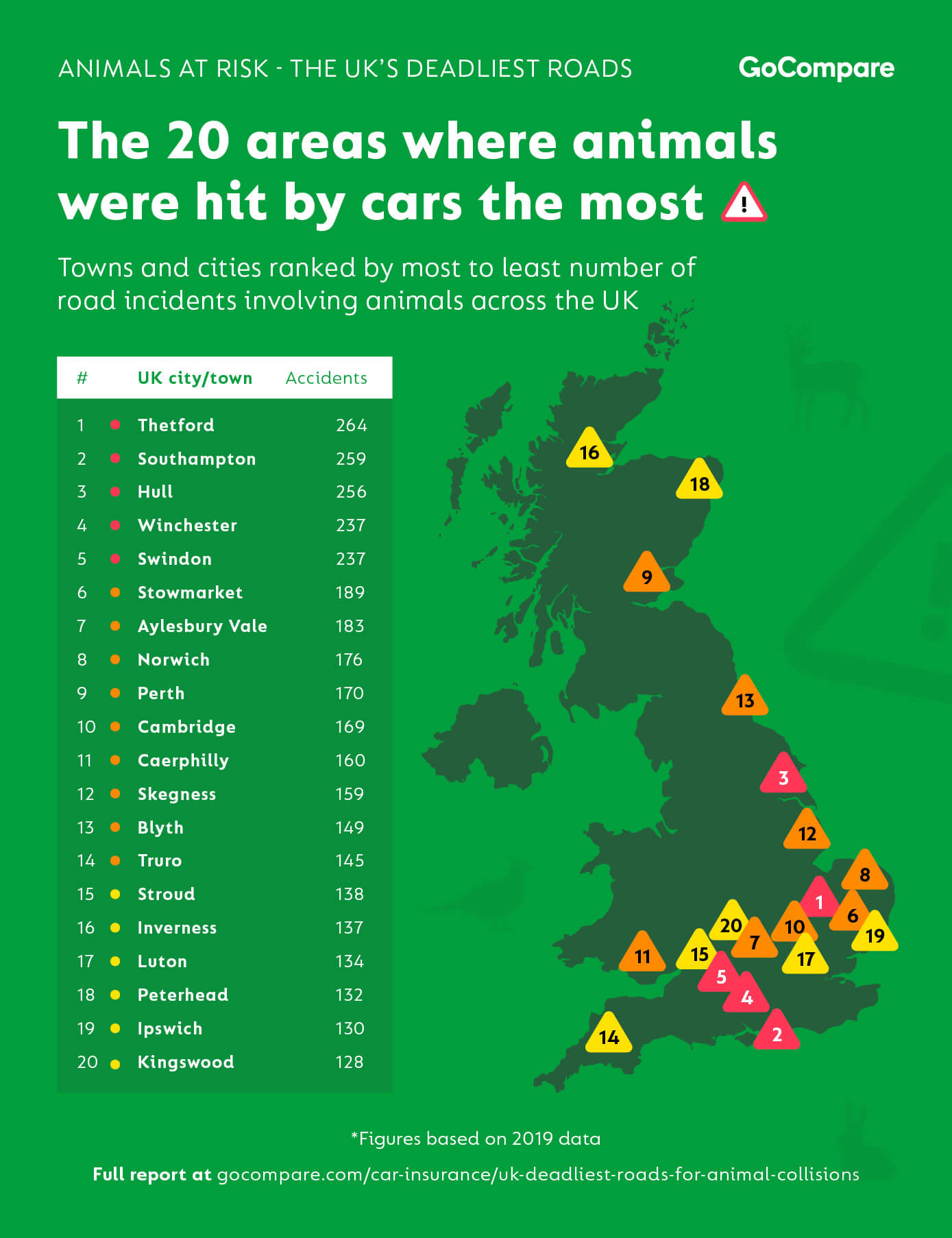 Summertime sadness - July is the deadliest month
Summer sees more animal deaths on the road than any other time of the year.
Many woodland creatures spend the winter months in hibernation, meaning some of the more common victims - hedgehogs, squirrels, bats and birds - will be snuggled away safely or off to warmer climates.
So it's unsurprising that summer sees an increase in deaths. And it isn't just A-roads - our research looked into animal accidents reported across all roads, revealing that July is the deadliest month. There were 3,519 total reported incidents in the month of July, making it more dangerous than August (2,046) and September (1,404).
One reason is that it's not just wildlife that's more active at this time of year - we are too. British summertime sees roads filled with holiday-makers, so busier roads and increased animal activity create a perfect storm.
The most tragic day on record is 6 July. There have been 329 reports on this date, more than any other in the year. Remember that, if you're on the road this 6 July and be alert to animals in the road.
At the other end of the scale, December has seen fewer reports than any other month. Only 401 animal incidents have ever been recorded over the festive period, with most of us safely at home leaving creatures free to roam the roads uninterrupted.
The worst months for animal accidents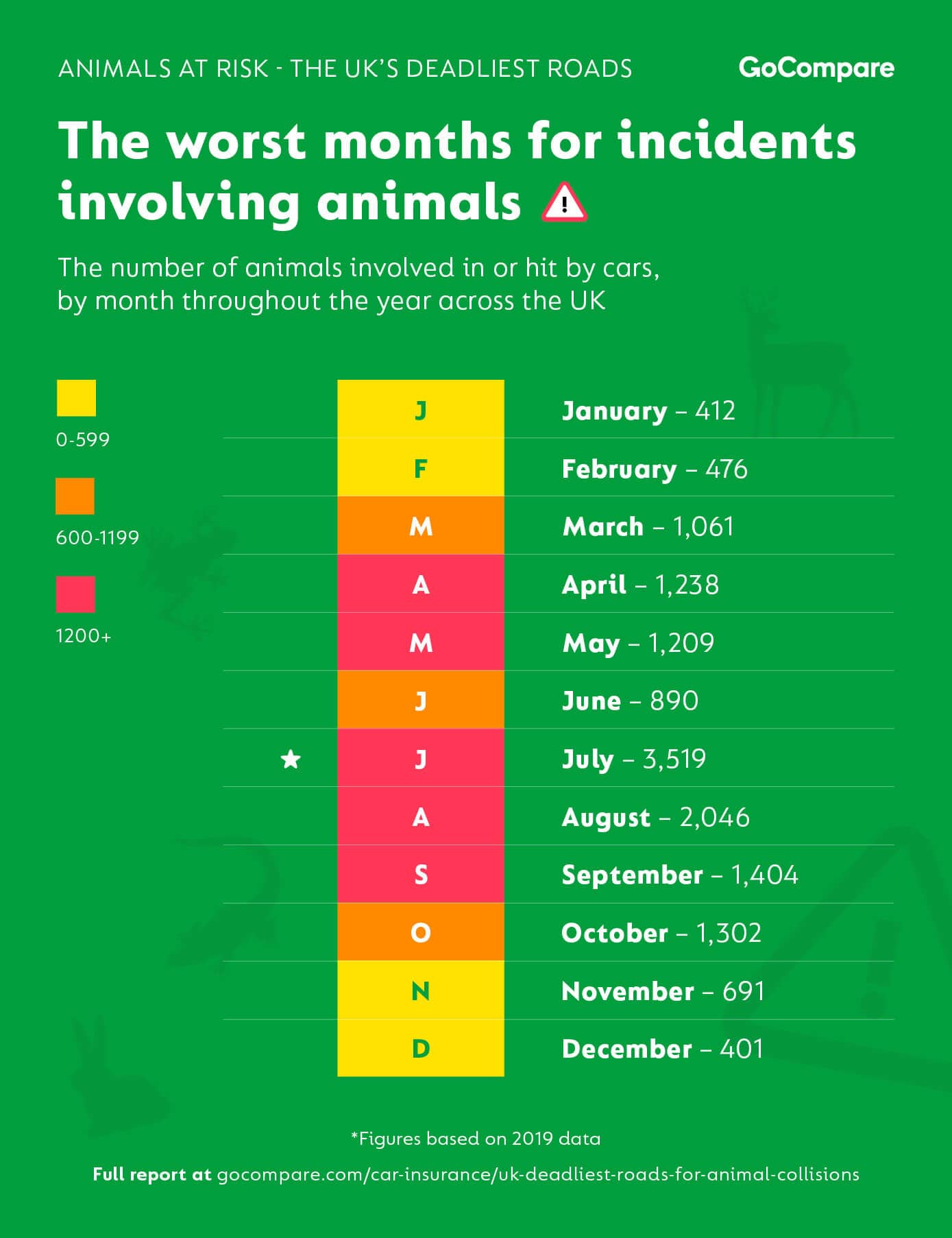 Badgers and pheasants most likely animals to be hit
Given how many you sadly see lying by the side of the road, it's no surprise that badgers top the animal accident list. The Eurasian Badger, to be specific, has been involved in more fatalities on roads across Britain than any other creature, with 2,229 incidents being reported.
Pheasants are second with 2,082 reports. Their limited flight makes them particularly susceptible, as they can't simply flap out of danger like other birds when traffic approaches. They venture out into the roads to find food like bugs and beetles, which can prove fatal.
Hedgehogs (1,920), foxes (1,525) and rabbits (1,115) complete the sad top five of most-hit animals, with roads going through their natural habitat and posing an ever-increasing risk.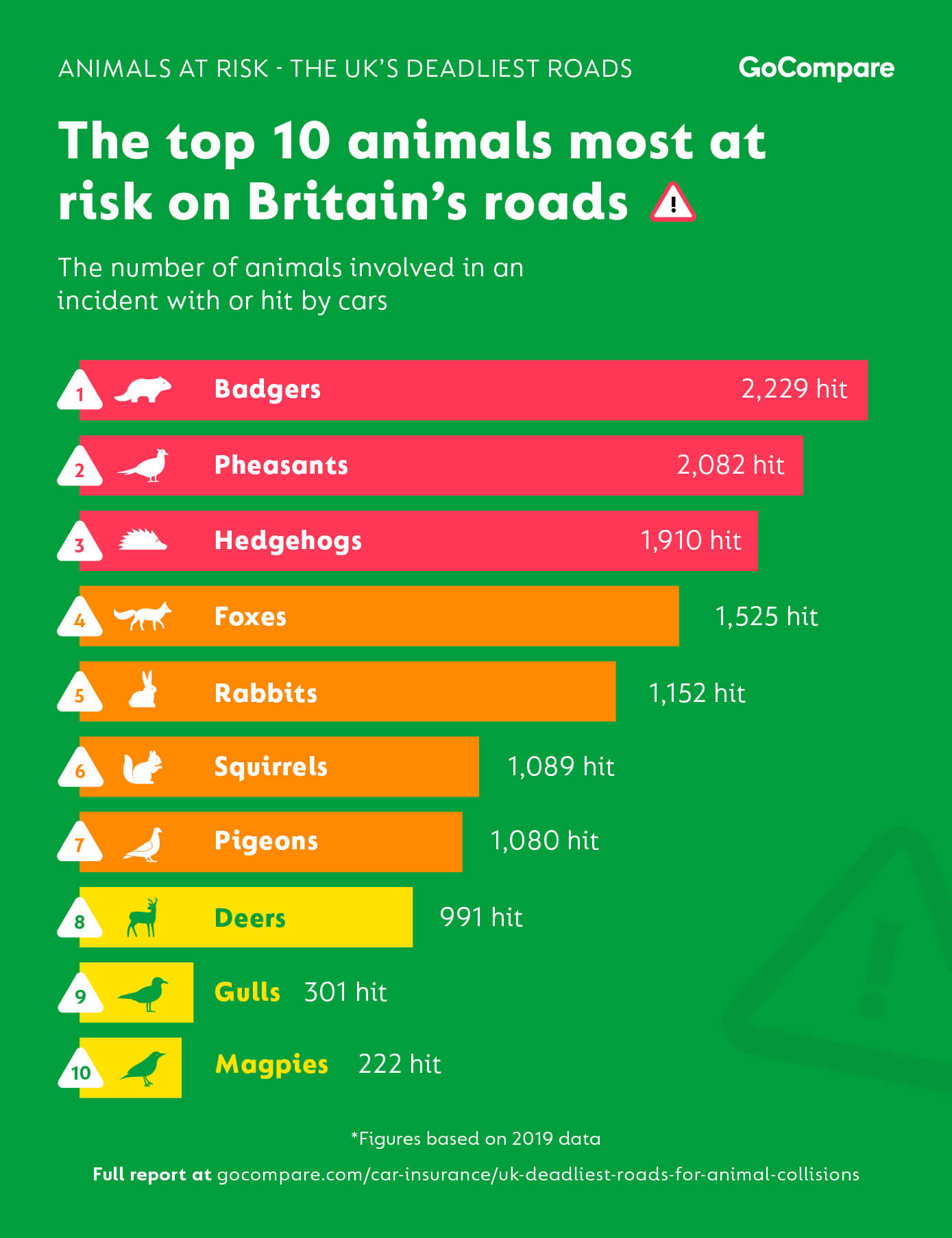 The type of animal most likely to be involved in collisions with cars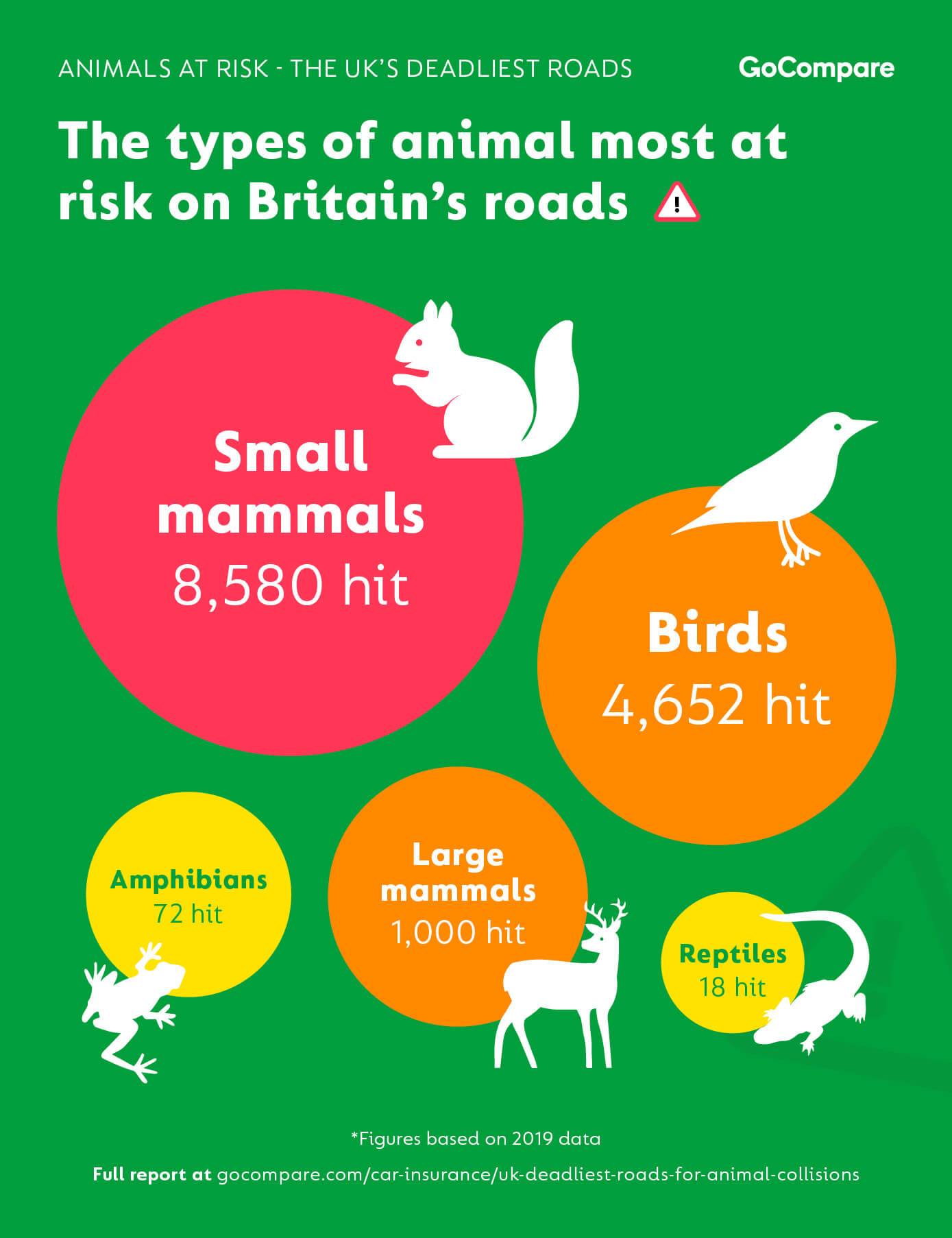 What should you do if you hit an animal with your car?
Hitting an animal can be a traumatic experience and larger creatures like cattle or deer can cause injuries to you and your passengers as well.
Try to stay calm and pull over safely onto the hard shoulder or grass verge as soon as you can.
If you've hit a dog or a farm animal, you must report it to the police as quickly as you can, whether it's dead or not.
For other pets like cats, although you don't legally have to report a collision, it's best to give details to local vets and the council so that the owners can be informed.
You should also tell your insurance provider, as they'll need details to be able to cover the cost of any damage to your car.
If an animal's still alive after a collision, exercise extreme caution if you go to help it. Don't put yourself in danger going into the road and remember that wild animals can carry ticks, fleas and disease. They might also lash out and bite or scratch if they're hurt and afraid.
The best course of action is to phone 101 and report the incident immediately. They'll send an expert out to deal with the matter and make sure the road is safe.
If you do choose to take an animal to the vet, you'll need to have it in a secure box or carrier in your car. Unsecured animals could cause an accident and even invalidate your car insurance. Most vets won't charge to treat or euthanise an animal you bring in that isn't your own pet.
Methodology
GoCompare analysed the latest UK Roadkill Records data to find the number of animals involved in, or killed during, a vehicle collision. The findings were then ranked to find out which animal was involved in the most incidents and where in the UK had the highest number of incidents. Data accurate as of 1 February 2020.
Share of accidents that occurred on the roads was calculated from the number of incidents recorded.