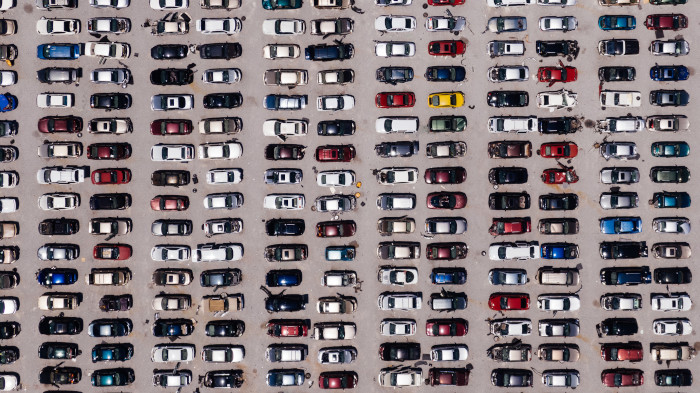 The UK has seen a rapid increase in the sale of used cars, with 2021 bringing a whopping 11.5% growth in transactions.[1]
Online car shopping is becoming increasingly popular too, as it offers consumers a quick and convenient way of finding a new vehicle. Motorists can browse a larger range of cars, while also being freed from geographical restrictions.
But, just how safe is buying a used car online, and are comprehensive vehicle checks enough to protect you from making a bad investment? To find out, we've investigated the history of secondhand cars listed online and reviewed how potential buyers can keep themselves safe.
One in every 100 cars for sale online has a hidden past
Research has revealed that one in every 100 cars purchased online has a hidden history, including cars previously listed on salvage websites being resold as pristine. This means 1% of all vehicles listed on auto trading websites may have hidden issues, data which isn't showing up on a standard vehicle history check.[2]
This figure equates to an estimated 75,000 cars sold each year with a dubious past that the new owner may not be aware of. Deceptions could range from clocked odometers to write-offs offered as clean vehicles for much more than their actual value.[2]
What is a vehicle history check?
There are several history checks available on the market that scrutinise the history of any motorised vehicle registered in the UK, including cars, vans and motorbikes. These services allow potential buyers to find out more about a car's history before they commit to a purchase.
Once completed, you will receive a comprehensive vehicle history report, which will list all of the car's key data points. These can include details such as a stolen car check, which scours the Police National Computer to inspect if the registration has been reported as stolen.
Why are vehicle history checks not telling us if a car has been previously written off?
Repaired cars are being listed for sale online as completely undamaged, having passed checks against the Motor Insurance Anti-Fraud and Theft Register (MIAFTR), which is supposed to flag if a car has been previously wrecked.
The MIAFTR is the only database available to vehicle history-check providers to identify written-off motors. But, astonishingly, it is not mandatory for insurers to update this database with knowledge of a wrecked vehicle.
There is also no set time limit for insurers to update the MIAFTR database following a write-off and it can take many months for this information to appear on a vehicle history check. As a result, salvaged cars can be repaired during this time and sold under the assumption that they have a clean bill of health.
To find out more, we spoke to Marcus Rockey at CarVeto, a free-access vehicle check database for drivers. He adds that most accident-damaged vehicles without insurance company involvement aren't recorded on a register as damaged and repaired. Therefore, they don't appear on a history check. In these cases, buyers must rely on a keen eye to spot repairs or seek a professional vehicle inspection before making a purchase.
How can we get a better understanding of a car's true past?
Marcus Rockey at CarVeto advises drivers to conduct a thorough vehicle history check themselves: "Do not rely on an old report kept by the existing keeper or trader, as vehicle history can change quickly".
We also spoke to Ian Ferguson, managing director at RejectMy - a dispute resolution service for motor vehicles. He insists on consumers asking to see the V5 logbook before making a purchase and before the seller taxes the car.
Ferguson says this will ensure you're aware of any previous owners and if any 'categories' are recorded, such as vehicles which are ex-taxis or have suspicious histories. Never purchase a car where the logbook isn't present and actively avoid sellers who only present you with a green slip asking you to apply for a new V5.
If you're still feeling uncertain about a vehicle, you can arrange a professional vehicle inspection to clear up any doubts. Inspections include a verbal and written report, vehicle examination and checks of the overall mechanics and documentation. This kind of inspection won't provide any guarantees but will offer peace of mind when investing in a new car.
How can we tell if a vehicle's mileage clock has been altered?
Tampered odometer clocks are risky, especially when high-value ex-rental cars or ex-taxi vehicles are resold. Most manufacturers use online service records that give an accurate account of a vehicle's mileage.
Newer cars should have a fully documented history held on the manufacturer database. It's worth calling the supplying dealers to confirm services, dates and mileage, including any warranty work that may have been carried out. If this information doesn't exist, especially with premium cars, it could be a red flag.
If a car has suffered mileage alterations, there are often physical signs such as unusual wear and tear in the seats, steering wheel, door mirrors and cosmetics (usually across the vehicle's front end).
What more can be done to protect consumers?
In the UK, it is against consumer law to hide any information about a damaged car when advertising for sale. However, that doesn't stop some examples from slipping through the cracks.
Marcus Rockey, vehicle history expert at CarVeto, told us that finding out about a car's past is now trickier than ever. Recent changes in GDPR compliance laws mean that previous owners' information is no longer included in a vehicle's logbook.
"This makes it much harder to learn more about a car before purchasing, as new owners can no longer write to previous owners to ask about a car's history".
It is a legal requirement for insurers to notify the Driver and Vehicle Licensing Agency (DVLA) when a car is written off. However, the DVLA does not currently make these records available to vehicle checking providers. Experts are calling for more transparency from these databases to better clarify a car's history for potential buyers, alongside tougher penalties for those found breaching the rules and regulations.
About the data
[1]Used car sale data and statistics in 2021 can be found on the SMMT website
[2]Data sourced from vcheck states that from 10,000 random online used car sales, 1% have a hidden past. We combined this with SMMT used car sales in 2021 (7.5 million) to find that there are an estimated 75,000 cars sold each year with a history that the new owner may not know about.