Learn more about the basics of car warranties, including what they cover, their advantages and disadvantages and the different options available.
Key points
Weigh up the pros and cons of taking out a car warranty
Consider the level of protection you need - warranties vary enormously with regard to cover levels
Read terms and conditions carefully and beware of exclusions
Make sure you comply with the terms of your contract to keep the warranty valid through its term
A car warranty, or mechanical breakdown insurance (MBI) as it's also known, is an insurance policy that provides protection against the cost of parts and labour following mechanical or electrical failure of a covered part.
Policies typically run from one month to five years, with most 12-month policies renewable annually in the same way that car insurance is.
What's a service and repair plan?
As an alternative to an MBI, you could opt for a service and repair plan, but these are not as vigorously protected by the Financial Ombudsman as an insurance policy would be.
A Service and Reapir plan will cover wear and tear failures, parts, labour, and diagnostics, and take the hassle out of keeping your car in good condition and on the road.
It's particularly handy if you have an expensive, surprising repair, and in some instances, a plan may even handle the logistics and arrangements of taking the car to the garage - you won't even have to speak to the mechanic.
However, before taking out this type of warranty, it's worth investigating if the providers are regulated by the Financial Conduct Authority (FCA) and if you'd be supported by the Financial Services Compensation Scheme (FSCS). 
If the firm handling your service and repair warranty folds, you may not be entitled to compensation or protection.
What's covered by a car warranty?
All warranties are different, so you must read the terms and conditions of your policy carefully to see what you're covered for.
Generally a comprehensive policy will cover major components including:
The engine
Transmission system
Fuel and ignition systems
Cooling system
Electrics
Gearbox
Steering
Suspension
Non-frictional clutch and brake system parts
There may be other additional options that you may want to consider adding to your policy if they're not covered already. These include:
Wear and tear
Not all warranties will include general wear and tear and the ones that do may require you to contribute a percentage of the parts and labour costs involved, whilst comprehensive policies may ask you to contribute to parts costs only.
It's important that you establish the level of wear and tear cover that you have, or you could find that any claims that you make are rejected based on the age and mileage of the vehicle.
Consequential loss
Comprehensive policies should provide cover for damage to an insured part caused by the failure of a non-insured part.
Betterment
If a new part is fitted to your vehicle that's deemed better than the original one as the result of a claim, you may be expected to contribute towards the cost of the part.
Car warranty options
Manufacturer's warranty
Independent dealer/used car warranty
After-market warranty
Breakdown repair cover
Some warranties may also require you to contribute towards labour charges.
Oil leaks
Certain parts may leak oil if they fail and some policies will exclude any damage caused by the leak.
Exclusions on car warranties
Typically warranties will exclude normal wear and tear to parts such as:
Tyres and wheels
Exhausts
Catalytic converter
Brakes and clutch
Damage to the bodywork, paintwork, glass and headlights
Audio equipment
Satellite navigation systems
As well as this, the following may invalidate your insurance:
Missing scheduled car services
Using an unauthorised garage for any repairs
Car modifications
Claims arising from neglect of the vehicle
Any repairs required as a result of using unapproved fuel, lubricants or parts
Note that not all warranties will include cover for air-conditioning systems.
Car warranty options
Your car warranty options will depend on whether you're buying a new car, a used car, or if you want a warranty for your current vehicle.
Manufacturer's warranty
Most brand new cars will come with a three-year manufacturer's warranty included in the price, although some manufacturers provide up to five years' worth of cover (subject to conditions).
Similarly many approved used cars sold by franchised dealers benefit from a manufacturer-backed warranty.
Did you know...?
You may have to use an approved garage for servicing to keep your warranty valid
This is because they're returned to the original dealer or manufacturer, usually via part-exchange, before undergoing a detailed pre-sale inspection.
If any faults are found, they're fixed, meaning that the vehicle can be sold as well maintained, in a good state of repair and with no defects.
The level of cover provided by a manufacturer's warranty could vary so ensure you know what cover you have. For example, many will permit unlimited mileage, but others may cap it.
For a warranty to remain valid, there are usually strict terms and conditions to adhere to, including keeping the vehicle in a good state of repair and servicing it to a recommended schedule using an approved garage.
Note that using a franchised dealer for repairs is likely to be more expensive than using an independent garage.
These warranties tend to be transferable to a new owner if the car is sold on, providing the warranty is still valid.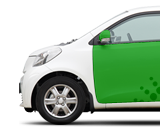 Independent dealer/used car warranty
Used cars that are bought from an independent dealer or car supermarket may come with a warranty as part of the price, or for an additional cost.
Independent dealer warranties typically provide three months' worth of cover, but for premium or prestige vehicles they can last for as long as 12 months.
Dealers may offer you the option of extending the term of the warranty or upgrading to a better policy, but you may want to think about shopping around to find a better deal.
Keep in mind that the cover available will vary greatly between dealers.
As with a manufacturer's warranty, you'll need to adhere to certain conditions in order for the warranty to remain valid.
After-market warranty
An after-market warranty enables you to tailor your level of cover to fit your personal needs, although cover options will depend on the age, make and model of your car, and your anticipated annual mileage.
From Covered mag:
Note that some high performance, collectable or rare vehicles may not qualify, and you'll need to deal with a specialist supplier.
If your car is three years old or more you'll need a current MOT certificate and you'll normally be expected to provide proof that it's been serviced by a VAT-registered garage within the last 12 months.
Remember that you'll have to stick to the strict service schedule and avoid modifying the vehicle to keep your warranty valid.
Breakdown repair cover
There are many breakdown cover companies which offer breakdown repair or parts and labour cover.
This type of cover is available for new and used cars, and you'll either need to have a breakdown cover policy with the provider or to be purchasing both the breakdown and breakdown repair policies together.
Remember that you won't be able to claim if the vehicle doesn't break down or if you break down at home and your policy doesn't include home assistance cover.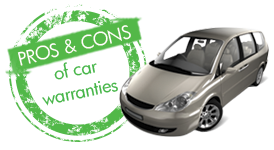 Car warranty advantages
There can be many advantages to purchasing a car warranty including:
Peace of mind and financial assistance
You shouldn't have to pay out in the case of a mechanical or electrical fault, or a failure.
Tailored cover
After-market warranties enable you to tailor your cover level to suit your needs.
Breakdown recovery
Most car warranties will include some sort of breakdown cover but you'll have to organise the recovery and reclaim any costs (subject to conditions).
Savings on other products
Some warranty companies have access to other motoring and leisure products which could offer significant savings.
Did you know...?
It could be cheaper to purchase a stand-alone warranty rather than extending cover from an existing one
Car warranty disadvantages
Claim limits
Typically the total of all claims is limited to the value of the car, or a specific limit for each item. Independent dealer warranties tend to have a maximum limit per claim.
Increases the cost of car ownership
Buying a warranty will increase the cost of car ownership, although if you do need to claim it could prove to be money well spent.
Validity and exclusions
Failure to adhere to the terms and conditions, which for a manufacturer's warranty can be strict, may invalidate cover.
Also, the validity and extent of the cover can be affected by usage and modifications.
Purchasing a warranty
Before you're able to purchase a warranty, the vehicle will need to have been serviced in the past 12 months and may require an up-to-date MOT certificate.

From then on you must adhere to the frequency of services that your manufacturer recommends or risk invalidating any claim you make.
The cost of the premium will be dependent upon a number of factors, such as your personal details, as well as vehicle information including make, model and vehicle age.
Remember to always check whether the warranty is transferable in the event of changing your vehicle during the policy period and whether any administration charges will be issued if you do so.
Always make sure you shop around to find the best deal when buying a car warranty.
In some cases it could be cheaper to purchase a stand-alone warranty rather than extending cover from an existing one.
By Abbie Laughton-Coles