Get the answers to FAQs on car warranty policies, then compare quotes to find the right deal for you.
See also:
What is a car warranty?
A car warranty provides cover against defined mechanical problems that might affect your vehicle. Read more in our beginners' guide to car warranties.
What different types of car warranty are available?
There are two types of car warranty products available - regulated and unregulated.
Both should protect you if you have to pay for unexpected repair and maintenance costs related to your car, and it's important to compare what's on offer between both types of product to make the right choice for you.
Bear in mind that Service and Repair plans are not regulated by organisations such as the Financial Conduct Authority (FCA), whereas a mechanical breakdown insurance policy (MBI)  is.
If you purchase a car warranty, you will benefit from Financial Ombudsman referral and protection from the Financial Services Compensation Scheme if the warranty provider goes out of business.
How long does a car warranty policy last for?
Policies typically last from one to five years, or mileage limits could apply.
What car warranties are available?
The car warranty options available will depend on whether you're buying a new car, a used car, or if you want a warranty for your current vehicle.
You can also choose to buy a Service and Repair plan, in place of an MBI warranty.
The plans are designed to cover the costs of failures resulting from wear and tear, expensive diagnostics, labour, and the provider may even liaise with the garage on your behalf.
Unlike MBI policies, Service and Repair plans are not regulated by the FCA. In the event the provider goes bust, you may not receive protection from the Financial Ombudsman or be able to claim compensation from the Financial Services Compensation Scheme (FSCS).
What will a car warranty cover?
This can vary, so check the terms and conditions of your policy carefully. A good warranty should cover major mechanical components including: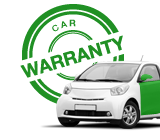 Engine
Transmission system
Fuel and ignition systems
Cooling system
Electrics
Gearbox
Steering
Suspension
Non-frictional clutch
Brake system parts
What does a car warranty exclude from cover?
Most warranties exclude normal wear and tear to tyres and wheels, exhausts, the vehicle's catalytic converter, brakes and clutch along with damage to bodywork, paintwork, glass and headlights.
Some warranties will cover the air-conditioning system, although it's normal for audio equipment and satellite navigation systems to be excluded.
How much will a car warranty cost?
This will depend on your personal details along with the car's age, make and model.
What else should I look out for?
Typical factors to consider include:
Is wear and tear included? If so, do you have to pay a percentage of labour/parts
Betterment - do you have to contribute to parts and labour if a new part is better than the original?
Oil leaks - when a part fails it may leak. Check if your warranty covers claims caused by this
Consequential loss - does your policy cover damage to an insured part caused by the failure of a non-insured part? 
Any more questions?
See if you can find the answers in our car warranty guides.
By Sean Davies
[SeanSocialShare]