If you're closing up your caravan for the winter, there might be more to safe storage than you think. Find out how to get your holiday home ready for the close season.
With even the hardiest of caravanners flinching at the thought of a bracing British winter, owners have to turn their thoughts to caravan storage come the autumn.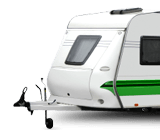 Unfortunately it's not just a case of unhitching, winding down the legs and locking up.
Getting your caravan ready for winter is not nearly as exciting as preparing for the camping season and looking forward to all the long, hopefully sunny weekends stretching ahead.
But good winter preparation is essential, not only in terms of keeping your 'van secure, but also to make sure the mechanisms and electrics don't seize up.
Cleaning up
Give the 'van interior a thorough vacuum and clean to make sure no nasty smells take hold over the winter.
Using special caravan cleaning products might be a better idea than just grabbing whatever's in your kitchen cupboard, as these might damage surfaces and seals.
Don't forget to remove valuable goods such as TVs and DVD players and store them at home until next needed
Leaving the fridge door slightly ajar will help prevent mould, whilst doing the same with cupboard and locker doors will aid ventilation. Seats and bed cushions should also be stood upright to deter mildew.
Silica gel sachets absorb moisture effectively, reducing damp and condensation, so dot a few around the caravan.
You can buy sachets online and in outdoor shops or, alternatively, you can just save those found in the packaging when you buy new items such as shoes and bags!
It's best to leave spring-loaded blinds open, although curtains should be drawn to prevent potential thieves seeing inside your 'van.
Don't forget to remove valuable goods such as TVs and DVD players and store them at home until next needed.
Prevent rust by coating hinges with lubricant and rub a little olive oil around window seals to prevent them sticking after a cold spell.
Draining work
Even the smallest amount of water left in a pipe or a tap head can, if it freezes, cause a lot of damage.
Thorough draining will minimise this risk, and the Camping and Caravanning Club † recommends starting by opening all taps, keeping mixer taps in a central position so both hot and cold can drain.
Open drain valves and remove drainage plugs, and give on-board pumps a good run, checking first the advice in your manual to make sure you don't run them dry.
Give the shower head a good shake free of drips and drain the Aquaroll and portable water containers, making sure they dry properly inside.
Save your energy
When it comes to safety, it's essential during winter that the valves on top of gas cylinders are shut or that clip-on regulators are removed, and that caps or cloths are fitted over the ends of open pipework.
Ideally cylinders should be stored in your caravan's gas locker, but some storage facilities don't allow this and you might have to keep them at your property.
They should never be kept in a shed or garage but in a secure spot in the open air. They should be at least two metres away from open drains, cellar entrances and buildings and away from heat or flammable materials.
You also need to take care of your caravan's electrics to ensure they work again next year. If possible, disconnect the battery and store it at home, charging it every four-to-six weeks. If the battery is to be kept on your 'van, make sure you disconnect it or use the isolation switch.
If you have the option of hooking up to electricity throughout the winter, it's worth doing so every now and again and turning on the heating for a short period.
It's a cover-up
Leave your lovely shiny van under trees or next to a busy road for the winter, and by next spring it will be covered in dust, grime and green algae, not to mention scratches from branches.
When it's warm enough to go caravanning again, you want to know your unit's where you left it
Investing in a caravan cover will protect your unit from the worst of the weather - but remember that you get what you pay for.
A cheap cover is likely to rip in a moderate wind, whilst better quality covers will stand up to stronger winds and might include features such as a 'door', meaning you don't have to take the whole thing off if you want to pop inside your 'van.
Safe as houses
When it's warm enough to go caravanning again, you want to know your unit's where you left it.
Unfortunately, many caravans are stolen from driveways and hard-standings, but making the unit as secure as possible will deter thieves.
You should use at least one device such as a wheel clamp, hub lock or hitch lock, but it's even better to use a combination and you might find your caravan insurance premium is lower as a result.
The Caravan Club † recommends installing a security post on your drive if possible to block removal by thieves, as well as investing in an alarm.
There are many varieties of security device on the market, including immobilisers, interior sensors and visual as well as audible warnings, so spend some time researching the best option(s) for your unit and circumstances.
It's also a good idea to sign up to a computerised register such as Theftcheck for caravans or Minder for motorhomes.
Your unit will have a unique identification number - usually etched on the windows - and, so long as your membership record is kept up to date, the police will be able to trace you if your 'van is stolen, and may be able to recover it.
Solutions in store
If you don't have room to store your caravan at your property or would like increased security, think about hiring space at a storage compound.
Organisations such as the Camping and Caravanning Club offer winter storage facilities for members and there are also lots of other commercial storage compounds across the UK.
The Caravan Storage Site Owners' Association (CaSSOA) † can help you find a storage site nearby; just input your postcode and a list of local options will come up.
Winter storage service usually runs from October or November until March, and caravan length restrictions might be in place in some facilities.
Don't forget to tell your insurers if your caravan is stored away from your property and check that it's still covered under your policy.
If you rent a storage pitch, ask the owner if it is covered for public liability and occupier's liability. It should be - but it's best to double check!
Carry on camping
Finally, although winter caravanning isn't everyone's cup of tea, some owners wouldn't dream of packing their 'van away for months on end.
Many sites now have extended or all-year-round opening, with some offering Christmas and New Year breaks complete with festive games, quizzes and discos.
If your winter plans include caravanning trips, make sure you get set for winter driving.
By Rebecca Lees
[SeanSocialShare]