Finding the right insurance for your caravan - whether it's a touring caravan or static holiday home - can be a minefield, but caravan insurance can help you in the event of an accident, injury, theft or vandalism.
Key points
Check whether your car insurance covers towing
Caravan insurance isn't a legal requirement, but car insurance alone is highly unlikely to provide sufficient protection for your van
Touring in Europe may require additional cover
Caravan insurance is usually divided into three main categories: touring caravan, static caravan and trailer tent/folding camper.
Touring caravan insurance
This can cover caravans that are towed behind another vehicle.
Static caravan insurance
If you have a caravan that's kept in a fixed location, such as a caravan site or holiday park, you should think about static caravan insurance.
This could keep your investment protected as well as any contents you keep in it, potentially covering things such as accidental or intentional damage.
When siting your static caravan or transferring it to a new site you should check that the movers you use have goods in transit insurance, which would mean your van is covered in the event of damage, accident or theft.
Trailer tent and folding camper insurance
Trailer tents or folding campers are a mid-way point between a campervan and a tent.
They offer stable shelter but are less secure than traditional caravans, meaning that contents stored in them may be more difficult to insure.
Does car insurance cover touring caravans?
Don't assume that your car insurance covers you for towing a caravan, and if it does check that your cover doesn't impose a size/weight restriction.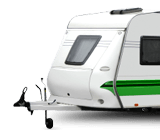 Even if you are covered for towing, your car policy probably won't cover you for theft of your caravan and other risks - for that you need specialised caravan insurance.
Rules state that while insurance for your car is a legal requirement, as a touring caravan is towed insurance isn't mandatory.
But your caravan is subject to a number of risks that your car isn't, especially when out on the road. Find more about towing a caravan with our guide.
Contents cover for caravans
Static and touring caravan cover should provide some level of cover for the personal possessions kept in the accommodation.
Things to consider
Upping your caravan's security may lower your premium
Ensure your contents insurance is enough to protect your belongings
This should include clothes and gadgets including laptops, tablets and smartphones.
If you're planning on taking expensive tech with you, make sure the amount covered is sufficient to protect your belongings, and that the excess on the policy (see above) doesn't exceed the value of your valuables.
Remember that you may already have contents cover on your travel insurance, your home insurance, or from another product liked a paid-for bank account or credit card.
Doubling up on insurance can sometimes seem inevitable, but it can cause complications when claiming and is best avoided if possible.
Other caravan policy considerations
Caravan insurance policies have a range of features and benefits which insurers may include as standard on the policy, or offer as an optional extra at an additional cost.
Check beforehand that what you believe you're covered for is actually part of your policy - read through the terms and conditions of your policy document and be careful not to assume that something comes as standard.
Check the list of countries covered against those you're planning to visit
Policy areas you may want to think about include:
New-for-old cover
Accidental damage
Emergency removal
Breakdown cover
Loss of use protection
Public liability insurance
Agreed value
Awning cover (including for weather damage)
Family and friends cover
Fatal injury cover
Weather damage
Year-round touring and storage
Third party or public liability cover
Cover when your caravan is being used by family and friends in the UK
Emergency accommodation expenses cover
Excesses on caravan insurance
An excess is a contribution you agree to pay towards any claim. The excess is split into two different types, compulsory excess and voluntary excess.
Compulsory excess
This is the amount your insurance company requires that you pay towards any claim made on your policy. Normally it's deducted from the settlement made to you.
Voluntary excess
This is the amount you agree to pay towards a claim in addition to the compulsory excess. You agree this at the start of the policy; typically, the higher the excess the lower your premium will be.
If you do opt for a higher voluntary excess in order to lower your premium, always set it at a level that's affordable in the event that you need to make a claim.
Exclusions on caravan insurance
Each caravan insurance policy is different, so it's important to check beforehand what your policy does or doesn't include - read the terms and conditions of your policy thoroughly before setting off with your caravan.
Some policies will exclude a selection of eventualities such as:
Your caravan being used as a permanent residence or for any trade, business or profession
Wear and tear, deterioration and gradually operating causes including insect and vermin damage
Mechanical or electrical breakdown
Theft of contents unless there's forced entry or exit from the caravan
Trailer tent and folding camper insurance may also exclude damage due to mildew and vermin, and due to the nature of trailer tents cover may exclude any personal possessions or audio equipment you choose to store in them.
No-claims bonus
Did you know...?
Insurers may offer a discount if you're a member of a caravan club or owners' group
A no-claims bonus is a reward for people who don't make a claim on their policy.
Whether an accident is your fault or not when you make a claim, it will affect your no-claims bonus, unless your insurer recovers their costs from the other driver's insurance company.
Caravan security
Some insurers offer discounts on your premium if you improve the security on your caravan.
Keeping your caravan secure is important, and if your vehicle isn't looked after properly any claim you make could be invalidated. To help keep your home-from-home safe:
Consider installing a mechanical device such as a wheel clamp or hitch lock, which covers your tow bar to stop thieves hitching your caravan to their vehicle
Install a corner steady lock - this will lock down the rear corner of touring caravans so the front can't be raised and hitched to a thief's vehicle
Get a professional to install a Thatcham-approved alarm and immobiliser
Fit a tracking device to your caravan and tag it with Caravan Registration and Identification Scheme-approved tags
Take pictures of the inside and outside of your caravan which you can show to the police in the event of theft
Consider investing in a locking drive or hitch post or locked gates when storing your caravan at home
Keep all valuables out of view
Security aside, insurers may also offer a discount if you're a member of a caravan club or owners' group.
These groups may also be able to recommend insurance policies designed especially for your caravanning needs.
Caravanning in Europe
If you're taking your caravan or trailer tent to the continent, you should think about getting European insurance.
This will give your mobile home the same level of protection it benefits from in the UK while travelling in Europe.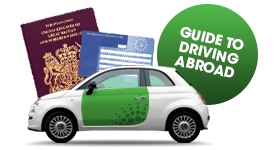 Many UK comprehensive caravan insurance policies include this minimum cover, but it can be very basic, perhaps leaving you uninsured against theft or fire damage.
To avoid potential disaster, check what's included under your policy and consider extending your cover - you're at the same risk of accident or theft in Europe as you are in the UK, perhaps more so when you take into account unfamiliar roads and surroundings.
Remember your vehicle, too! Driving without insurance in Europe is illegal, and motorists driving in certain European countries also need a Green Card to prove to the authorities that they have at least the minimum level of cover in place.
Check the number of days that come as part of your policy, as if you're planning a long trip you may need to extend your cover.
Touring further afield
While you can be reasonably certain that you'll be covered while travelling in France, Germany or Spain, you'll need to take care if you're going beyond the European Union.
If you're contemplating journeying across to Turkey, for example, then you should check your policy's terms thoroughly beforehand.
Check the list of countries covered against those you're planning to visit. If you're unsure - or if there are any grey areas - contact your insurer.
What else should I consider?
Caravan insurance will protect your touring vehicle when you're away from home, but what about protecting yourself?
Remember travel insurance when off on any jaunts, and also your European Health Insurance Card (EHIC) if you're heading to the continent.
Also think about your home insurance - if you're planning on travelling for longer than 31 days, your home cover may be invalid.
Speak to your insurer and consider taking out unoccupied home insurance.
By Emily Bater