Compare static caravan insurance and get your caravan protected
According to the NCC, there were about 365,000 static caravans – also called caravan holiday homes – in use in the UK in November 2018. 
And caravanning seems to be on the rise with static caravan sales increasing by 1.5% in 2017, compared to the previous year. 
Key points
Static caravan insurance isn't a legal requirement, but it could be worth comparing a variety of insurance quotes to give you peace of mind if something were to go wrong
Common static caravan insurance exclusions include wear and tear, and vermin and insect damage
You can get static caravan insurance for older caravans and statics kept in your garden, but the policy details might be slightly different
To protect your beloved static camper, it could be worth getting some insurance, just in case something goes wrong.  
Do I need static caravan insurance? 
Well, technically no. It's not a legal requirement to have caravan insurance, but some caravan parks might have it as a requirement to use their site.  
Having said that, just because static caravan insurance isn't a legal requirement, it doesn't mean that it's not useful.
After all, you probably wouldn't want to be lumbered with a hefty bill if something goes wrong with your caravan.  
What does static caravan insurance cover?
It's important to read the T&Cs of your static caravan insurance policy. But generally, your caravan should be covered for damage, destruction or loss due to fire, severe weather or crime.  
If you take out a policy with contents cover, the personal possessions you store in your static caravan will be covered. 
If your static caravan is kept in the EU, then you'd need to find a policy that offers European cover.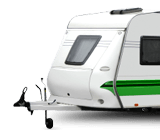 How can I get the best static caravan insurance? 
To get the best static caravan insurance, we'd suggest comparing policies, so you can see the right ones for your needs.  
Make sure your policy includes all the features you'll need, and consider finding ones with new-for-old, contents and storm damage cover. Also, check that your caravan will still be covered even when you're not there.  
For additional peace of mind, you might want to take a look at any optional extras you can add on, just in case.  
Did you know...?
It's common among the caravanning community to give your camper a name. A few of our faves include Cramalot Inn, Kid's Inheritance, Adventures Before Dentures, and Large Marge the Party Barge.
What exclusions should I watch out for? 
Caravan insurance policies don't usually cover anything and everything. 
Wear and tear, vermin and insect damage, damage or loss due to lax security – or through using your static caravan as a permanent residence – and using your caravan for trading are aspects commonly not covered by most static caravan insurance policies.  
Does the site my caravan is on make a difference?  
Yep, caravan sites that are registered with CaSSOA might even get a discounted static caravan insurance policy!  
Insurance for mobile homes 
Park home or mobile home insurance covers a caravan or motorhome that's your permanent place of residence.  
Caravan insurance for permanent dwellings will cover slightly different aspects of your home, so read all the T&Cs to make sure you're getting the right cover for your mobile home sweet home.  
Insurance for a static caravan in garden 
If you keep your static caravan in your own little slice of paradise, you'd need to make sure your insurance policy covers this, as most insurers will only offer insurance for static caravans on licensed sites.  
Can I get static caravan insurance for older caravans? 
Most insurers will cover older caravans, but their new-for-old cover will usually only cover caravans up to 20 to 35 years old.  
If your caravan is older than 35 years, your insurer might offer to cover your static based on its market value, rather than a new-for-old basis.  
See also:
Touring caravan insurance
Guide to towing and insurance
How can I get cheap static caravan insurance?  
See if you can save on your caravan insurance by comparing quotes with GoCompare! 
When you compare static caravan insurance, you can view a range of policies to best suit your needs, and see which ones are the cheapest of those on offer. 
Just bear in mind that cheap doesn't always mean best, and it's more important to get a policy that covers what you need it to than the cheapest option.  
Happy camping!  
By Amy Smith