Compare touring caravan insurance today
A staple of British holidays, the humble touring caravan is growing in popularity. 
So, whether you're taking yours to a festival or a quiet field in the Lake District, it's worth making sure you compare touring caravan insurance. 
Key points
Although you can tow a caravan with just your car insurance policy, a specialised caravan insurance policy will provide you with tailored cover
Most insurers will ask that you keep your caravan secure with wheel locks and hitch locks – or in a secure storage facility if you don't have the space at your home
You should ensure your caravan's maximum mass is ideally no more than 85% of your car's kerb weight
Do I need touring caravan insurance? 
Unlike car insurance, caravan insurance isn't a legal requirement. 
But, without it, the cost of repairing any accidental damage or dealing with theft could be astronomical. 
Given that the price of a touring caravan – defined as a caravan that's towed behind a vehicle – can be even more expensive than that of a car, it's certainly worth looking into an insurance policy. 
That said, you can tow your caravan with a car insurance policy. 
You'll have third party cover, so if you damage someone else's property or injure them, they'll be covered. But, if your caravan is damaged or stolen, you won't be. 
It's worth investigating specialist cover if you want more protection. 
How much does it cost to insure a touring caravan? 
That all depends on the level of cover needed and the provider you choose. 
You could get a policy tailored to your needs that covers a variety of potential issues or go for a more basic policy, which will inevitably be cheaper. 
Caravan club insurance 
Although most motor insurers will offer policies for caravans, you may want to consider joining a caravan club. 
Not only will you get to meet like-minded folk, but you may well benefit from a variety of membership perks. 
These could include money towards alternative accommodation if your caravan becomes uninhabitable for any reason and cover for storm or flood damage.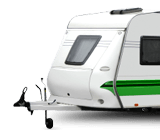 Depending on which club you join, you could even get friends and family cover, so that they can tow your caravan away for their own holiday. 
Caravan security 
Although your home and contents insurance may well cover the contents of your caravan against theft or damage, it's worth investing in security for the caravan as well. It might even bring your premiums down, which is always a good thing. 
According to the Financial Ombudsman, most insurers will probably expect you to install a wheel lock or hitch lock for theft cover to be valid. 
Some insurers might offer a discount if you install an alarm to help prevent theft, or tracking devices to assist in recovering it in the event of a theft.  
Insurers may also ask where you keep your caravan. If you have the space to keep it at home, they may ask you to install the wheel and hitch locks as mentioned. 
Otherwise, there are specialised storage sites where the caravan is locked up safely with lots of others to keep it company. 
Lastly, you can register your caravan with the Central Registration and Identification Scheme (CRiS).† If your registered caravan is stolen, the police will be able to use CRiS to try to track it down.
Did you know...?
According to the NCC, there were 550,000 touring caravans in use in the UK in November 2018
Car to caravan weight ratio
Towing a caravan comes with certain restrictions. 
You need to consider the 'kerb weight' of your car versus the 'maximum mass' of the caravan itself. These figures can be found in the owner's manual of the car and on a plate near the door frame for the caravan. 
The kerb weight of the car is the total weight of the car including all standard equipment. Occupants don't come into the equation, but if your whole family is going on holiday, it may be wise to consider how much they'll contribute to the car's weight generally. 
The caravan's maximum mass is the most it should ever weigh when fully loaded. It absolutely should not weigh any more than this during transit.  
To successfully and – more importantly – safely tow a caravan, you need to ensure that the maximum mass is 85% or less than the total kerb weight of the car. 
If the caravan's maximum mass is between 85% and 100% of your car's kerb weight, you may struggle to tow the caravan, so this should only be attempted by experienced caravanners. 
See also:
Travel insurance for caravan holidays
Why is the weight important? Well, beyond being able to safely tow it, your caravan may not be covered by your insurance if it's too heavy. 
This also depends on when you passed your test. 
If you passed after 1 January 1997, not only will you need to take an extra test in order to tow your caravan, but the total weight of vehicle and trailer shouldn't exceed 3,500kg. 
Comparing touring caravan insurance 
Whether out on the road or safely tucked away in a storage site, it's a wise idea to make sure your caravan's insured. 
Compare today and see if you can find a policy to suit your home away from home. 
By Nick Dunn