Reliant Robin owners are still a blighted bunch, even a decade after production ceased.
Del Boy's back-handed endorsement and Mr Bean's famous tormentor might be a dim and distant memory, but it seems these aging, cheeky three wheelers are under a new wave of attack.
Mindless acts of Robin flipping and eggings are on the rise, and trash-happy banger racers are buying up as many as they can... only to smash them to pieces.
Meanwhile, spanner-spinning bikers are eagerly hunting them down. Once caught, they gnaw off the fibreglass chassis and for use on stately trikes. Then there's the devout 'Clarksonites', waging war on Robins purely on the evidence of a well-staged 10 minute feature on Top Gear.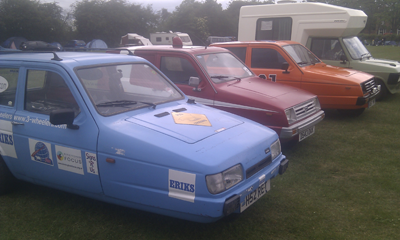 Next month marks the final Robin's 10th anniversary. To mark the occasion, we travelled to the Reliant Owners Club annual national rally in leafy Stokes Prior, Bromsgrove - a three-day do set next to a lazy canal, a fine selection of quiet winding roads and inviting country boozers lie conveniently on the doorstep.
It's a picture-perfect Bank Holiday scene, and home to an impressive range of Reliant models: the sharp, space-age Bond Bug, the race-ready Scimitar, the cute-but-hardworking Ant, the wise, distinguished Regal. And yes, three versions of the Robin.
There's a real festival atmosphere. The main stage is swapped for a 30-strong line of well-kept classic motors and the sound of music switched for the gentle gurgle of a simple 850cc motor. Over a hundred members of the 700-strong club were in attendance this year, each one enjoying the community spirit.
"Of course we love Reliants," says the rally organiser Paul Devey as we arrive. "But we love the camping and whole atmosphere just as much. It's not like we're driving them around all weekend, we're just enjoying getting together, catching up."
"We don't even care when it rains," agrees Peter Huggins, the club treasurer. "It usually does. Most these cars are so light, the mud doesn't affect them. Bring it on!" A gung-ho spirit as British as the Reliant legacy itself.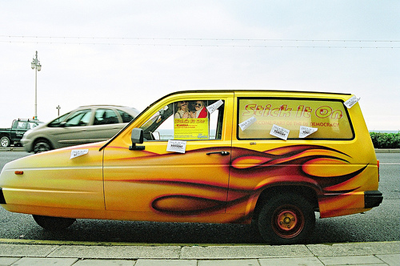 If anything, the current acts of Robin-bashing make them even prouder. ost people I met had at least four Reliants in their collection. Some are off-road as restoration projects, but the majority are fully taxed, MOT'd, insured and road-ready. "A Reliant will do whatever you ask it to as long as it's maintained and you take care of it," says John Wilson-Hall, editor of the Reliant Owner's Club magazine National Top Gear. "To put it simply, to keep it off the road is to do it a disservice.
And how; the average petrol consumption alone is 80 miles per gallon on long journeys and 50 mpg in towns. Vehicle Excise Duty costs £70, or free if it's over 25 years old, and they can be cheap to get car insurance for, too. Even young drivers can pick up a policy for under £300. Oh, they're a hoot to drive too... And no, they don't tip as easily as Clarkson made out.
On a Robin tip
"It's only people who've never driven one that say that," says John. "If you drive it like a four wheeler then it probably will tip. You drive it like a Reliant."
"You drive it like a Reliant." These words echoed in my mind as a Reliant owner called Kevin kindly took me out in his bright orange Regal, the model which preceeded the Robin. It's the daddy of three wheelers. It has a bold, wide 60s-flavoured frame, lid-like hoods droop over its doe-eyed headlights, and…and for 10 minutes only, me behind the wheel.
There's room, a lot more than you'd imagine. There's also the noise, thanks to the engine that's sitting right beside you, slowly warming your left leg. A unique sensation, it's a stronger link between man and machine than any modern car. This, to most Reliant owners, is one of the most reassuring elements of the three wheeled experience.
Thanks to its low ground height and the intimacy of the engine, the impression of speed is heightened. The acceleration needs a featherlike touch and the front wheel only ever needs a careful nudge in the right direction. The gears are the hardest to master as you rifle from first to third in seconds, but from 15mph you're in fourth and it drives almost like an automatic. I'd say my cruise was smooth, but patient Kevin may disagree. Either way, it was a unique driving experience I'd happily take up again.
Flipping Heck!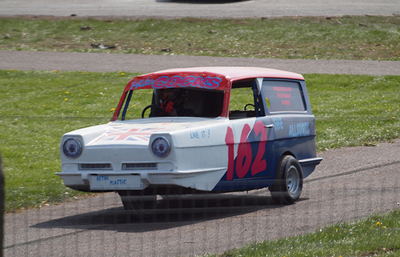 "It's all about driving for the pleasure of it," says mechanic and Reliant entrepreneur James Holland. "People didn't do 70 down the M11 in the Regal's day. They did 40 to 45, that was the speed. You got there when you got there, there was no will to go fast."
At 25 James might be one of the younger members, but his Reliant collection currently sits at a commendable 36. He's the club's go-to guy for parts, solves any engine problems at the rallies and is considering opening his own Reliant museum one day. He's also a firsthand victim of the recent acts of Robin hate crimes.
"After what Clarkson did so many people would come into our garage and tell us how dangerous and lethal they are!" he sighs. "It's mad, they think Clarkson is the Gospel, that he's God. Some people get really nasty about it. Kids turn them over. We put them back up again and then eggs get thrown at them! We put them in back behind the garage and even then kids go round and shoot them with catapults and put the windows through."
Even Jeremy was alarmed when James got the chance to meet him on BBC's The One Show. "Off camera he's a genuinely nice guy," admits James. "He was actually horrified when I told him!"
And if it's not just the Clarkson Army, it's trike enthusiasts and banger racers. The latter raising strong words from both James and John. "Some are respectful," explains John. "But most are happy to smash them up for the sake of it. It's a real shame, they're running them off the roads."
"Legally speaking, if they've bought it then they can do what they like I guess," admits James. "But they smash them up and won't let you have any parts from it. I've just heard about a guy who bashed up a 2000 Robin. That could fetch about £5000 on a forecourt!"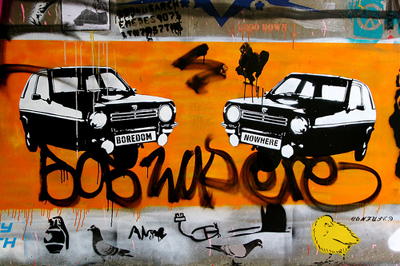 There were a registered 16,000 Reliants on the road 10 years ago. The number is has now dwindled to an estimated 5,000. It's impossible to get an exact number as the DVLA list them under under three-wheeled vehicles, and that includes trikes.
Naturally, the 56-year old club has seen a drop in members over the years, but spirit among the card carrying members is still strong…and surprisingly youthful.
"I don't think club membership appeals to the younger man so much," considers John. "But we are getting a lot of young members. It's pleasant to see them because they're driving for the sheer pleasure of it. And while there's owners like us, you'll never see it off the road entirely. Plus, when we are on the road we get a heck of a lot of people putting their thumbs up, beeping their horns and leaning out of their windows taking pictures! There's still a lot of love the Reliant out there..."
Often-blighted but in no-way-slighted: Robin owners, we salute you!
Images: Caroline Stokes, Dave Jenkins, Hammerhead27, Stuart Boreham, Anya_.