Estates, station wagons, shooting-brakes… at some point in your life, you may well find yourself pondering the practicalities of driving a car that's had a large greenhouse grafted to the back.
Perhaps you've spawned a sizeable tribe of nippers that require bulky accessories and entertainment, or enjoy a weekend sport that involves lots of extravagant equipment. Maybe you're chasing away the mid-life blues by drumming in a Motörhead tribute band, or are trying to make a little cash on the side with some amateur furniture removals.
Whatever the thinking behind it, your whims are well served by the car design fraternity; there have always been and always will be plenty of legitimate excuses to drive a wagon. So when you reach that space-oriented juncture, here's our handy guide to finding a decent estate, whatever your aesthetic and dynamic desires may be.
Volvo 850 - from £1,500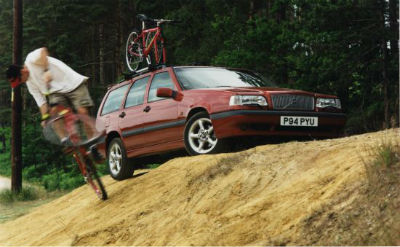 This is Ikea on wheels, and we're not just saying that because they're both Swedish. There's a logic and a purity to everything the 850 offers, from its no-nonsense, slab-sided proportions to the handy child seat that folds out of the rear armrest. Volvo didn't bother to make it especially stylish – they started with a base of practicality, and allowed desirability to pour forth from its myriad sensible features. It's huge, it's versatile, it won't mind if you put a couple of large dogs in the boot and set them to slobber.
Decorators, builders and craftsmen of all disciplines have been rolling diesel 850s from time immemorial, but the canny family man will go for the T-5: sensible and safe for carting the kids around, and a hoot to drive when you find yourself alone on the open road. The police used these for a reason – they're rapid as hell. And they technically have 'Kamm tails' too, which gives you all sorts of bragging rights in the pub. It's like driving a garden shed with a vast, whistling turbo. Oh, and a whole lot of British Touring Car Championship heritage as well.
Alfa Romeo 156 Sportwagon - from £2,500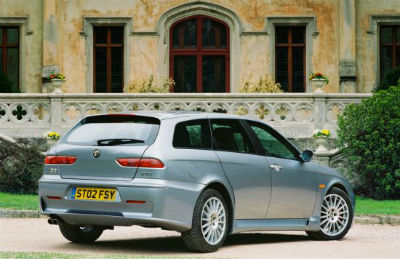 The folks at Alfa Romeo are a canny bunch. Turning a popular, artsy saloon into a dadbox makes it less sexy. How to redress the balance? Call it SPORTWAGON, that's how! There is, arguably, no cooler name for an estate car.
The car still keeps the glorious conformity-kicking asymmetric nose, while excusing its sizeable rump with a moniker to bandy around with pride. Heck, you don't even need to buy a 156 with a sporty engine to maintain the cred. Sure, the rumbling V6 comes with beautiful chromed inlet pipes and makes a noise like Thor gargling Baileys, but you just don't need it; when you're able to tell people you drive a Sportwagon, the JTD diesel unit will do just fine...
MG ZT-T - from £5,000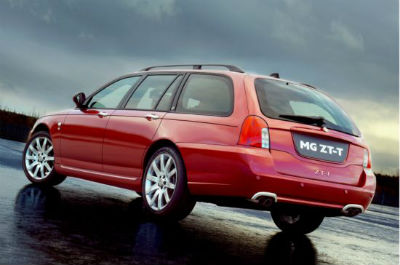 The Rover 75 was a polarising old stick, offering solidity and good ol' British wood 'n' leather, but also seeming somewhat old man-ish in a Jaguar S-Type kind of way. These ageist concerns were addressed by MG, who prised off the Viking badges with screwdrivers and replaced them with the historic red octagon, as well as bolting on some chunky multispoke alloys and weird aluminium-look plastic exhaust surrounds in the pursuit of sportiness. And it worked.
The ZR/ZS/ZT range livened up the Rover offerings no end, and the estate version of the range-topper, the ZT-T, had a proper Touring Car aggression about it. Let's forget logic for a moment and stick with the thinking we had for the Volvo: ignore the diesels and hunt out the rare '260' version. It's a true 'Q car', with a 4.6-litre Mustang V8 and Prodrive-engineered rear wheel-drive chassis. Maximum 'lols' while you haul the hedge clippings to the tip.
Subaru Impreza WRX - from £7,500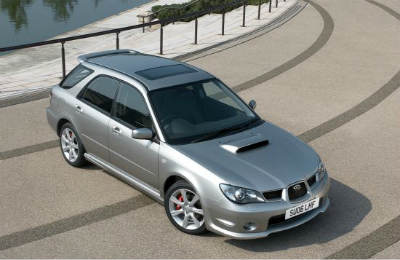 Some people desire estate cars. Others, however, are forced into them by circumstance. If you find yourself in the latter camp, why not claw back some self-worth with a little rally-bred grunt? The warble of a tangy flat-four might distract your attention from the expanded glasshouse, no?
At this price point, you're looking at an Impreza between the two controversial styling efforts – facelifted to wash away the bug-eyes, but before the questionable shift into hatchback territory. So what do you get for your £7.5k? You get four-wheel drive, 226bhp and 27mpg, 365 litres of luggage space, and a warm fuzzy glow that you just won't get with the equivalent-price Vectra or Mondeo. Not that they're bad cars, of course, far from it - but they're hardly dripping in dad-pleasing rally kudos...
Chrysler 300C Touring - from £10,000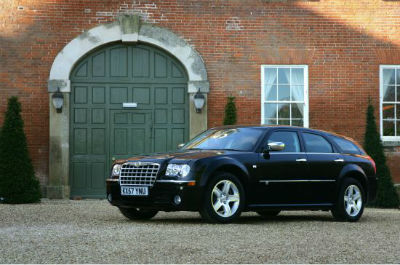 As the kids say, the 300C is 'straight gangsta'. Chrysler's big-boy estate was aimed squarely at BMW and, while it missed by some margin, you can see what they were getting at. It's brash. It's bold. It has a surprising feel of quality. And you can't deny that it has road presence.
The styling is straight from the muscle car textbook: see the way the tapering windows sit squat between the high hipline and low roof? That's no accident. Chrysler wanted the 300C to have a custom car feel, so they made it look like it'd had a roof chop straight from the factory. Eschew the worrying trend for glueing faux-Bentley grilles to the nose and keep it standard, because the lines are crisp and clean; the chunky five-spoke alloys look the business and give the 300C a sturdy footprint, while the retro chrome accents lend it pure Detroit chic. These things were built for wafting, too – the torque-rich, creamy-smooth diesel and auto box are a perfect match; sure, you can get one with a 5.7-litre Hemi V8, and the auto gearbox may seem a little dim-witted but hey, don't think of it as a performance machine. Black out the windows and roll your kids to school in style, low 'n' slow.
Remember: driving an estate car is nothing to be ashamed of. Indeed, as you've hopefully gleaned from these insights, it can even be rather cool. Ignore the ribald wisecracks of your peers – they'll be laughing on the other side of their faces when they need to move a washing machine or take a dog to the vet. Any of the above will allow you to perform such tasks with panache and flair, without so much as a soupçon of compromise.
If you're thinking of switching to an estate, then it doesn't make sense to pay over the odds for your car insurance – give Gocompare.com a whirl and see what you might save.