To non-feline fanciers, cats may not seem to do much aside from dedicating their lives to finding the most comfortable spot in the house, being fed, having the occasional wash and scampering around a bit.
But attendees of the Cats Protection Cat Awards –sort of like the Brits for cats– would be quick to tell you otherwise.
The bash showcased all manner of cases of feline derring-do and companionship, attracting top celebs like Rick Wakeman (of prog rockers YES fame), Lucy Pinder, Jan Leeming  (from the news) and Ed Byrne (from Mock The Week) to the judging panel. It was MC'd by 'voice of the balls' Alan Dedicoat.
Let's have a look at the winners of each category, shall we?

MOST INCREDIBLE STORY – William, Chorley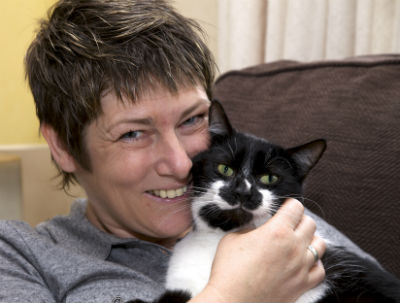 William, a black-and-white cat from the north of England was savaged by a pack of dogs whilst out exploring his local neighbourhood. But the big-hearted cat managed to drag himself half a mile back to his doorstep, where his owner, Debra Terry, found him. He was rushed to the vet with his back legs severely damaged – one of them broken in two places. For 24 hours it was touch-and-go, and one of poor William's hind legs had to be amputated.
But the courageous moggie managed to pull through, and he's said to be adapting well to life on three legs – his winners' video even featured footage of him larking around his garden, looking completely unhindered by his missing limb.
THEY SAID:
"I picked William because of his sheer tenacity - William's refusal to give up on his life is the thing I find most incredible." Ed Byrne, comedian
"He knew if he got home we would be able to do something for him. He was so determined to get home, it was amazing." Debra Terry, owner
HE SAID: 
"Meeeeooow!
(Picture: Paul Maven photography)
OUTSTANDING RESCUE CAT – Phoenix, Ballymoney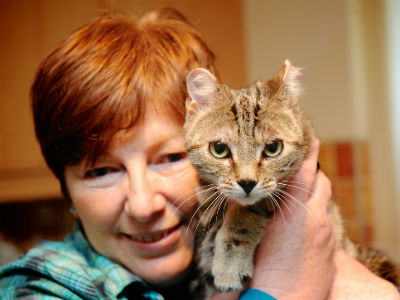 When a kitten who had been terribly burnt in a coal bunker in County Londonderry, the vets who examined her her feared the worst. Her paws, covered in maggots, "resembled red jelly" and she couldn't open her eyes.
But the vets at the practice were so impressed by her fighting spirit, they decided against putting her to sleep. After several months of care, the little cat then called 'Sizzles' (she was renamed Phoenix as she "rose from the ashes") was adopted by one of the vets, practice manager Yvonne Wreath, who says she's a "fun-loving and sweet-natured pet."
THEY SAID:
"Phoenix had to overcome horrible mutilations and has proved to be a real fighter." Jan Leeming, newsreader
"She was such a wee fighter, we gave her lots of pain relief and we gave her a chance and I'm so glad we did." Yvonne Wreath, owner
SHE SAID:
"Purrrrrrrrrrrr."
(Picture: Stephen Latimer)
HERO CAT – Charley, Haltwhistle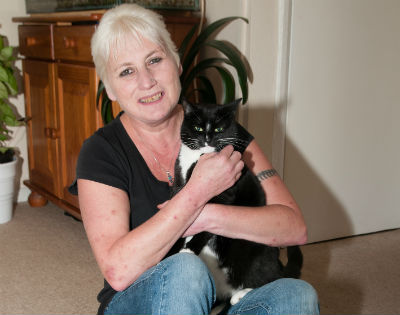 Cats, for all their qualities, aren't renowned for great acts of heroism. But somebody didn't tell that to Charley, a tuxedo cat who staged a crucial intervention when her diabetic owner, Susan Marsh-Armstrong, collapsed on the bathroom floor in the middle of the night.
Sensing something was up, Charley sprang into action, and jumped on to Susan's sleeping husband Kevin, pawing  and licking him on the face until he woke up.
Susan recalled:  "Once he woke up she ran out of the bedroom into the bathroom and led him in there where he found me on the floor and gave me a glucose injection to bring me round. All the time Charley was sat on my knee and she wouldn't leave me."
THEY SAID:
"I picked Charley as the winner because she helped to save her owner's life, and to me that is just about the most heroic thing a cat can do. She really is a special cat." Lucy Pinder, model
SHE SAID: "Meeeewl!"
(Picture: Vine photography)
CELEBRITY CAT: Simon's Cat, the internet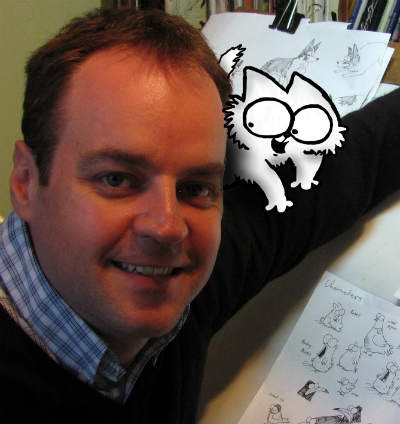 Simon's Cat, an online cartoon by Simon Tofield, became a Youtube sensation, spinning off a series of books too. This award was voted for by the cat-loving public.

THEY SAID
We're not surprised the public chose Simon's Cat as he sums up many of the things we love about cats – clever, funny, mischievous and totally madcap." Kate Bunting, Cats Protection.
HE SAID
"Hsssss!"
(Picture: Simon Tofield)
BEST FRIEND and CAT OF THE YEAR: Jessi-Cat, Davyhulme, Greater Manchester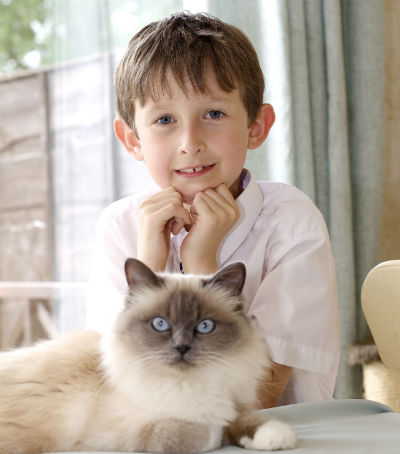 Lorcan Dillon is a seven year-old with selective mutism, an anxiety condition which affects his ability to express himself and speak. But when the magnificent longhaired Jessi-cat arrived in his life, things took a turn for the better.
"Lorcan is able to connect love to Jessi-Cat, something he can't do with people and she's been a great support to him when things have been really hard," says his mum, Jayne Dillon
 
"He does not express his emotions, he would not say 'I love you Mummy', he just doesn't do it. But with the cat he can cuddle her, he can stroke her, he can talk to her and he can say 'I love you Jessi-Cat.'
If there was a dry eye in the house, Covered certainly didn't see it.
THEY SAID
"There is no doubt that cats can have an incredible calming effect and their intuition, sensitivity and unconditional love can have an incredible impact on their owners." Kate Bunting, Cats Protection
"She is without a doubt the best friend a boy could have and has had a huge positive impact on his life. We've had her for a couple of years and in the last year alone he seems to be making excellent progress at school. " Jayne Dillon, owner.
SHE SAID:
See for yourself: She's recently joined Twitter…
(Picture: Paul Maven Photography)
While these are the winners, there were plenty of other cats with incredible stories who narrowly missed out on the top prize – some of our favourites included Leo, the burglar-chasing cat, Alfie, who's been a companion to his owner and her daughter who has a rare medical condition and Bob, a busking cat who helped his owner overcome a drug problem. 
While we're talking about pets, did you know you can search for a cracking deal on pet insurance at Gocompare.com?