Vans: the lifeblood of British business. Without these sturdy, long-wheel-based friends many companies and businesses would up the M6 without the toll fee.
The DVLA recorded over three million light commercial vehicles on the road last year, and van drivers are as diverse as they numerous.
We tracked down five of the more unusual van users, and took a peak inside their vehicles.
A mobile soft play centre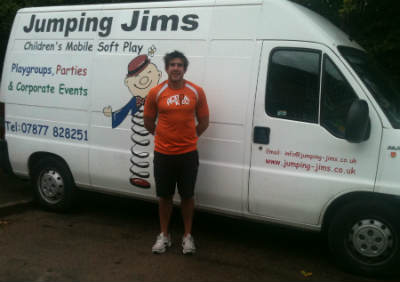 Van: Fiat Ducato Maxi
At first we thought Jumping Jims was a ball pool in the back of a van. Just open up and dive straight in! While that would be good fun, it's hardly practical. Plus, where would you store the bouncy castle? Or indeed the rest of the soft play equipment?
No, James Donald's operation is far more extensive than a collection of colourful balls. And he needs a solid set of wheels to take it to the kids.
"It's a great van," says James. "I've never had any problems with it, it's sturdy and takes a few bashes! Some venues aren't the easiest to get into. We've scraped the odd wall or two but it never complains!"
In his van you'll find enough soft play equipment to necessitate a 7m x 7m square of soft play items, from balls to sculptures to climbing bases, plus a bouncy castle and generator, all packed in tightly, ready and waiting for 20 eager excitable kids to jump around on. He's so successful he's become something of a local hero.
"It's definitely a lot more friendly than a plain old white van," he grins. "We've had a few local kids waving at us as we drive by!"
A mobile hair salon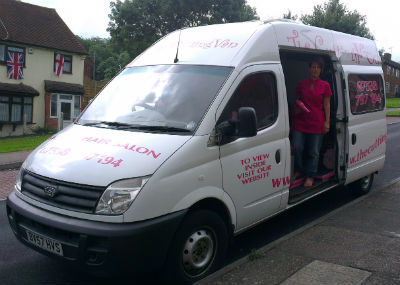 Van: LDV Maxus
Picture the scene: You've got a wedding on Saturday and you need to look your best. But woe! It's report time at work. You'll be lucky if you see the fair side of the 10 o'clock news this week. Cue, a visit from The Cutting Van, a full hair salon on wheels.
"That's our speciality," explains Julie Craig, a hairdresser with 20 years experience. She 'went mobile' earlier this year. "People who can't get to a salon. It's great for families; I've got space for me, the client and three other people to sit and wait. I've got a TV and DVD player to keep the kids
out of trouble!"
As well the wisely-added distractions, Julie's van is home to everything else you'd expect from a regular salon. From colours, perms and highlights to a classic cut n' blow dry, it's a hairdresser heaven. It's even got fresh water, a generator and leisure batteries and acts as a mobile advert for future business.
"You can't miss it!" she laughs. "We bought it as a plain old white van but my husband's converted it perfectly. The sign's in fuchsia pink; it attracts quite a lot of business."
A Take That tribute troupe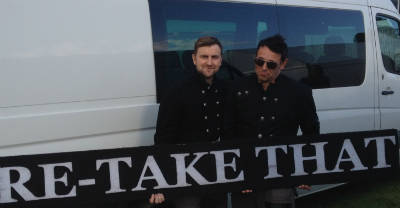 Van: Mercedes Sprinter
Ladies and gentlemen, please give a round of applause for Re-Take That.
A tip-top tribute act endorsed by none other than genuine Take Thatter Jason Orange, they can be found performing 18-20 gigs a month with full responsibility of their own instruments and equipment.... We reckon they're much harder workers than the real deal!
"It's full on!" admits Paul Waite AKA Gary Barlow. "We do anything from 300 to 2000 seaters and travel all over Europe... So it's important we get the right van!" 
Travelling Toasties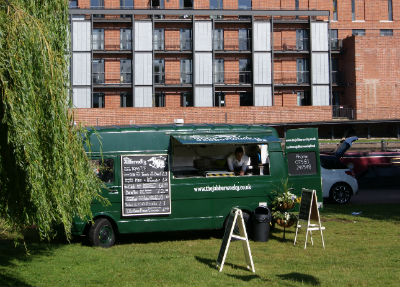 Van: Volkswagen LT31
The tastiest of this unusual van-driving troupe, Barny Luxmoore's van is home the great British toasty. The Jabberwocky is a recently-launched mobile food haven, dedicated to feeding the festival masses. 
"My wife and I planned on opening a cafe but that seemed a long way off," says Barny. "We had enough savings to set ourselves up in business. It's better than sitting round twiddling our thumbs all weekend!"
Their dream was a vintage VW camper, but lofty Barny couldn't fit in it. They eventually settled for the 26 year-old LT31. Already modified for catering it was ready to hit the ground running. Well, almost... They've since replaced everything from the dodgy wiring and dangerous gas piping to the fridge and cooker, ensuring its recent five star certificate from the Environmental Health Office. Shucks, his dad's even invented three XL toasty makers that each make six toasties at a time! It's a slick operation. Well, almost....
"Every time we drive something will fall," laughs Barny. "We tape the fridge shut and bungee things to secure them, but guaranteed something will fall. Last weekend a microwave fell off the fridge!"
A mobile dog groomer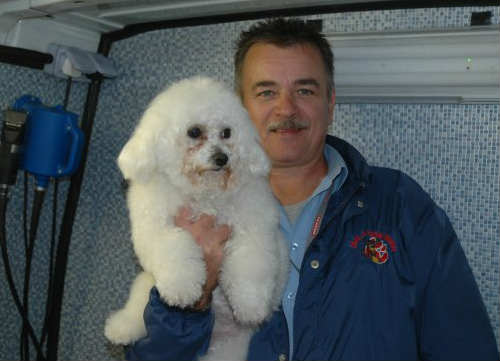 Van: Renault Master LH35 long wheelbase
"We've got turbo hair dryers," explains Steve Smith. "Twin speed, two nozzles. Whatever the dog can take! If it's a little Yorkie and I put it on full speed with the tightest nozzle I could easily blow it off the table!"
Of course Kings Lynn Dial A Dog Wash groomer would never do such a thing – he has a history of rescuing unlucky mutts and once owned a staggering 29! – but it's a great example of the extensive kit he carries in his Renault. Here's the full list... 
"There's a bath, a cupboard which carries fresh water for every dog and doubles as a work table. There are restraining leashes for dogs of all sizes. I've got power clippers, cordless clippers, brushes, scissors, sprays, a white board to take down messages, paper and cleaning fluids for any dog mess. Oh, and fresh towels for every dog!"
Perfect puppy pampering. And get this: there's even room for three types of doggie cologne!
"Three different types believe it or not," Steve reveals. "The most popular one smells like your aftershave, which is lovely. It's nice to give people the choice!"