Many of us who first started to feel the sparky prickle of petrol in our veins during the 1990s harbour ongoing yearnings for the cars of our formative years.
As such, we're probably about to witness the ballooning value of the 1990s hot hatch. The boy racers have grown up, and they want to feel young again. And now some of them have the funds to pay – perhaps somewhat over the odds – to realise those dreams of youth.
The twist here is that the nineties weren't kind to the hot hatch. While the decade enjoyed unprecedented and widespread enthusiasm for city hatches with race-bred firepower, the unfortunate reality is that few examples emerged unscathed from the modifying ravages of the era. Fibreglass bodykits, Lexus lights, F50 bonnet vents, ever-larger wheels… Max Power culture was relentless, widespread and savage.
Regardless of your proclivities, whether you were an enthusiastic embracer of car park cruises or a staunch detractor, the fact is that not a lot of these cars remain in clean, standard nick. And this is where we find ourselves now – at a time when people are starting to realise that those examples that exist need to be saved, and cherished.
Prices are likely to rocket. So, here are half a dozen hot hatches that you might want to look into before they're out of reach…
Peugeot 205 GTI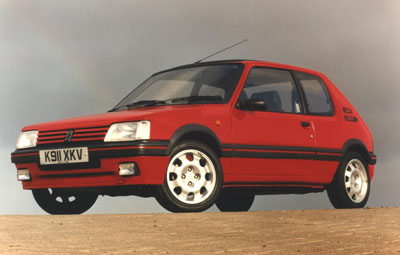 A personal favourite, this – I've owned four of them and would love another. It seems somehow rather obscene that this very apogee of front wheel-drive perfection can still be obtained in solid, usable condition for as little as £1,500.
The handling is razor-sharp and super-precise, and while the wafer-thin steel of the bodywork may jar with today's perceptions of what's safe and acceptable, the red carpets and muscular plastic arch extensions will make your heart smile.
Don't fall into the trap of mucking about with the suspension or exhaust (usually a logical first step in the modifying plan) – they were perfect from the factory.
Obviously, as with all hot hatches, you may be buying a car that's been thrashed, so inspect carefully! Also check for rust in the seams between sills and bodywork, beware of knackered rear beams, and bear in mind that the cheap interior may be shabby.Here's a good buying guide.
On the whole though, this is one of the all-time classics.
Ford Escort RS Turbo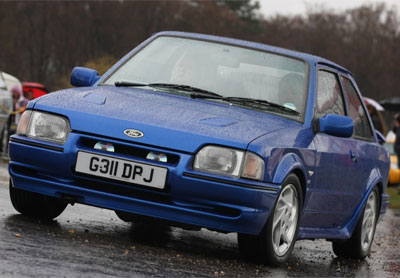 The Dagenham dream. All lamentations of the Escort switching to front wheel-drive were lost with the introduction of forced induction.
The Series One has already achieved cult status (you can pay upwards of £10k), but the Series Two, based on the mkIV Escort, is where the smart money is. Benefits include comfy Recaros, some rather cool alloys, a racey spoiler and, of course, an eager turbocharger. You can get a decent one for £3,000, and they won't be getting cheaper.
Bear in mind that it may well have been nicked at some point, though – be sure to check the history! And beware of owners turning up the boost without compensating via the fuelling, this can go badly wrong. Here's a guide to buying.
(Image via Creative Commons, courtesy of tonyalanciabeta)
Renault 5 GT Turbo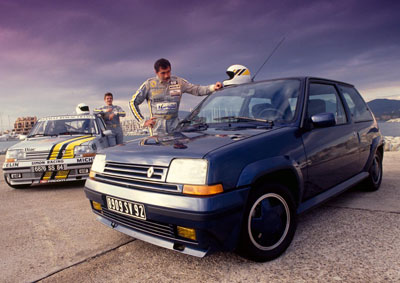 The original 5 Turbo was a bonkers mid-engined monster. The GT Turbo we're talking about is the more sensible front-engined 5. It was powered by an eight-valve pushrod engine that dated back to the fifties, carbureted and with a Garrett T2 turbo that was laggy and led to poor hot-starting issues. But it was still a magnificent thing, weighing just 850kg and looking exactly as naughty as a hot hatch should. Enthusiasts often put Clio 16v engines in (or even Volvo turbo units, which share the basic architecture), but you'll be wanting a standard one, right? That'll be a couple of grand… if you can find one. You'll be wanting a buying guide, right?
Vauxhall Nova SR
After years on the naughty step, the Nova is cool again. The GTE and GSI were the flagship 1.6-litre hot hatches, but it's the SR that oozes retro cool, both in earlier 1.3 and later 1.4 guises. They were available in some superbly old-school colours – a primrose yellow, a tobacco brown – and offered carb-fed thrills, a five-speed 'box, racey Recaros and oodles of dials. You can bag a minter for £3k, although you'd be lucky to find a stock one. Here's more info.
(Picture via Creative Commons, courtesy of tonyalanciabeta)
VW Golf GTI mkII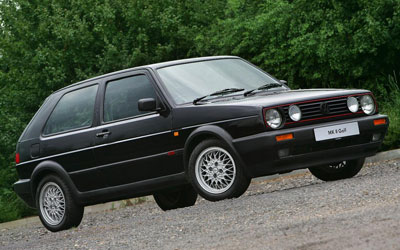 Regarded by many as the ultimate hot hatch, but you can still pick up a good, standard mkII GTI for around £2,500. And you probably should – they're as solid as a rock, they have 137bhp carrying a pretty light car, and the handling is sublime. Arguably as good as the 205 GTI, in fact.
The collector scene around old-school VWs is tremendously strong, so the likelihood of these staying cheap for long is slim, and it's one of those cars that everyone wants to be able to say 'I used to own one of those' about. Look out for pinking, rusty tailgates and seized rear brakes, but also sprightly performance and ear-to-ear grins.
Renault 19 16v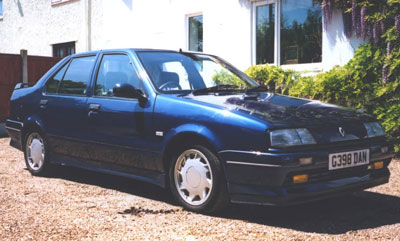 Another Renault, and one that's sadly overlooked. We've been talking hatches, but the true connoisseur will eschew the tailgate and opt for the 'Chamade' saloon – 138bhp, leather seats, electric everything… it's a winner. I've owned two of these, and they're wonderful; a baby luxury car with a hot hatch heart. See if you can find one, though – according to howmanyleft.com, there are only 19 on the road in the UK… a great shame, that.
As many people of 'a certain age' were growing up, these were the cars that they aspired to. Then they grew up, and they were cars from the recent past that had been superseded by improved modern alternatives.
Now they've floated into retro-aspirational territory, and they've mostly either been scrapped, written off or subjected to all manner of irreversible modifications.So if you want to keep that nineties flame alight, now might be the time to strike – who knows how long it'll be before the market catches on and pushes prices into the stratosphere?