As we fulfil our biological imperatives and spawn increasing numbers of miniature versions of ourselves, still too young to understand our high-octane aspirations, we find ourselves thumbing the classifieds for sensible, spacious family-wagons. Horsepower figures are sidelined in favour of robust safety ratings. Sleek aesthetics get elbowed aside by capacious boots and handy storage pockets. Is it the fate of the modern parent to find themself yawning behind the wheel of a bland, unimaginative cuboid?
No, of course it isn't. There's a whole world of automotive choice out there, and your family load-lugging requirements needn't be a barrier to entertaining motoring in desirable machines. Here are half a dozen offbeat choices for the discerning mum or dad…
Renault Avantime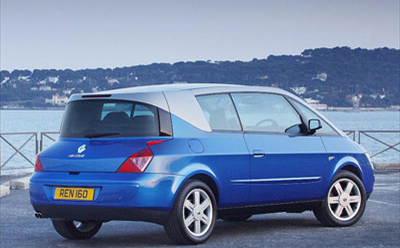 This was something of a connoisseur's secret until BBC's Top Gear got hold of it and made everyone aware of its existence. Nevertheless, it remains the no.1 dream car for many a petrolhead parent.
For starters, it's unarguably quite remarkable to look at; some might even say beautiful. Just look at those bonkers tail-lights, for example.
And while it may seem bizarre to have only two doors on such a sizeable MPV, they actually have clever double-hinges to allow easy access to the rear even when you're squeezed into a multi-storey. The windows lower when you tilt the seats forward, the roof is made of heat-reflecting glass, and it was built by Matra. This thing is inherently cool.
There are only about 300 of them in the UK so you may have a job finding one, but it may well prove to be worth every minute. It's basically a land-based spaceship, after all.
Vauxhall Signum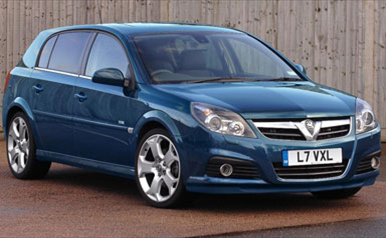 At the risk of upsetting Vectra drivers, the Vauxhall repmobile is not the most exciting choice. But what if you find yourself inexorably sucked into the Vectra trap, unable to tear yourself free?
Fear not, there's still an offbeat alternative: the Signum. It was intended to create a new market niche, between family and executive, but sort of failed. Still, it's still quite an interesting car – like a stretched Vectra estate/hatchback with independently sliding rear seats, acres of legroom and, if you're feeling saucy, a turbocharged petrol V6. Stealthy.
Mitsubishi Legnum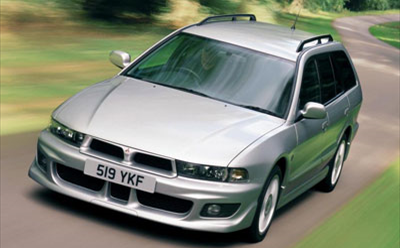 This is one for the Gran Turismo generation. To the untrained eye, it seems to be nothing more exciting than a Galant estate – a car for the kind of person who, in my wife's words "has given up on life".
But this is all a cunning smokescreen. The Legnum VR-4, as anyone who's raced one around the epochal Playstation game's Grand Valley or Trial Mountain circuits will know, hides a twin-turbo 2.5-litre V6, Active Yaw Control from its Evo sibling, a self-learning Tiptronic semi-auto 'box, a clever rear diff stuffed with rally-bred sensors, and huggy Recaro seats. Which is all very silly indeed. (In a similar vein, Gran Turismo enthusiasts may like to look up the Nissan Stagea – it's basically a Skyline estate, available with a 2.6-litre twin-turbo. Madness.)
Honda Element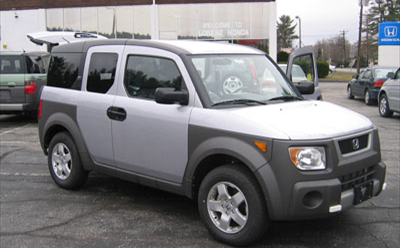 You're not all obsessed with performance, I know. How about a bit of quirkiness mixed in with a whole lot of practicality? That'll be the Honda Element you're after…
This Ohio-built oddity was Honda's attempt to capture the imagination of the North American family man. It's certainly unusual.
Vast swathes of plastic cladding give it a rugged outdoorsy look, while the interior is very well thought out indeed: the floor is covered in textured urethane while the seats are stain-resistant, so you can hose it all down like a seventies Range Rover.
It's got 'suicide doors' at the rear like a Mazda RX-8, creating cavernous entry space when all the doors are open. The best thing about it, however, is that it shares the equally odd Nissan Cube's inspired design philosophy: it looks like something from The Sims. Your kids will love it. They'll think they're being shipped about in a video game sprite.
Skoda Superb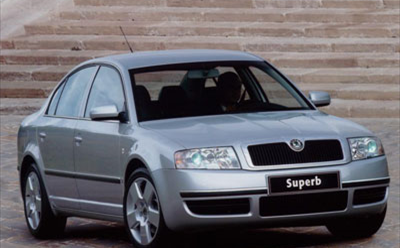 If taking advantage of other people's depreciation woes is your bag (and it jolly well should be, if wanting something out-of-the-ordinary at a bargain basement price), you could do a lot worse than the Škoda Superb. A new one can cost up to £30k without options, yet a 2004-ish example can be grabbed for comfortably under two grand.
It's a proper stealth machine too – most people will assume that you're wafting around in just another Octavia, but the Superb is actually derived from the VW Passat Lingyu, a stretched luxury Passat developed for the Chinese market. You can convince your loved ones that they're being ferried around in a luxury limousine by virtue of the numerous executive flourishes that the car is adorned with; most notably, umbrellas are hidden within the rear doors. How many other manufacturers do this? Well, there's Rolls-Royce and, er…
Nissan Juke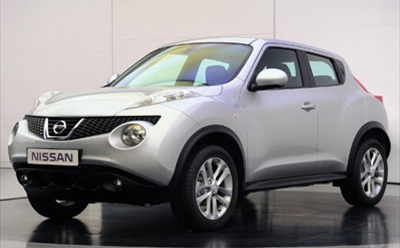 You may be in the market for a newer family steer, and would do well to consider the Juke. Cut from the same cloth as the bug-eyed Fiat Multipla, its deliberately jarring styling ensures that most people will think it's too hideous a proposition to contemplate, meaning that used values will be relatively low. Personally, though, I love the way it looks. It's brilliantly odd. Those vast, moony eyes, those muscular haunches…
This is another car that your children will think is really cool: the windscreen looks like a crash helmet visor, the rear door-handles are hidden away Alfa 156-style, and there are storage cubbyholes under the floor in the back, perfect for hiding bags of Haribo. Parents are onto a winner too, as the Juke is built in Sunderland, allowing you to embarrass Prius drivers with your superior eco credentials.
Of course, you could ignore all of this and spend your money on a Golf Plus, Mondeo, Insignia or any number of other anonymous machines that will adequately do the job of ferrying your family about. But that's not the reason you're reading this article, is it…?