It's October, which means it's the season of sexy nurses, fake blood and uncomfortable and unconvincing vampire teeth.
Really decent costumes are expensive, and the cheap 'ready to wear' ones are a bit naff and overly flammable. Check out these culturally relevant and relatively cheap ideas guaranteed to get you a high-five..or at least a confused look from people who don't spend enough time on the internet.
Jesus fresco restoration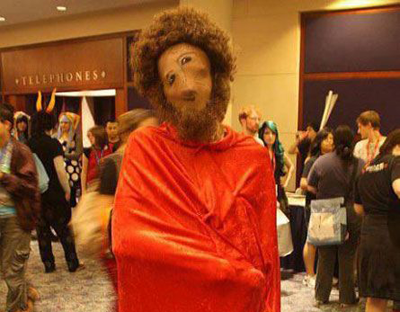 When reports of an art restoration gone wrong started filtering through the internet this summer, critics were quick to dismiss the story as a fake.
Alas, the tale of the worst 'restoration' job in history   turned out to be true, and now thousands of tourists flock to the Spanish church to catch a glimpse of the prized Jesus Christ fresco, which now resembles a dribbling monkey. Bad news for Spain, but good news for those in need of a lol-inducing costume this Halloween.
Simply wrap yourself in a brown sheet, pull a pair of tights over your head, adorned with vague and blindly-applied facial features, and top off with a tea cosy.
Kimberley Vlaeminck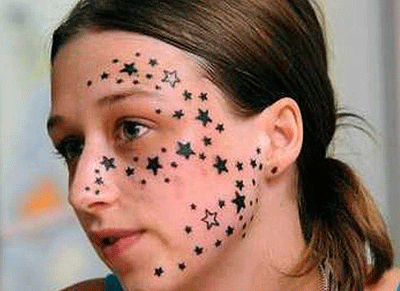 Back in 2009 Belgian woman Kimberley Vlaeminck went to the press with a surprising story of a tattoo gone wrong.
She claimed she'd asked for three stars to be tattooed on her face, but "fell asleep" and woke up to find that the artist had inked 56 instead. She's since come clean and admitted that she'd asked for the facial constellation from the outset, but had lied to avoid getting into trouble with her Dad. Kids, eh?
In any case, this is a supremely easy costume idea that doesn't even require a costume, just a biro (or a Sharpie, if you want to make it a little more authentic).
Psy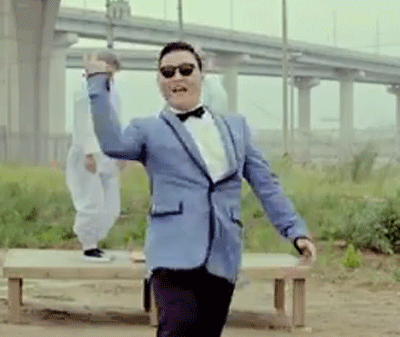 If you've not yet heard 'Gangnam Style' – South Korea's most notable musical export of recent times – then you've surely been living in a cave for the past three months. Probably with your fingers in your ears at that, because this song has literally infiltrated every corner of the planet.
The costume du jour for those lacking a few inches in the height stakes, the Psy get up only requires slicked back hair, dark sunglasses, a blazer and a bow tie.
If for some crazy reason you don't have a pastel blue or pink blazer in your wardrobe, get yourself down to a haberdashery store and simply cover an existing blazer with the appropriate fabric. Don't worry about making it too neat and tidy – the strength of this costume really lies in your ability to do the 'pony dance'.
Slender Man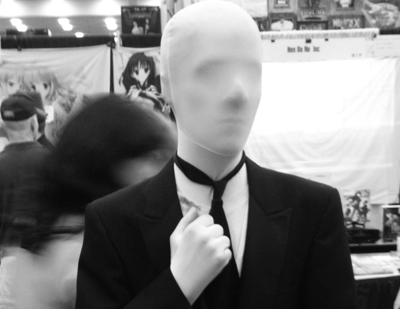 An urban-legend folklore created online by horror fans back in 2009, Slender Man – a frightening, malevolent character – has seen prominence in recent times thanks to the creation and popularity of the Slender Game, a creepy first-person horror video game.
This one works best if you're tall and, clearly, rather slender. Simply don a suit and a pair of white tights over your head, then lurk menacingly in the corner of the room, jumping out at unsuspecting partygoers at random intervals.
The Dude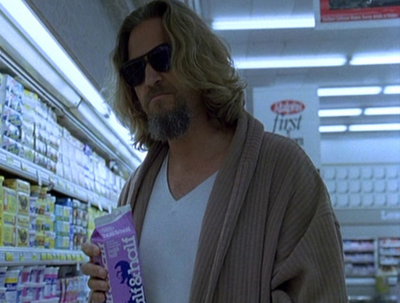 An oldie but a goody, The Big Lebowski's hapless protagonist 'The Dude' is probably the easiest costume ever.
Don't shave, don't wash, turn up wearing a dressing gown and, for extra points, carry a rolled-up rug. This get-up features the added benefit of permitting pretty anti-social behaviour, too. Had too much to drink and can't be bothered to talk to anyone? That's fine. You're the Dude.
Pervert Stingray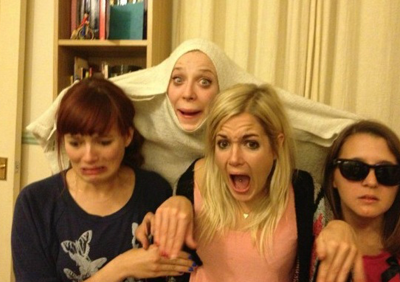 A fairly recent viral phenomenon, the Pervert Stingray  has been getting a good deal of exposure online, mainly because it includes both humour and pretty girls in bikinis, which is widely regarded as the perfect recipe for successful internet content.
An ideal costume for a group of friends that are really scraping the bottom of their fancy dress enthusiasm barrels, recreating the Pervert Stingray only requires a tea towel and three horrified expressions.
Real life chest burster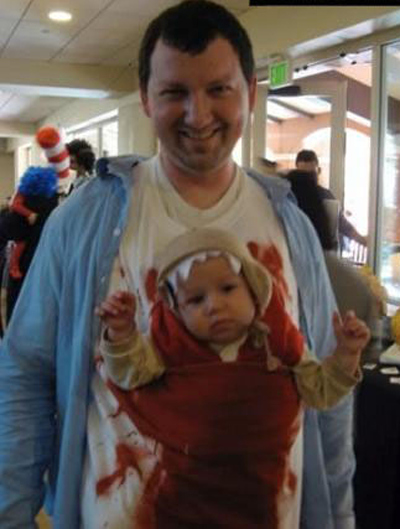 Forget about dressing your kid as a pumpkin this Halloween; get them into the spirit of gore and ghoulishness early on with this simple but horribly effective chest burster costume.
Cut a child's face-sized hole in a white t-shirt, apply child and t-shirt, and then smear a load of (kid-friendly) fake blood all over the shop. Conveniently, a screaming child makes the costume infinitely more effective (although probably won't impress your hosts. Or your other half). 
Tetris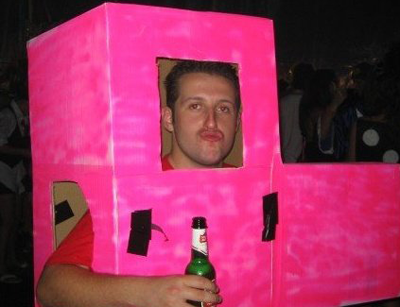 You know those boxes you've got piled up in the attic that you're saving for some unspecified reason? Now's the time to put them to good use. Make like an 80s kid and become the living embodiment of the most famous computer game ever by getting crafty with some tape and coloured paint. Groups creating corresponding pieces in pursuit of the sought-after 'row' get extra costume credibility.
Fifty Shades of Grey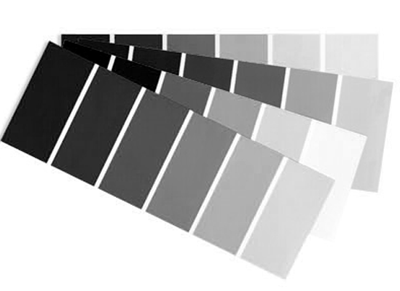 Calm down, we're not talking about the leather and lace costumes doing the rounds in droves (which can be assembled quite easily, if you're so inclined, with a quick trip to Ann Summers).
You can capitalise on the (frankly unbelievable) success of this summer's bonk-buster read without exposing unsettling amounts of flesh by visiting your local DIY superstore. Pick up a bunch of grey colour swatches and simply stick them to your person (clothes optional, depending on level of authenticity desired).
Naked Sim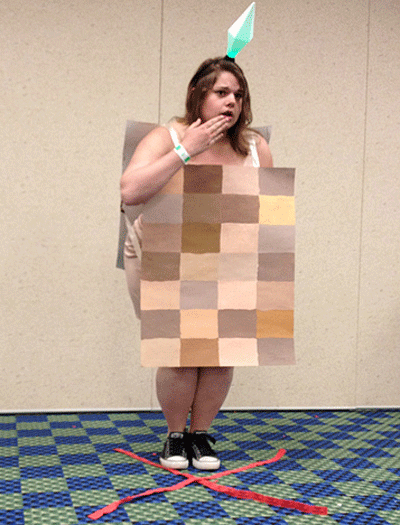 There's more to the Sims than removing the ladder of a swimming pool full of characters, you know. Well, not much more.
But beyond making your Sims family dance in a burning house and inexplicably having to install white goods in order to make a sandwich, one of the most exciting parts of the game is watching the characters take their clothes off for apparently no reason at all.
Honour this bizarre phenomenon with an ingenuous costume requiring minimal effort: simply paint flesh-coloured squares onto a couple of sheets of card or board, hang over your shoulders and voila!