4x4s are ubiquitous these days; no longer the sole preserve of rugged farm types and country-dwelling folk with winding, slippery driveways, they can be frequently spotted painting broad and distinctly un-muddy strokes across the urban landscape.
This is no surprise to you, of course – the cult of the civilised off-roader was born over forty years ago with the original Range Rover, and these days there's a certain logical thought process behind the urban deployment of the RR, BMW X5 and so forth. They're practical for families, and they follow the maternal preservation instinct of "my kids will be safe if we hit anything, because we'll plough straight through it".
With the launch of Land Rover's stylish little Evoque and, more recently, the all-new Range Rover, 4x4s have never been hotter property. That these machines are capable off-roaders is almost a side-issue.
With autumn upon us, perhaps it's time to recapture the magic of the four-wheel drive format for its own sake. Yes, there are scores of people out there who engage in hardcore mud-plugging in their off-roaders every weekend, and this does much to counterbalance the image of the Chelsea Tractor. But we're not scoring points here – we're just intrigued by the drivetrain, be it designed and deployed for off-roading or otherwise, and maybe you should be too.
Fancy a ride in something four-pawed, and want to eschew the usual, clichéd choices? Okeydoke, we've rounded up half a dozen offbeat AWD cars for you – whether you're planning to drive up Snowdonia (actually, don't do that – seriously), or are just after something a little more sure-footed on the road, hopefully there'll be something here for you.
Fiat Panda 4x4  [from £1,500 retro / from £4,000 modern]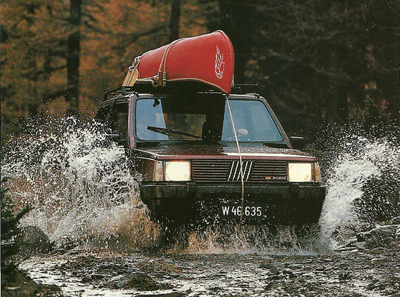 Retro or modern, the choice is yours. The original Panda 4x4 was a brilliantly basic little thing; launched in 1983, it took the diminutive designed-with-a-set-square hatchback, complete with 965cc engine, and added a Steyr-Puch 4WD system. It had a punchy 48bhp. If you can track down the fancy Sisley edition, you'll get an inclinometer, painted white wheels, a racy bonnet scoop and a roof rack. Swanky.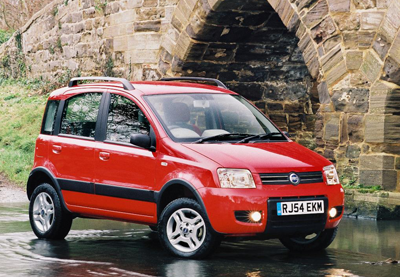 If it's a modern Panda 4x4 you're after, we're talking advanced engine technology (including a multi-point injection diesel), fancy interior appointments and a chunky, jacked-up aesthetic.  While it's a world apart from its unembellished forefather, they both encapsulate the same ethos: a small shopping car with surprisingly rugged underpinnings. The sort of stealthy car that Jason Bourne would steal.
Subaru Forester XT  [from £3,500]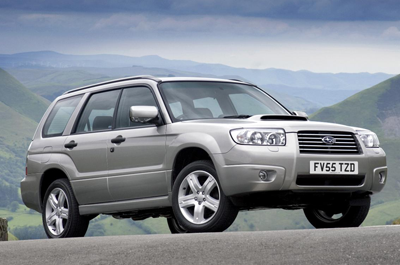 Subarus are ferociously gruff: the brand name represents the car wing of Fuji Heavy Industries, which is a solid and growly name.
The Forester is a crossover SUV that's been built since 1997 and is on its third generation; the one we're looking at here is the second generation (sold between 2003-8). Gaming nerds can rejoice in the knowledge that it's based on the Impreza platform, and has various weight-saving aluminium body parts to keep it svelte and slender.
Under the bonnet can be found a turbocharged 2.5-litre DOHC engine, offering 225bhp. This thing looks sensible – nay, is sensible – and will make light work of icy lanes and slushy fields, while the interior is crammed with handy cubby-holes and ISOFIX points. But it's also a simmering sports car in an unassuming overcoat. Great fun.
Audi TT quattro [from £5,000]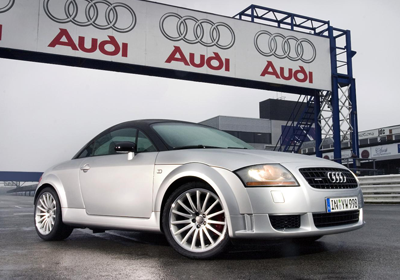 That's right. An Audi TT. The yummy mummies of Fulham and Wandsworth may scoff at the dinky two-seater from their lofty SUV perches, but the addition of the quattro system (with a small 'q', as Ingolstadt demands) makes the thing just as sure-footed in the depths of an urban autumn.
Slippery leaves and greasy manhole covers need not even blip on the TT quattro driver's radar, as the on-demand 4WD shuffles power around effortlessly, cleverly, without you even realising. So you get to use all of the thrust (which, if you've gone for the 3.2-litre V6, is a whole heck of a lot) and enjoy that timeless, gorgeous little coupé silhouette without baulking at the thought of drizzle or sleet. A sports car for all seasons, this, and jolly reasonably priced to boot.  
VW Golf 4Motion [from £1,500]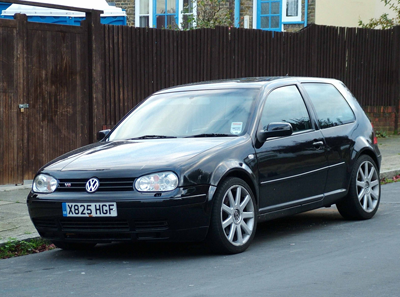 Perhaps you just want a sensible hatchback with an extra dimension of road-holding? That's another legitimate use for a 4WD system, and the Golf 4Motion is here to fulfil your needs.
The mkIV Golf (1999-2006) was available with a baffling array of engine options, all of them mated to a FWD drivetrain… aside from the 4Mo (as it's affectionately known), which had a hydraulic-mechanical Haldex system that sent power to the rear wheels when the fronts start to slip.
With the 204bhp VR6 engine up front, this is a handy tactic. So in this sense, the four-wheel drive system is there for grip as a driver aid, rather than for fording streams and leaping up rocky crevasses. And if that sort of behaviour whets your appetite, let's take the thinking to its logical conclusion…
Porsche 911 Carrera 4 [from £9,500]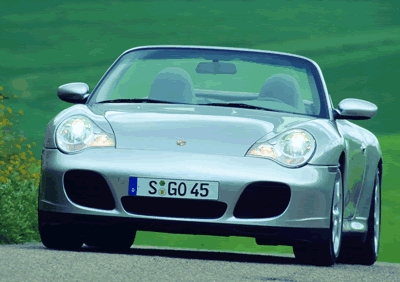 OK, we're stretching the point a little here. But we all need a little silliness in our lives, don't we?
The 996-era 911 (1998-2005) is something of a bargain now, with early ones slipping well under the £10k mark. The Carrera 4, as the '4' in the name suggests, has power going to all four wheels.
The basic non-S version isn't actually that basic, giving you 300bhp and that gorgeous flat-six gargle, while the extra traction that's shuffled to the front wheels may help to counteract that old 911 cliché of lifting off mid-corner, piling into pendulum-effect crisis and flying backwards into a river. Because no-one wants that.
OK, this isn't the kind of 4x4 that will drag a jetski up a jetty… but it is a modern-ish 911 for a four-figure sum. I'm sure you'll forgive us the distraction.
Skoda Yeti  [from £15,000]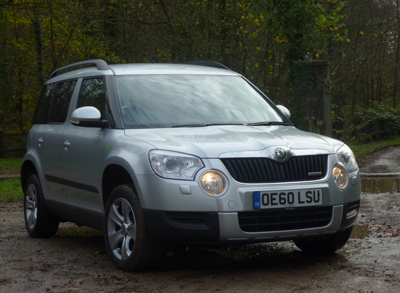 The days of 'Škoda' being a schoolyard joke are thankfully well behind us, although you may still risk a pasting for putting your cross next to the 'Yeti' name.
But don't worry about that – the Škoda Yeti is actually a phenomenally capable bit of kit, so the slurs will simply bounce from your armour. It is available in front-wheel drive form with a range of frugal engines, but to really exploit the fun of it you should opt for 4WD and the torquey 2.0-litre TDI engine.
They've built over 100,000 Yetis so the second-hand market is bulging with bargains. If that's not enough, it's  got a 5-star Euro NCAP rating, and come with up to eleven airbags – it may have a silly name and look like a Playmobil car, but when the snow starts a-fallin' there are few cheapish family cars that will be more capable for getting your nippers to grandma's for Christmas.
You see, there are many different schools of thought when it comes to all-wheel drive, and just as many executions to choose from. But whichever of the above you may decide to roll in, you'll never again feel sidelined when it comes to urban pub chat: 'Yeah,' you can chip in, "I've got four wheel-drive too. Bring on the bad weather!"