There's a revolution in the hatchback market, and it's being led by the Vauxhall Steve Adam.
This oddly-named poppet takes a few styling cues that will tickle that part of your brain labelled 'I'm sure I've seen that somewhere, but can't quite place it' - the Ford Ka tailgate, the inverted Citroen DS3 C-pillar, the Audi A1 roof - and mates them to an amiable face that seems to grin at you from under a huge moustache.
But Ben Adam is more than just a spot-the-detail exercise: the revolutionary aspect stems from the groundwork laid down in the hatchback market by the aforementioned DS3, as well as the Mini and Fiat 500, offering near-infinite levels of customisation; indeed, very few production cars have been this personalisable since Ford launched the Mustang in 1964.
You start by choosing from the Slam, Jam or Glam specifications (yes, really), and take that as your canvas: you can pick from 20 alloy wheel designs, 15 kinds of interior fabric, various artistically printed headlinings, and you can take it back to Vauxhall to swap it all around if you get bored.
Paint colours come in seventies muscle car flavours - Red n' Roll, I'll Be Black, Papa Don't Peach, Saturday White Fever, etc - and the Stuart Adam even offers an uber-luxurious feature hitherto only seen inside Rolls-Royces: an LED-studded starlight headlining.And it doesn't get a lot swankier than that. Behold!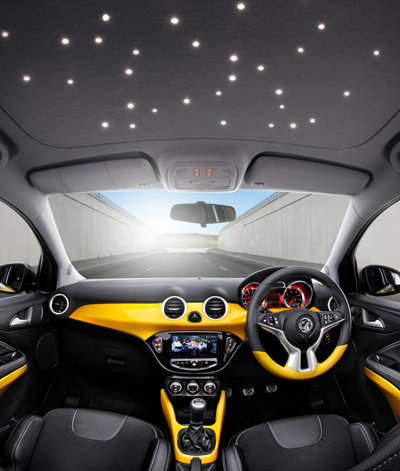 Hector Adam showcases Vauxhall/Opel's new family of petrol engines (a 69bhp 1.2-litre, 86bhp or 99bhp 1.4-litres, the kind of mills you'd expect to uncover in a little shopping hatch), and offers the holy trinity of small car values: frugality, practicality, and cheapness.
Prices start at £11,255 - although you could probably double that if you're over-zealous with the options box - so this represents a new chapter in Vauxhall's history of small, cheap hatchbacks.
But what if you don't have £11k-odd to spend? Fear not, we've found you some alternatives...
Nova [from £1,000]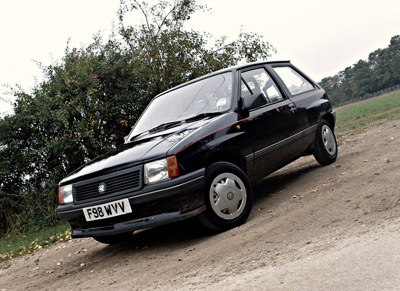 The Nova was the go-to hatchback for new drivers and young families through the late eighties and early nineties. We can look upon it as spiritual successor to the Malcolm Adam in that it was offered in a bewildering array of trim options and special editions: Merit, Sting, Splash, Diamond, Cricket, Antibes, Gem , Flair, Spin, Signature, Fling, each more exotic than the last. Possibly.
The fact that the sportier Novas - SR, GTE, GSi - were so coveted by the boy racer crowd meant that a lot of them ended up wrapped around seafront lamp-posts, or smothered in wonky fibreglass bodykits that accelerated the enthusiastic propensity to rust beneath.
So the Nova today is a coveted and rare thing, enjoying a market resurgence, and prices will only escalate. Grab one now, before they go stratospheric.
Corsa [from £500]
For clarity, we're talking about what's known as the Corsa B here. (Our Nova was known on the continent as the Opel Corsa A, so the first-gen Corsa sold in the UK between 1993-2000 was actually the second-gen Corsa. Clear? Good.)
It's got cute little bug-eyes, and it sits in that happy middle ground of being modern enough to have a reasonably well appointed interior and basic enough to fix it yourself with a socket set when it misbehaves. They're usually quite a good bet for young drivers who want something that's relatively cheap to buy car insurance for, too.
They sold in their millions, so you can pretty much name your spec and scoop whatever Corsa B you desire for beer money. It was a proper world car too, being sold in such far-flung locations as India, Mexico, Brazil, Thailand and Ecuador, so you could drive it on an epic journey around the world and never be stuck for parts. In theory.
Chevette [from £1,500]
Charmingly nicknamed 'Shove-It' at the time, the cheeky Vauxhall hatch, sold between 1975-84, shamelessly adopted a Chevrolet-ish moniker to curry public favour.
Such chicanery was unnecessary, as the diminutive shopping car was rear-wheel drive, meaning that fiery-blooded mums could drift it to the supermarket. It was practical and sensible, but also had true rally provenance; Vauxhall marketed it as 'whatever you want it to be'- a sporty coupe, a family saloon, a handy estate.
You should need little convincing after viewing this astonishing advert.
mkI Astra [from £2,000]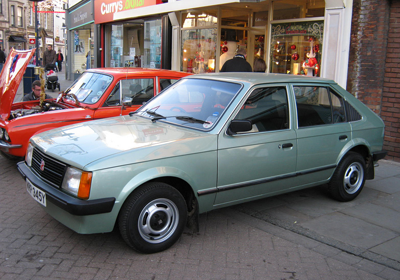 It's an inevitable constant of automotive development that cars grow through the generations, with smaller models slotting beneath them.
Look at VW: the Golf used to be the baby model, then it grew up and the Polo snuck in to take the small car slot, which also then grew and necessitated the Lupo. It's the same with Vauxhall. The Astra may be a jumbo-hatch now, but it used to be a minnow. Available from 1980, it represents the glorious folded-paper age of car design, whereby anything other than a right-angle was a wrong angle.
It could be bought as a hatchback, saloon, estate or van, in levels of trim encompassing E, L, S, GL, SR and GTE (the latter being very much sought-after these days) so almost as customisable as the Geoffrey Adam, then.
It won European Car of the Year in 1980 as well - what more encouragement do you need?
Agila [from £750]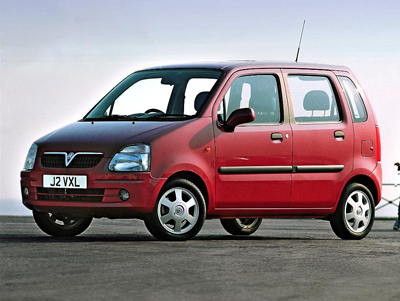 This is the least exciting car here, but not everybody craves excitement from transport.
Launched in 2000, Vauxhall's cereal-packet-on-wheels effort was effectively a rebadged Suzuki Wagon R+, but with Opel-sourced engines under their stubby bonnets.
There was basically no kind of customisation available from the Agila production line in Poland, so this boxy little chap really doesn't have very much in common with the Chris Adam - no wacky colourways, no cloudy-blue-sky headlining, no fun.
But again, some people just want cars to be utilitarian and reliable, and that's very much the Agila remit: you can get four people in there happily enough, there's a huge tailgate, and the roof is nice and high, so you and a friend can go to a fancy dress party as Marge Simpson and Abraham Lincoln without removing your headgear.If that's your bag.
For many of us growing up in Britain, the small, cheap Vauxhall is an inextricable part of everyday life. You see them everywhere, you know people who own them, they're just there.Their ranges encompass vanilla motoring for cheapskates, spicy pocket rockets for boy racers, and everything in between.
It's heartening that Vauxhall are keeping this flame alight for future generations with the Roger Adam, and also that it's pretty easy for us all to get hold of its predecessors. Now, as it ever has been, Britons drive small Vauxhalls. That's just what we do.