The recession, coupled with hipster fashion tendencies towards 'homemade chic', means the business of arts and crafts has seen a massive resurgence of late. Take a quick glance at Etsy or Pinterest – there are more intricate cushion covers and screen prints there than you can shake an embellished stick at.
This is good news for those strapped for cash this Crimbo, because it means giving homemade gifts is okay now. It's allowed. But there are a couple of caveats: they have to be relevant, and they have to be decent. No shapeless fabric 'bags' and definitely no pasta pictures (unless you're five). But you don't need to be a master craftsman to pull this off. Check out these DIY gift ideas suitable for even the most ham-fisted creative rookies.
Get baked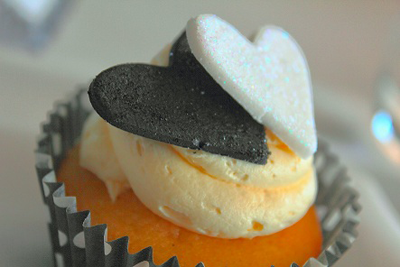 People go crazy for cupcakes. Literally, crazy. The windows of every cupcake bakery in the land are covered with fingerprints and nose smears from squealing onlookers pressing their faces against the glass. 'THAT ONE LOOKS LIKE A BEE!' they exclaim, before parting with megabucks in order to take it home and fawn over it some more (and then, presumably, eating it).
You can recreate this perplexing excitement for your loved ones with relative ease. Simply whip up a batch of plain cupcakes (or push the boat out and add some food colouring for extra pizzazz) and then go to town with icing, marzipan, frosting, edible glitter, the works. It won't matter if they look a bit rough around the edges, because 1) your recipient will be blindsided by the fact that they have CUPCAKES, and 2) they're just going to be eaten anyway.
Mix-a-lot
Mix CDs are all well and good, but when they're simply a compilation of chart hits from that questionable holiday in Malaga, labelled with a scribbled 'LOL' and presented in a clear plastic CD pouch, they're not really gift material.
Why not turn music into a – dare we say it – educational journey by hunting down all the number ones from the year your recipient was born? Or by compiling all the top tracks released since you've known one another? Or choose a theme to work around – songs about travel or marriage, for example – depending on what's on the horizon for your receiver. Give your album a proper title and artwork, and for crying out loud, put it in a proper CD case. 
Charm offensive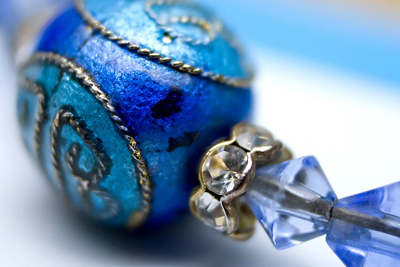 Perusing through the likes of Etsy and Pinterest, the phrase 'Pfft, I could make that' inevitably springs to mind several hundred times. And it's true. With a bit of elbow grease you really could make this stuff, and make it just as beautiful as anything in a shop, or even on the catwalk. But for minimal faff, jewellery is a safe bet.
Visit a high street accessories shop or website for inspiration, then get yourself down to a bead store (markets are also a winner) to pick up your parts for a fraction of the price (don't forget vital elements like clasps and wire). Then it's simply a case of looping beads together until you're happy with your unique creation.
It's important to consider your recipient carefully with this one, though. Think about their favourite colours and style – and even if they have any skin allergies – lest your masterpiece end up in the jewellery box forever more.
Mug yourself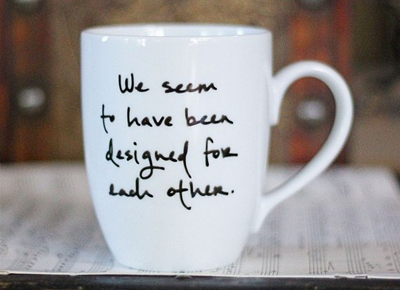 Ah, the novelty mug. Cupboards around the kingdom are full of chipped, unloved porcelain brandishing crude sayings and lame positive affirmations alike. And they're all a bit naff. However, it's surprisingly easy to make your own, and by extension, make them so much better – think 'in jokes', personalisation and recipient-relevant arty fartiness (for example, the above picture features a quote from Jane Austen).
There are a number of ways to make your own mug. By far the cheapest and easiest is to purchase a plain white porcelain affair, take a permanent marker to it and then bake at a high heat  for 30 minutes, before cooling carefully. However, for a longer-lasting effect splash out on a special porcelain or ceramics pen, which will go the distance wash-wise.  
Sarcastic sewing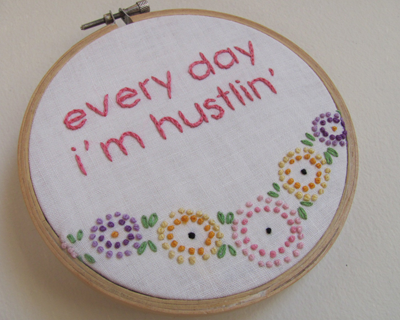 Remember when you were in primary school and one afternoon a week was set aside for cross-stitch with comically oversized pieces of child-friendly cloth and thread? Do they even still do that? In any case, sharpen your rusty sewing skills by stitching a sarcastic, ironic or just damn hilarious embroidery for your nearest and dearest.
A decent haberdashery shop will have all the tools you need, which is a piece of cloth, some thread and a needle, basically. A simple embroidery frame will add a thoughtful finishing touch. Go as pro as you like with this, but in this instance your shoddiness may actually lend itself to the end result. Ultimately, no-one expects to see a swear word or catchphrase on a piece of sewing, do they? As the hipsters setting this trend are liable to say, "It's totally concept". 
Brilliant booze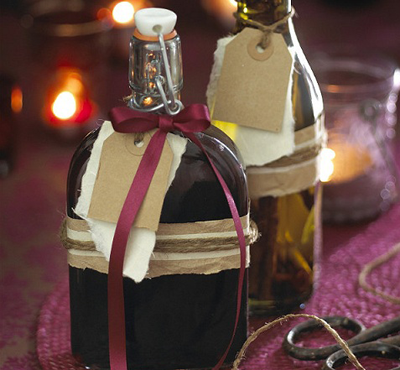 Let's be honest, we're all a fan of a tipple at Christmas. There's a copious amount of alcohol flowing around, so why not make the most of it and funnel some of it into pressies for others? And we don't mean simply flinging a bottle of vodka their way, but injecting some creativity into otherwise bland booze to make something unique and gift-worthy.
Try mixing up raspberry gin, or blackberry vodka (again, the old internet is awash with simple recipes). Procure some attractive preserving bottles from a homewares store (such as the ones pictured above), then add a vintage-style luggage tag for extra appeal. The real beauty of this gift, of course, is that the recipient is pretty much duty-bound to share it with you. To give is to receive, after all.